If you want to see what a Warren Buffett-style mortgage real estate investment trust (mREIT) might look like, look no further than PennyMac Mortgage Investment Trust (NYSE:PMT). PennyMac is a mortgage company, a mortgage processor, and a packager of mortgage-backed securities rolled into one.
Unlike traditional mREITs such as Annaly Capital Management (NYSE:NLY) and Two Harbors Investment (NYSE:TWO), PennyMac sells mortgages directly to customers in addition to packaging them into securities. PennyMac's business model is to do it all: take the application, vet the customer, write up the mortgage, underwrite it, and then package it as a mortgage security.
Berkshire Hathaway (NYSE:BRK.B) seems to have something similar in mind. It has been trying to buy some of the assets of ResCap Financial, the bankrupt residential business mortgage business owned by Ally Financial (ALLY.PB). Buffett apparently wants to enter the mortgage business by creating a mortgage service company that will also function as an issuer of mortgage-backed securities much like PennyMac.
Click to enlarge image.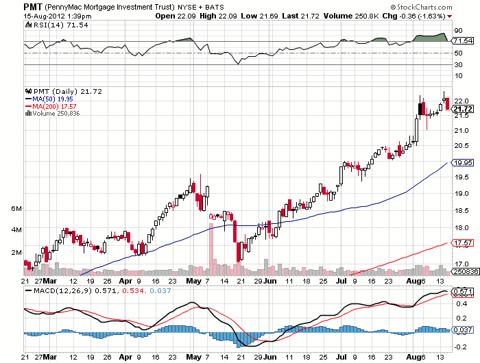 PennyMac and its business model are worth a closer look. There is a lot to like about PennyMac. It currently pays a dividend of $2.20, or 10%. It also features a P/E ratio of 7.59% and an EPS ratio of $2.87. So it looks like Buffett might be on to something here. PennyMac is obviously making money and returning it to shareholders. PennyMac's share price looks like a bargain as well. It was trading at $21.71 on Aug. 15, 2012, down from an opening price of $22.09.
PennyMac has some serious growth potential because one of its specialty as a refinancer of underwater mortgages. That includes refinancing done under the Home Affordable Refinance Program (HARP). Around 423,000 homeowners refinanced through HARP 2.0 in the first half of 2012, according to the Wall Street Journal. Since only around 400,000 mortgages were refinanced through the program in 2011, that means the number of HARP loans issued in 2012 might be more than double that were issued in 2011. The Federal Housing Finance Agency also reported that 20% of all refinancing is now done through HARP.
PennyMac is an excellent position to pick up a lot of this business because it has a form that lets homeowners to inquire about HARP 2.0 refinancing right on its website. That enables homeowners to apply for the program without even going to a mortgage office. There are also a lot of potential customers for PennyMac's refinancing; the Wall Street Journal estimated that are around 11 million homeowners with underwater mortgages in the United States.
In addition to underwater homeowners there are the people that have been moved to refinance by the record low mortgage interest rates. The rate for a 30-year fixed rate mortgage was 3.55% on Aug. 2, Freddie Mac reported. That is up slightly, but it is still astronomically low when compared with historic averages. The 15-year rate was even lower at 2.83%, while some adjustable rate mortgages (ARMS) had rates of 2.74%-2.75%.
The low interest rates are driving an increase in mortgage refinancing. The volume of mortgage refinancing in the United States in the first quarter of 2012 was $290 billion. The volume for the same period in 2011 was $240 billion, so there is more money in the refinancing sector. The Mortgage Bankers Association reported that its Refinance Index hit the highest level since April 2009 in the week ended July 27.
PennyMac is well positioned to take advantage of a growing market. More people are refinancing, and the rise in interest rates will drive more people to try to refinance in order to avoid higher future mortgage costs. Many people were holding off refinancing in hopes that rates might fall even lower; now that they are going up, many of these homeowners will look into refinancing.
The volume of refinancing right now is historically low. The overall level of refinancing is still less than half what it was in 2003 before the Great Mortgage Bubble burst. That means there is a lot of room for growth in the refinancing market when the economy recovers. PennyMac is well positioned to take advantage of that growth if it occurs.
Part of the reason why the volume of refinancing is still so low is that refinancing requirements are far stricter than they used to be. People who were able to qualify for mortgages back during the bubble cannot qualify for refinancing today. That means the volume of refinancing is limited, which puts limits on PennyMac's potential market. It also means that at some point PennyMac's refinancing business and the revenues it is generating may no longer be able to grow.
Despite these potential limitations, PennyMac is in a very enviable position right now. It already has the business that Warren Buffett might like to start up. It is also in an excellent position to take advantage of HARP 2.0 and other federal programs designed to help underwater homeowners. That makes PennyMac an interesting value buy right now.
Disclosure: I have no positions in any stocks mentioned, and no plans to initiate any positions within the next 72 hours.