A New York State judge dismissed a defamation lawsuit filed by Vancouver-based Silvercorp Metals (SVM) against defendants who raised questions of potential accounting fraud and/or other possible asset misstatements. According to the decision, the claim was dismissed because the statements were constitutionally protected opinions that were stated as possibilities, that the author probably believed they were true.
Essentially, the court concluded that a reasonable reader of the statements at issue would perceive them to be someone's stated opinion and not definitive facts, and that this distinction makes the statements non-actionable. This is a technical distinction, where such opinion is protected speech that cannot be restrained or be actionable as defamation. Silvercorp immediately appealed the matter, and noted that the proved and probable reserves in SVM's flagship property increased since the alleged short and distort defamation.
Silvercorp shares are down about 40 percent since the reports at issue were published. See the 2-year performance chart below:
(click image to enlarge)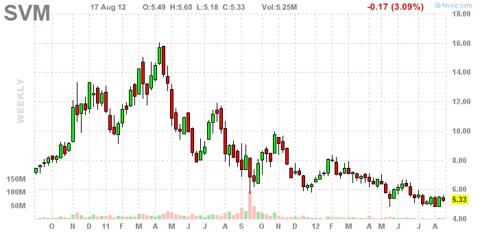 Silvercorp sued Anthion Management, Chinastockwatch.com, Alfredlittle.com and related entities in September of 2011, accusing the sites of publishing false information intentionally to lower the company's share price and profit on short sales. In March, Anthion filed a counterclaim, admitting it was the author of a report on Silvercorp that was anonymously sent to securities regulators, auditors and journalists on August 29, 2011. That report was also published on Chinastockwatch.com, which was run by Anthion and is now defunct. Silvercorp primarily lists assets in China, but is also developing assets in Canada.
Justice Carol R. Edmead dismissed the counterclaim last month and, this week, granted a motion to dismiss SVM's lawsuit, accepting Anthion's argument that the defamation claim should be thrown out because the statements published were constitutionally protected opinions. She also indicated such fraud was stared merely a possibility and not an absolute certainty.
"The content of the communications at issue, their tone and stated purpose show that Anthion was expressing its view that Silvercorp potentially committed accounting fraud," Edmead's decision noted. Justice Edmead also noted that the anonymous publishing of the statements likely reduced their perceived veracity.
This court did not conclude that the allegations were true or false, only that they were not actionable. As such, this decision should not severely affect shares of Silvercorp. The sting from the allegations against Silvercorp, opinion or not, was priced in long ago.
Silvercorp is in the Market Vectors Junior Gold Miner ETF (NYSEARCA:GDXJ), and is actually one of the larger components of the 84 member index ETF, representing 2.84 percent of the total portfolio. SVM's substantial position there hopefully speaks to its perceived legitimacy, and that position must be a significant driving force. Any weakness on this news is likely a buying opportunity.
Disclosure: I am long SVM.