Since my initial mention of the stock, US Airways Group, Inc. (LCC) has been on a wild ride. Shares quickly moved higher as momentum started to build for the stock. However, as I outlined here, I felt the rally would continue, which it did. As the stock continued to hit new highs, I decided to tell investors to begin taking profits because oil prices had also started moving up. Shortly after, the stock started to move lower along with the rest of the sector. In my most recent piece on the airlines, published July 20, I said that investors could go short Delta Air Lines, Inc. (NYSE:DAL), Southwest Airlines Co. (NYSE:LUV), United Continental Holdings, Inc (NYSE:UAL), or US Airways for a trade. Since that mention, as shown by the chart below, most of the airlines have moved lower. LCC has been the leader to the downside.
At this point, because of the substantial move lower in LCC, and the valuation, I think the short trade is over. Instead, I think the best way to play LCC is through options.
Why I Don't Want To Short US Airways
Valuation
As shown by the chart below, LCC is trading at just four times earnings. Even though airlines have historically been great shorts, I do not want to be short given the current valuation. Under the right circumstances, LCC's PE ratio could easily double without the stock becoming expensive.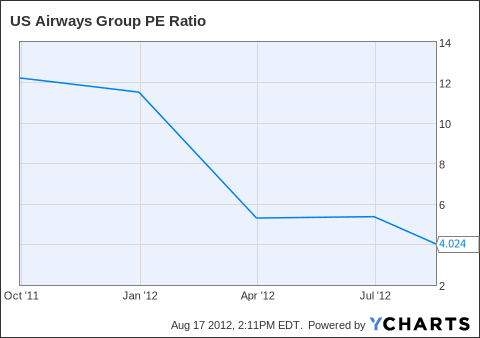 LCC PE Ratio data by YCharts
Possible AMR Merger
One possible upside catalyst for LCC is a merger with bankrupt carrier American Airlines. However, right now, it is unclear whether a deal will happen. Such a deal would probably be a good thing for the industry as a whole because capacity will be cut from the system. The potential for such a deal was also one of the reasons why the LCC stock had been so strong. With the likelihood of such a deal on the decline, LCC shares have sold off. That being said, if a merger were to happen, I think LCC shares would move sharply higher on the news.
Short Interest
Currently, short interest in LCC stands at 19.2 million shares of 13.8% of the float. Given any positive news, the high short interest could lead to a major short squeeze. This also suggests that the negative case for LCC is both popular and well known, so I would not be short.
Why I Don't Want To Be Long
Oil Prices
I think there is a significant risk that oil prices will continue to rally. Any substantial move higher in oil will almost certainly mean trouble for the airlines.
No AMR Merger
If there is no merger between American Airlines & LCC, I think LCC shares will be under pressure. While expectations for such a merger have come down, I think the potential for such a deal is still priced into the stock right now.
Airline Stock History
As most investors know, the history for airline stocks over the long-term has been very bad. The main reasons for this include intense competition and rising oil prices. I have a hard time saying "this time is different" when it comes to airline stocks. While they have not been many good investments in airline stocks, there have been many good short-term trades in airline stocks.
Options
Right now, the only way I would play LCC is through options. While I think the stock could soon make a big move either up or down, I am not sure which way the stock will move. One way to play my current view would be through a straddle. This strategy should allow investors to profit from either a large move up or down in the stock. This strategy could be used at a variety of strikes. I would suggest looking at the $10 strike in the December expiration period.
For those of you out there who are either bullish or bearish on LCC, I would suggest buying either puts or calls to express your position instead of the stock outright. By buying either puts or calls, investors limit the amount they can lose on the trade. Given the uncertainly over the outlook, and the volatile nature of the stock, using options on LCC makes sense.
Disclosure: I have no positions in any stocks mentioned, and no plans to initiate any positions within the next 72 hours.