Worldwide executive search firm Heidrick & Struggles [HSII] reported a modest profit in its June quarter while lowering full-year guidance. The stock promptly fell off a cliff. HSII finished the week at $12.95 - down almost 46% from its early 2012 high of $23.95.
Should you be bailing out or buying?
HSII is a volatile stock. EPS swing regularly from profits to losses and back again. Value Line assigns the stock their lowest, fifth percentile ranking, in terms of earnings predictability. The shares have cycled multiple times between the low-mid teens and $20-$30 since early 2009.
Value Line's 3-5 year projection is for EPS of $2.50 per share and a price range of $30-$50. That's far from crazy. HSII earned between $1.81 and $4.11 in each of the five years 2004 through 2008. The lowest annual share price high during that span was $36 and the highest peak was $55.20.
Heidrick & Struggles is debt-free. As of June 30, 2012, it held $96.85 million in cash with just 18 million shares outstanding. That's $5.34 per share on a fully diluted basis; more than 41% of HSII's closing quote. The 13-cent quarterly dividend provides a 4.01% current yield.
The company is not going away. Estimates for 2013, however tenuous, are for $1.04 in earnings per share. The company lost $1.24 /share in 2009 yet the shares bounced as high as $32.20 by January 2010.
The summer sell-off in August 2010 drove HSII down to $16.30. By year's end, it was back at $30. September 2011 took the stock down to $15.59. Months later, it was $23.95. Yo-Yo fans might wish to rename this firm "Duncan."
Back in 2002-2003, the firm was really suffering. HSII racked up consecutive substantial annual losses. The stock bottomed at $10 on those horrendous results. Those who sold in disgust quickly came to regret their decision. By the end of 2004, the stock had rebounded 254% to $35.40 and EPS surged to $4.11.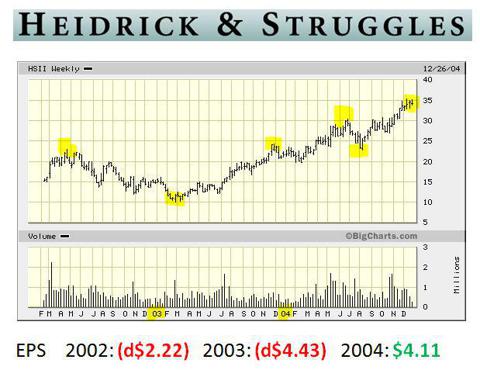 These are "hold your nose and buy" shares. You do best when getting into HSII when nobody can give you a good reason to own them. The high yield is secure due to the pristine, cash laden balance sheet.
Heidrick & Struggles is now offered for well under the March 2009 nadir. That year turned out to show a deficit for the company, but a 138% trading gain opportunity for brave traders that got in when everybody else was getting out.
Risk / reward has rarely looked this good. Take a small portion of your whole portfolio; pick up some HSII shares under $13 and wait. History says you'll pocket that 4% yield while getting a chance to exit above $20 before too long.
Disclosure: I am long HSII.