Wouldn't it be nice if those recent oil spikes were entirely due to speculators/investors, and these greedy hedge and pension funds are simply creating an "oil bubble" that will burst sooner or later?
According to Iraq's Oil Minister Hussain al-Shahristani:
There is more oil in the market than consumers want. What is driving up prices is an increase in speculative funds. An increase in production by OPEC countries would not really change the scenario – it would not affect the price. (source)

All bubbles ultimately end up the same way - They burst sooner or later.
If thats the case, oil prices would fall below $100 and we can all enjoy cheap oil, filling our cars for less than $4 per gallon.

Unfortunately, this scenario does not depict reality. In fact, it sounds more like a fairy tale ending. And of course, if speculators are indeed responsible for the spikes, those Arab nations would be freed from the burden of increasing oil production. In my opinion, oil prices are going to spike higher, at least in the long run. Heres why :

1) Stagnant Supply

There is a something called Hubbert's peak theory which predicts that oil production will increase, peak and stay stagnant for some time, and then decrease at almost the same rate it went up.

Dr. Hubbert predicted in 1956 that US oil production would peak around 1965-1970. Just like Arjun Murti (Goldman Sach's analyst who predicted oil will hit $100 a few years ago), he was snobbed by other "experts" who seemed to be extremely optimistic about oil supplies. Unfortunately, both Hubbert and Murti were proven correct.

Take a look at this graph :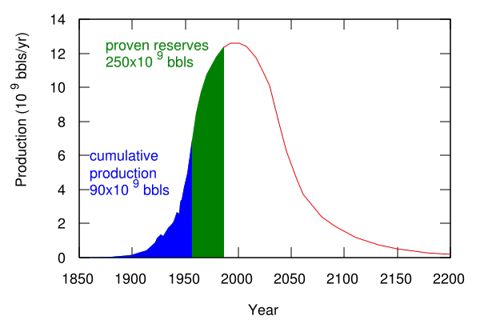 The ASPO (Association for the Study of Peak Oil and Gas) has predicted that the peak in global oil production would occur in 2010. Some analysts even believe that the peak had occured in 2005.
The evidence proving that peak oil is coming soon is irrefutable.

Oil companies are finding it harder and harder to replace every barrel of oil consumed with another barrel from oil fields. Even Saudi Arabia's vast oil fields are drying up soon. The mighty Ghawar oil field probably peaked in 2005 , and other fields such as Shayba might soon follow Ghawar's footsteps. (Saudi Arabia still has LOTS of oil, but it is running out soon)

Its no surprise why oil companies are not investing money into oil exploration when theres not much oil left. As one analyst said, "Drilling more wells doesnt mean more oil. It simply means more holes."

Meanwhile, British Petroleum (BP) recently announced that global oil production fell for the first time, by 130 000 barrels/day. Supply was at 81.53 million, while demand climbed to 85.22 million/day, which leads me to my next point.

2) Rising Demand

As we all know, China and India are rapidly growing economies with a huge appetite for oil. Although China is still almost entirely dependent on coal for energy, this trend looks to change very soon as more and more affluent Chinese are snapping up cars. In 2002,General Motors (GM) enjoyed a 300% increase in Chinese sales.
Take a look at these two graphs: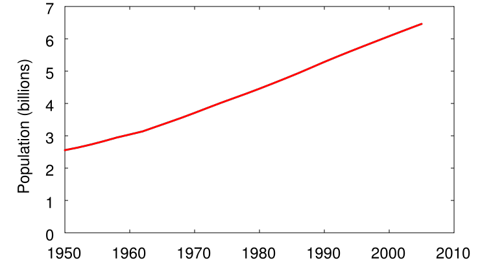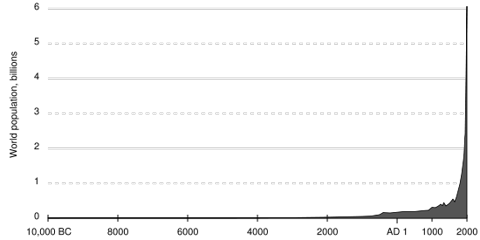 (Doesnt the population graph resemble the graph of the prices of oil, food and metals?)
As you can see, it is fairly obvious that our world is experiencing an unprecedented population growth since the industrial revolution. Indeed, even Ken Lay and other Enron executives would probably be envious of such a high growth rate!
If you think oil is only needed for transportation, you are very wrong.

In agriculture, for example, most commercial fertilizers and pesticides come from oil. The tractor or combined harvester runs on oil. And of course oil is needed to transport food from the farm to the restaurants and supermarkets.

Petrochemicals (from which many plastics and gels are made), come from oil. A growth in population simply leads to a grow in the demand for oil, there is no doubt about this.

Currently, demand is growing at about 1-2% annually. This might not be a lot, but it does means that demand will double from about 85 million currently to 170 million in a few decades. (That is, assuming growth in demand remains constant, when it should in fact increase)

3) A Weaker US Dollar
The last, and perhaps weakest factor which leads to the oil spikes, is due to the weakening US dollar. Since oil traded on the NYMEX is bought in US currency, the price of oil must therefore increase, as simple as that.
-------------------------------------------------------------------------------------------------
In my opinion, oil will go up even higher. In the short term, it might fluctuate, probably due for a correction some time next month.

Nevertheless, Im still extremely bullish about oil prices. Even Goldman Sachs' $200 prediction looks to cheap for me.
Disclosure : I own some DBO shares, which tracks the price of oil, and I'm very certain it will make even more profits in the future