Heidrick & Struggles Intl. (NASDAQ:HSII) June 13, 2008 close: $27.27
52-week range: $23.56 [Jan. 23, 2008] - $55.22 [Aug. 1, 2007]
Dividend = $0.13 quarterly_____ current yield = 1.91%
HSII is an executive search firm that matches major U.S. and foreign companies with qualified candidates for senior-level executive positions. They also provide services to non-profits, venture capital and governmental agencies. They operate in more than 30 countries throughout the world.
Since peaking at $55.22 last August Heidrick's shares have plunged by over 50% reflecting the slowing U.S. economy and a drop in Q1 actual earnings and a reduction in estimates for the full years 2008 and 2009.
Why be interested in owning shares with poor price momentum and declining EPS? Valuation.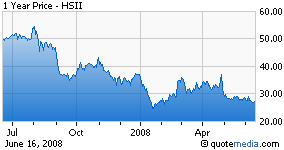 The lowest of the already reduced consensus estimates for this year and next are now $2.30 and $2.36. Those numbers are from Zack's. Others see $2.38 and $2.51 for 2008 and 2009. At last week's close HSII shares trade for just 11.8x and 11.55x the more pessimistic view.
The company is debt free and cash rich. At year-end 2007 they held current assets of $402.7 MM versus current liabilities of just $253.7 MM. With no short-term or long-term debt that worked out to $149 MM in net cash on a share base of just 17.27 MM or $8.63 /share in cash.
Heidrick & Struggles announced on April 1 that they had completed a previously authorized repurchase of 1.4 MM shares at an average cost of $35.62. Management authorized an additional $50 MM for further share retirement going forward.
All this is coming from HSII's free cash flow. In 2007 cash flow per share was $3.92 and capital spending per share was just $0.46.  Management also signaled their confidence by initiating a $0.13 quarterly dividend in Q4 2007. Year-end book value was an all-time high at $17.94 /share.
Insiders own about 7.5% of the outstanding. Some other large holders of note [as of March 31, 2008] were:
Royce and Associates …………… 13.32%
Kornitzer Cap. Mgt. ……………… 9.92%
Barclays Global Investors ……….. 6.73%
William Blair & Co. ……………... 6.49%
Allianz Global Investors ………… 5.83%
Abrams Bison Investments ……… 4.12%
FMR [Fidelity Funds] …………… 3.85%
Vanguard Group …………………. 3.54%
While domestic sales were weaker in the first quarter overseas revenues were up nicely. Total Q1 revenues were the highest ever at $153 MM helped in part by currency translations back into dollars.
What were the normalized P/Es for Heidrick shares in the past few years?
Both Value Line and MSN Money Central show average annual P/Es of around 15.8x, 19.9x and 14.9x for 2005 – 2006 – 2007.
Even a well below average multiple of 14 times this year's reduced expectation of $2.30 leads me to a year-end target price of $32.20 or 18% above the current quote. Not too bad with just 6 ½ months left in 2008.
HSII has a very low earnings predictability factor. Value Line assigns it just a 5th percentile [with 100th being best]. EPS had been extremely volatile in the past with 2003 showing a per share loss of $4.43 and 2004 posting EPS of $4.11. Since then, though, earnings have been much steadier.
Here are the per share numbers for the past five years:
Year…… Rev..…Cash Flow ... EPS .… Div. Rate ..... Book Value ... Net Mgn. ...P/BV
2007 … $35.88 … $3.92 ….$2.97 …. $0.52 ………$17.94 ….. 9.1% ……2.07x
2006 … $26.97 … $2.51 ….$1.81 …. $0.13 ………$14.86 ….. 7.2% ……2.85x
2005 … $22.19 … $2.72 ….$1.98 …. $0.00 ………$12.78 ….. 9.5% ……2.51x
2004 … $19.60 … $4.98 ….$4.11 …. $0.00 ………$11.28 …. 21.9% …...3.04x
2003 … $17.34 …d$3.63 . d$4.43 …. $0.00 ……… $6.86 ….  NMF ……3.17x
Sources: Value Line & MSN Money Central
Heidrick and Struggles is not a widows and orphans stock. Their fortunes can turn better or worse quickly so owning their shares is a bet on an eventual economic recovery. History says that when things look brighter investor will come flocking back to HSII in a big way. In the summer of 2000 these shares hit $75 on annual earnings of $1.60 [a P/E of 46.8x]. Late last summer HSII touched $55.20 when EPS were set to come in at $2.97 for a then current year P/E of 18.6x.
Because earnings are less predictable than most, Price/Book Value may be a good predictor of normalize value here. Year-end 2008 book value should be at least $18.50 /share. Even two times that figure would bring me to a $37 goal price or 35.7% above last week's quote.
With continued share buy-backs, no debt and solid profitability I see HSII shares with 18% - 35% near-term [6-12 month] upside and only moderate risk.  A return to even a 7% net profit margin [well below that of the past four years] on growing revenues, could easily see normalized earnings power of $2.80 /share or better within two years. Value Line's 3 – 5 year viewpoint is for EPS of $3.75 and a return to a 19 multiple.
Disclosure: Author owns shares of HSII.