In asset markets constantly bombarded with news and intervention by policymakers, it is difficult to talk about the short-term trend for an asset class. At the same time, certain periods of over-exuberance or over-bearishness do give indications on the probable direction of the markets.
In this article, I will discuss some factors, which suggests a near-term peak for equity markets. The objective is not to warn or suggest that markets will start declining from the next trading session. A false rally can lead to some more upside.
However, it would be best to avoid fresh exposure to equities at these levels. Also, it might be a good time to sell for investors looking to liquidate some of their equity holdings.
Coming to the first factor, which points to a possible reversal in the S&P 500 index, the VIX has touched a five-year low of 13.45 at the end of Friday trade.
Click to enlarge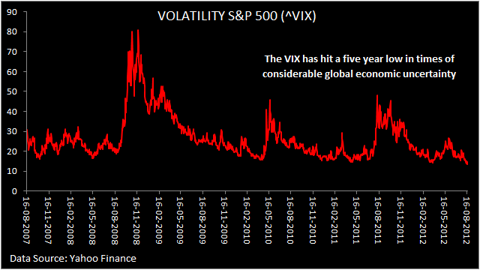 Click to enlarge
VIX, also known as the fear index, is a measure of the market participant's expectation of volatility over the next 30 days. A low VIX would therefore mean low volatility expectation and should not really concern investors.
My caution comes from the observation and behavior of the VIX in relation with the S&P 500 index in the last 10 years.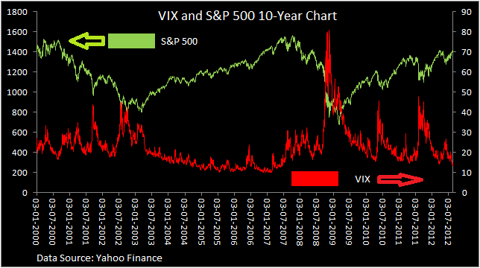 Click to enlarge
As the chart shows, there has always been a reversal in the VIX index from lower levels and it has been associated with decline in equity markets. The period of 2003-07 was an exception as a globally synchronized boom was underway and equity markets trended higher.
Of course, just the past trend does not make me believe that the VIX will increase leading to a decline in stocks.
Apart from encouraging statements, there has been a lack of action by central bankers. The global economy is also on a downturn and the next 3-6 months will witness policy action to support the economy and markets. These events do lead to increased volatility and markets can correct from near-term overbought levels.
There are several reasons to believe that markets are overbought. Before I discuss that, I would like to mention that markets are not terribly overvalued when it comes to P/E valuation. The markets are currently trading at 14 times TTM earnings.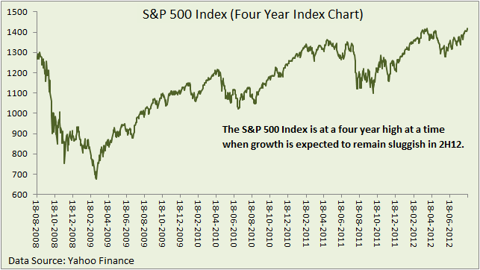 Click to enlarge
However, markets can correct after an 11% rally in the last two months in the absence of any significant positive cue. Markets are also trading at a four-year high, and it is concerning to see markets at these levels amidst a global slowdown.
Adding to concerns is the fact that the rally has been associated with declining volumes. I am not an expert technical analyst. However, I do understand that a market rally on low volumes is not a great sign.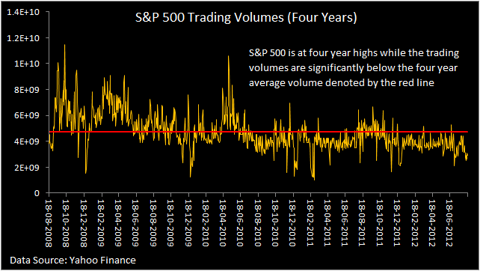 Click to enlarge
Underscoring my point of near-term overbought markets are the next two charts.
The first chart gives the S&P 500 high-low index and the second gives the S&P 500 bullish percent index.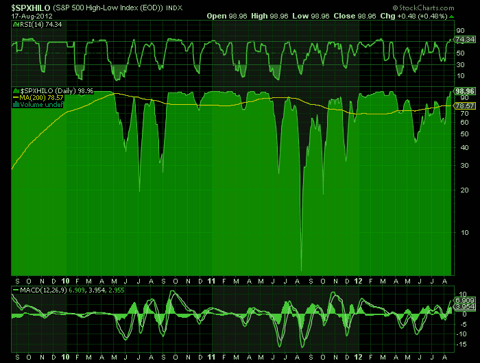 Click to enlarge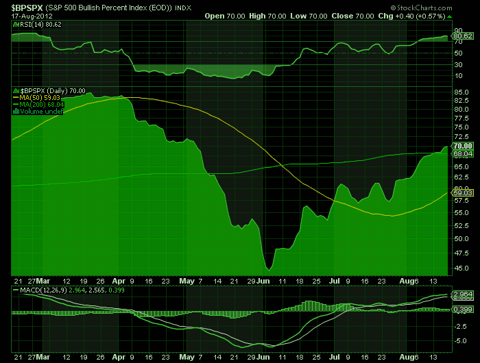 Click to enlarge
The S&P 500 high-low index is calculated by taking new highs divided by the new lows made in the S&P 500 index. The index has surged to 98.96 as of August 17, 2012, from a low of 43 in May 2012. Clearly, there are a significant number of highs being made in the S&P 500 stocks compared to the number of lows. In general, this is a sign of markets topping out in the near term.
The S&P 500 bullish percentage index also points to overbought conditions. In general, a reading of over 70 indicates overbought conditions and a reading of over 80 indicates an even stronger overbought signal. Currently, the bullish percentage index is exactly at 70.
These factors combined make a strong case for avoiding the equity markets in the foreseeable future. Long-term investors can still ignore the volatility and buy quality stocks. However, it would make more sense to buy the same stocks after the markets decline 10%-15% than buying it at current levels.
In conclusion, I still believe that the S&P 500 index will do reasonably well over the next 3-5 years. Correction in the index can therefore be used as an opportunity to consider exposure to the index.
I would favor index investing in the current economic and market scenario (associated with high volatility). In line with this, I will consider investing in the SPDR S&P 500 (NYSEARCA:SPY) ETF. SPY performance corresponds to the price and yield performance of the S&P 500 Index.
Disclosure: I have no positions in any stocks mentioned, and no plans to initiate any positions within the next 72 hours.