I recently came across a cash rich tech manufacturer with compelling valuations, good growth prospects and little exposure to Europe; a good trifecta in the current uncertain environment. Analysts think the firm has substantial upside as well.
"Electro Scientific Industries (NASDAQ:ESIO) provides laser-based manufacturing solutions worldwide. The company's laser systems enable precise structuring of micron to submicron features in components and devices, which are used in various end products in the consumer electronics, computer, communications, and other industries." (Business description from Yahoo Finance)
7 reasons ESIO has significant upside from $12 a share:
 
The median price target by analysts on ESIO is $18 a share. Price targets range from $15 to $22 a share.
The company has over 50% of its market capitalization in net cash on the books (over $180mm). It also has a $20mm repurchase program that amounts to over 6% of float at current prices.
Consensus earnings estimates for both FY2012 and FY2013 have ticked up some 20% in the last month.
The stock is selling in the bottom third of its five year valuation range based on P/S, P/B and P/CF.
The stock is cheap at just 92% of book value and yields a solid 2.7%. The company gets only 5% of revenues from Europe and is insulated from the slowdown there, the vast majority of well diversified sales are to Asia.
ESIO is selling at just 7 times forward earnings after subtracting cash and is projected to grow revenues in the double digits in FY2013. The company has several new products in the pipeline including three which are currently going through qualification to be launched.
The stock is trading near the top of a solid technical support and recently crossed its 50 day moving average (See Chart)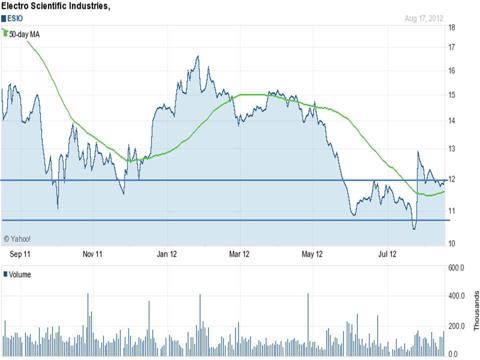 Disclosure: I have no positions in any stocks mentioned, but may initiate a long position in ESIO over the next 72 hours.