Facebook's (NASDAQ:FB) IPO debacle and its collapsing stock price as well as its slowing growth has put the focus on mobile advertising as the company is struggling with the transition from a PC based advertising model to one the takes advantage of the exponential growth in smartphones and other mobile devices. Velti (VELT) is a company that is well positioned to take advantage of the huge growth in mobile advertising. It also is extremely cheap given its robust growth prospects.
"Velti engages in the provision of mobile marketing and advertising technology and solutions for brands, advertising agencies, mobile operators, and media companies in Europe, the Americas, Asia, and Africa." (Business description from Yahoo Finance)
Six reasons VELT has significant value at $7 a share:
The six analysts that cover the stock have a median target of $16.50 a share on the stock. Price targets range from $13 to $21 a share.
Revenues are growing exponentially. The company booked some $190mm in sales in FY2011 but is projected to have over $290mm in revenues in FY2012. Analysts project over $380mm in sales in FY2013.
Given its growth rate, VELT is cheap at just 7 times forward earnings. This is a company that grew adjusted revenue at an annual clip of 84% between FY2007 and FY2011.
The company is positioned well to take advantage of nascent and fast growing mobile ad business yet has a minuscule five year projected PEG (.29).
Compared to peers like Millennial Media (NYSE:MM), Velti is tremendously undervalued by comparisons between P/E's, P/S's and P/B's among other value metrics between these peers.
The stock looks like it is breaking out of a recent technical support range and just crossed its 50 day moving average (See Chart).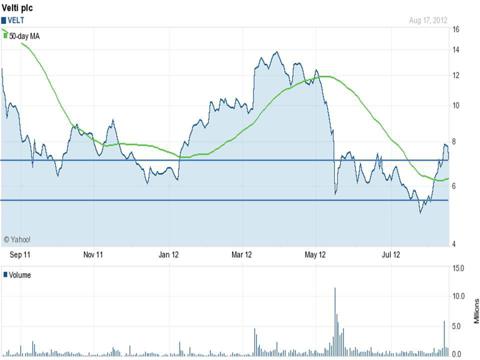 Click to enlarge
Disclosure: I have no positions in any stocks mentioned, but may initiate a long position in VELT over the next 72 hours.