For aggressive growth investments I like to look at early stage, fast growing companies that are about to turn a profit for the first time as a public company. I find a lot of these opportunities in firms that once generated a lot of excitement when they came public within the last couple of years but have dropped off the street's radar. One such firm that analysts and analysts like is Unilife (NASDAQ:UNIS).
"Unilife Corporation engages in the development and manufacture of advanced drug delivery systems in the United States and internationally." (Business description from Yahoo Finance)
7 reasons UNIS is a solid speculative play at $3 a share:
The median price target on the stock by analysts is $6 a share. Price targets range from $5 to $10.50 a share.
Insiders have purchased over 250,000 shares since the start of the year, all of them at higher levels than the current stock price.
Revenues are exploding at the company. Unilife booked just over $5mm in sales in FY2011, but should easily do over $30mm in FY2012. Consensus analysts' estimates call for over $130mm in revenues in FY2013.
The company sells innovative patented prefilled and unfilled syringes with a variety of safety features and other unique functionality. It also has important partnerships for rolling out these syringes such as the one it has with Sanofi (NYSE:SNY).
Biologics currently make up around 10% of drugs on the market. However, around 40% of the drugs in current phase III trials are biologics. These compounds tend to need the kind of more specialized delivery systems that Unilife supplies. This gives the company a strong and long lasting tailwind.
Earnings are going in the right direction and the market will wake soon that this company will turn its profit in FY2013. UNIS lost 78 cents a share in FY2011, but is on track to cut that in half to a 40 cents a share loss in FY2012. Consensus analysts' estimates have the company turning profitable with a 12 cent gain per share in FY2013.
The stock has good long term technical support in this range (See Chart)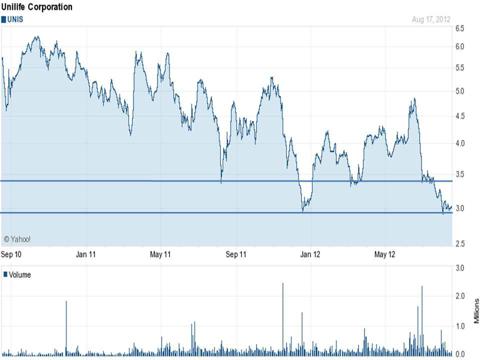 Click to enlarge
Disclosure: I have no positions in any stocks mentioned, but may initiate a long position in UNIS over the next 72 hours.