In 2010, the SPDR S&P Homebuilders ETF (NYSEARCA:XHB) rallied sharply only to peak in parabolic fashion in April. That Fall, I reaffirmed my belief that housing would bounce along the bottom until 2013. The next rally started from the August lows and ran until a peak in early May, 2011 that failed to surpass 2010′s high. As the next sell-off unfolded, fear grew that the housing market could sink into an even greater depression. The third time could be a charm. THIS year, XHB managed to survive the latest europanic-driven swoon with minimal losses. On Friday, the rally from last year's lows continued with a fresh four-year high, essentially erasing all its post-recession losses.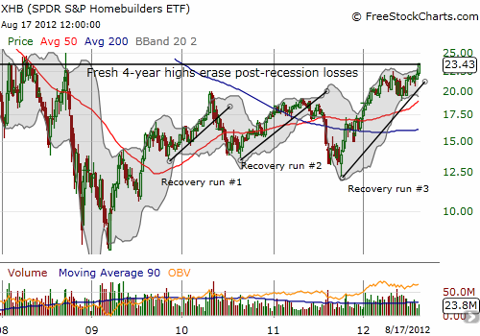 Click to enlarge
This year's XHB rally has been more sustained than the last two years
At the beginning of this year, I declared it time to buy the dips in homebuilders but steep dips never materialized beyond select stocks like KB Homes (NYSE:KBH). Now, stocks like Toll Brothers (NYSE:TOL) and Meritage Homes (NYSE:MTH) are hitting five and a half year highs.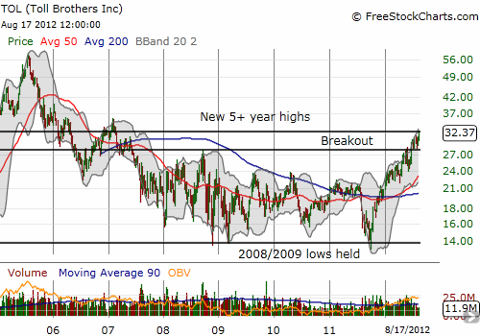 Click to enlarge
Toll Brothers has gone from post-recession lows to post-recession highs in less than a year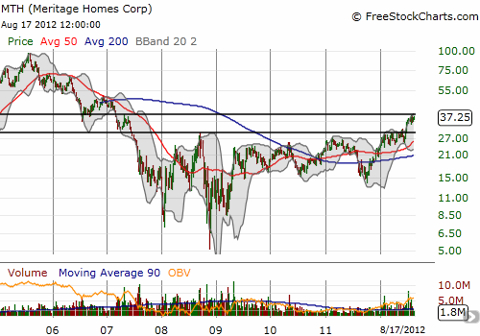 Click to enlarge
Meritage had been capped by its 2008 highs until this year's breakout
Interestingly enough, short interest surged to new highs against TOL ahead of its May 23rd earnings. Two weeks later, this short interest exited and total shares short declined to pre-surge levels. Short interest has drifted lower ever since. As of the last reported settlement date (July 31st), short interest is 9.4% of float. It does not look like shorts are building up again ahead of TOL's next earnings report on August 22nd.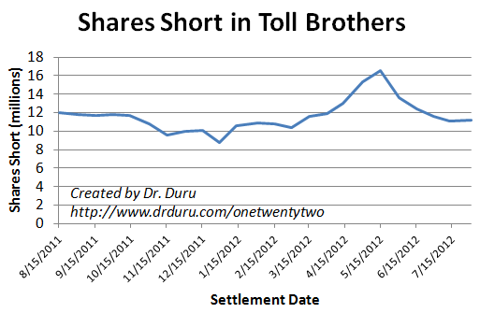 Click to enlarge
Shorts have backed off TOL after surging ahead of May earnings
Source: NASDAQ short interest
Shorts could be taking heed to commentary like the one from Pulte Homes (NYSE:PHM) CEO Richard J. Dugas in response to a question asking about the source of the company's confidence in the current housing market (Seeking Alpha transcripts, July 26, 2012):
"…part of the confidence is the fact that we're still in a country selling a preposterously low number of loans relative to historical trends. I don't believe for a second people really want to rent the rest of their life. I think they want to own. And so you've got a certain amount of momentum from people that want to get off the fence, and there's a growing sense that pricing has bottomed and that I better get in while the getting's good. I do think that can carry us quite a ways, but our commentary was designed to help say that in order for housing to really take a big leg up from here, we are going to need job growth at some point, and we were kind of pointed in our script commentary around the fact that we believe low levels of inventory is driving the majority of the good results we're seeing. We certainly think that can continue from here. Can housing double or triple from these levels just on the backs of low inventory? My guess is no. It probably needs a stronger economy to come along. So we're just trying to be balanced in our overall outlook there.

Having said that, I want to be very clear. We are optimistic about the balance of this year and into next year, if for no other reason, then there's a whole bunch of people that have been sitting on the sidelines that want to get in. I think we can take housing higher from here. The question is how high and gosh, I don't know. I would tell you this, we're more focused on running a good business internally, and are very confident that no matter what the housing market brings, that our operational act is together now."
So, if shorts start showing a new respect for the nascent housing recovery, what about bond buyers? Typically, yields go up once investors recognize an economic recovery is underway. The building momentum in housing is happening with a large lag to the economy's stabilization in 2009 and 2010. The Federal Reserve has also worked overtime to manipulate long-term rates downward, so deciphering what the bond market really means is nearly hopeless. However, yields have picked up off record lows.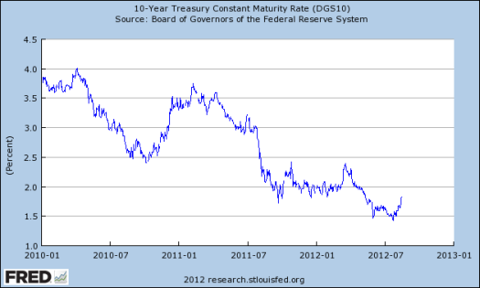 Click to enlarge
10-year yields have finally jumped off record lows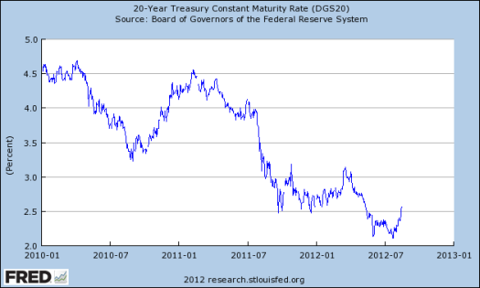 Click to enlarge
20-year yields have finally jumped off record lows
Source: Federal Reserve Bank of St. Louis
Yields are certainly a long way from confirming a recovery. In fact yields are below levels that were considered crisis and panic levels just three years ago. Rates have consistently fallen this year even as equity players continue to bet on better days for homebuilders. The low yields are good news for homebuyers who can still qualify to secure new loans. Of course, besides Fed manipulation, Treasurys serve other purposes beyond playing a recovery in the U.S. Fears of Europe's sovereign debt crisis are likely a very strong factor driving the government bond market.
Even though I hate government debt at these low yields, I held my nose and bought some calls on the iShares Barclays 20+ Year Treasury Bond Fund (NYSEARCA:TLT). I currently still hold some ProShares UltraShort 20+ year Treasury Bond Fund (NYSEARCA:TBT) shares, so these calls are a double hedge. I waited to see whether the 200-day moving average on TLT would hold (not shown in the graph below). I like the prospect of playing for a 10% or so jump in TLT in the wake of any renewed "flight to safety."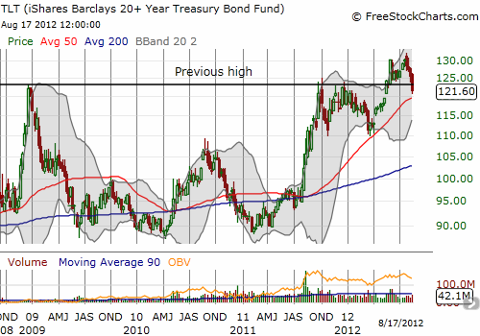 Click to enlarge
TLT plunges from record highs
Source: FreeStockCharts.com
I also decided to sell calls against my shares in KBH. I am fine if my shares get called away come October, but consistent with my interest in TLT calls, I am guessing that some kind of correction before October will allow me to take these calls off the table at much lower prices before a rally resumes. (See "A 5% Decline In The S&P 500 Within Three Months Would Be A 'Gift'" for one assessment of the downside risks from here to the election).
Be careful out there!
Disclosure: I am long KBH, TBT, TLT.
Additional disclosure: Long TLT call options, short KBH call options