Christmas seems to have arrived early this year on Wall Street. For when exploring reasons why stocks have been melting higher almost daily since early August, it is beginning to look a lot like stimulus. After all, it certainly has not been fundamentals driving the rally, as the global growth outlook continues to deteriorate and the risks remain as widespread as ever. Instead, the stock advance remains driven by the steadfast hope that major central banks including the U.S. Federal Reserve (the Fed) and the European Central Bank (ECB) stand ready to inject a fresh round of balance sheet expanding monetary stimulus into the system. And when Bernanke and Draghi open their sacks bearing monetary gifts, the upside potential for the stock market is seemingly boundless. But with stocks glistening once again, a glaring risk still remains - it does not look like stimulus most anywhere else you go.
click to enlarge images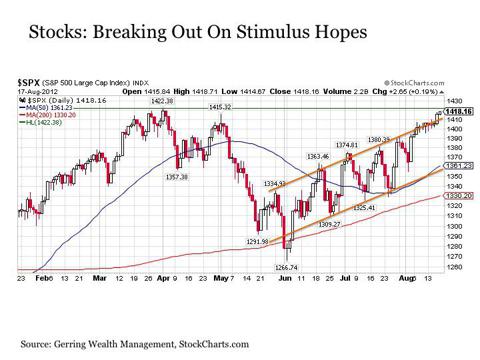 Stocks have enjoyed a resounding August thus far. The month began with much fanfare, as all eyes were on Chairman Mario Draghi at the latest ECB monetary policy meeting on August 2. For only a week earlier, Mr. Draghi had promised to do "whatever it takes" to save the euro currency. Such extremely strong words sparked investor expectations that game changing policy actions would be announced on August 2. But despite the fact that Draghi ended up delivering nothing other than more promises and no immediate action, stocks exploded to the upside anyway. In the eleven trading days since the ECB meeting, stocks as measured by the S&P 500 Index (NYSEARCA:SPY) have melted higher almost without interruption. In the process, they have broken out above the upward sloping trading channel that has been in place since the beginning of June.
It seems that Draghi may have pulled off the ECB's own version of Jackson Hole a few weeks ago. Although no new balance sheet expanding monetary stimulus was actually announced, the mere promise that it would likely be coming soon appears to have been enough to whip the stock market into a fresh stimulus delight. It seems the anticipation may be just as good if not better than the reality.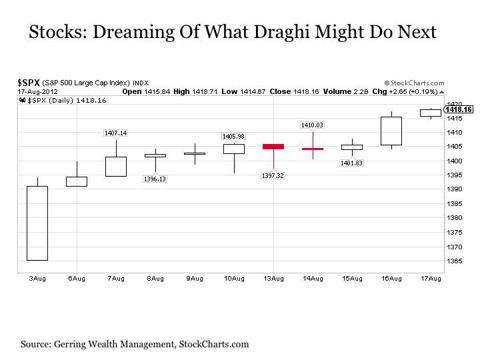 A closer look at the daily trading activity of the stock market since the latest ECB is characteristic of typical stimulus euphoria. Over the last eleven trading days, it has proven simply impossible for stocks to go down in any sustainable way. On six consecutive days over the last two weeks, the stock market made an attempt at correcting solidly lower. In four instances, the market ended the day higher. And although it ended down in the remaining two trading days, the losses were minimal and the market closed well off of its lows.
Where have we seen such relentlessly positive market behavior before? The last two times either the Fed or the ECB engaged in balance sheet expanding monetary stimulus.
Back in December 2011, the ECB initiated its Long-Term Refinancing Operation, which sent stocks soaring for the duration of the program through the end of February 2012.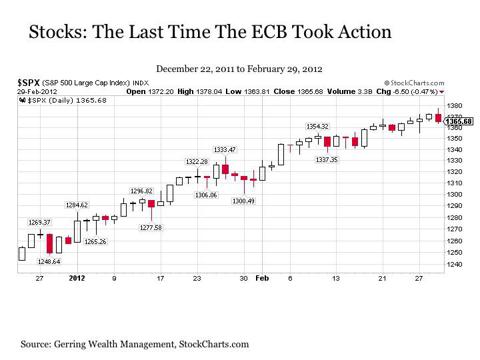 And in the original Jackson Hole speech back in late August 2010, the mere promise that what turned out to be QE2 would soon be on its way ignited a virtually uninterrupted stock rally into 2012.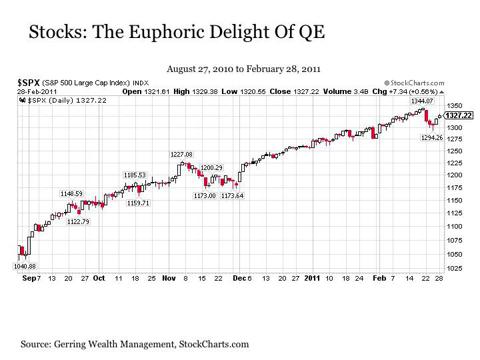 So given the recent market reaction, it seems that the latest bundle of policy gifts from the Fed and the ECB are already loaded up on the sleigh and ready for delivery. And with this in mind, perhaps now is the time to shift portfolios heavily into stocks. Not so fast.
Perhaps not unlike a child that comes to expect an abundance of gifts under the tree based on past Christmas bounties, the stock market that has become accustomed to past policy largesse may be setting itself up for potential disappointment this time around.
Most significantly, some key confirmation signals of more balance sheet expanding monetary stimulus remain notably absent. Leading among these are the performance of gold (NYSEARCA:GLD), silver (NYSEARCA:SLV) and copper (NYSEARCA:JJC). In regards to gold, it has demonstrated itself to perform on par with stocks during such monetary stimulus programs. As for silver, it has outperformed over these periods by as much as two to four times the return generated by stocks. And copper consistently posted returns that were as much as double the returns of stocks during past stimulus phases. Thus, it would be reasonable to expect gold, silver and copper to all be rallying strongly along with stocks in anticipation of another round of stimulus. But such is not the case today.
To highlight this point, it is worthwhile to compare on the late August 2010 episode when the market last boldly anticipated monetary policy action versus today's similar front running.
The following are the charts for gold, silver and copper following Bernanke's Jackson Hole speech over the same time period shown for stocks above. The prices for each also explode higher.
Each of these categories is communicating a decidedly different story today. While gold has edged higher since the recent ECB meeting, the advance has been modest at best. As for the stellar stimulus performer in silver, it has hardly even budged to this point. And the same could be said for copper, which is still trading below the levels right before Draghi spoke on August 2.
These conflicting signals imply one of two potential outcomes.
Under the first outcome, stocks have it right on the prospects for more balance sheet expanding monetary stimulus in the coming months, while gold, silver and copper all have it wrong. If this is the case, it implies now is the time to get long all of these categories with a tilt toward the metals that have been thus far blind to the stimulus that may soon be on its way.
Under the second outcome, stocks have it wrong by vastly overestimating the monetary stimulus if any that is delivered by central banks in the coming months, while gold, silver and copper all have it right. In this instance, it would once again suggest emphasizing the metals over stocks given the fact that the latter may ultimately endure a sharp correction once the realization sets in that the stimulus stocks were so anticipating will not be arriving any time soon.
In reality, the final outcome is likely to fall somewhere in between. In regards to the Fed, as long as economic data remains mixed and the stock market continues to float higher, they are likely to remain on the sidelines with no further stimulus through the remainder of the year. After all, if you can keep fooling the stock market higher with words, then you have no need to actually take any action. As for the ECB, they are far more likely to introduce some sort of balance sheet expanding stimulus program in the coming months. While the ECB also dumbfoundingly seems endlessly able to fool the market with words, Europe has major problems that actually require immediate attention through policy action. But just as Europe has done throughout the financial crisis, it would not be surprising if the final product from the ECB ends up not only confusing the market but also falling woefully short in terms of magnitude and duration of what investors may have been expecting.
Given the uncertainty associated with what action monetary policy makers ultimately decide to take in the end, it remains worthwhile to maintain a hedged approach. An allocation to stocks has merit given the potential that full-scale balance sheet expanding monetary policy may yet be implemented in the coming months. But such allocations should be held in proportion with other asset classes in an overall portfolio strategy. Moreover, a focus on higher quality and lower volatility stocks that have yet to participate in the August rally has merit from a risk control perspective. Representative positions include the S&P 500 Low Volatility ETF (NYSEARCA:SPLV), McDonald's (NYSE:MCD), Nike (NYSE:NKE) and Occidental Petroleum (NYSE:OXY). High Yield Bonds (NYSEARCA:HYG) may also have merit under this scenario.
Instead, a particular emphasis on those categories that have yet to participate in any stimulus driven advance provides even greater upside opportunity than stocks at present. This includes gold and silver via the Central Gold Trust (NYSEMKT:GTU) and Central Fund of Canada (NYSEMKT:CEF). In terms of application, the positioning in these two funds can be blended to achieve the desired percentage allocation to both metals. As for copper, Freeport-McMoRan (NYSE:FCX) continues to provide an investment opportunity with a high correlation to copper prices.
Lastly, it is important to note that underlying global economic fundamentals remain poor and the outlook fraught with challenges. Thus, the stock market has little to support it at current levels if expectations for further monetary stimulus prove unfounded. As a result, maintaining allocations to more defensive asset classes that can move higher regardless of monetary policy action remains worthwhile. This includes Agency MBS (NYSEARCA:MBB), U.S. TIPS (NYSEARCA:TIP), Build America Bonds (NYSEARCA:BAB) and National Municipal Bonds (NYSEARCA:MUB). Also, Long-Term U.S. Treasuries (NYSEARCA:TLT) continue to provide a favorable negatively correlated hedge against the stock market. This is evidenced by the fact that as the SPY approaches overbought levels, the TLT recently entered oversold territory.
Regardless of whether Bernanke and Draghi decide to pile even more monetary stimulus under the market tree or end up leaving it bare, the opportunity continues to exist to both protect and capitalize on either outcome. Such prudence is the best gift of all for a portfolio in the current environment.
Disclosure: I am long OXY, MCD, NKE, SPLV, TLT, MBB, TIP, MUB, BAB, GTU, CEF, HYG.
This post is for information purposes only. There are risks involved with investing including loss of principal. Gerring Wealth Management (GWM) makes no explicit or implicit guarantee with respect to performance or the outcome of any investment or projections made by GWM. There is no guarantee that the goals of the strategies discussed by GWM will be met.