AmeriCredit (ACF) is probably the riskiest of the 20 stocks in my Top 20 Model Portfolio, but it is possibly the one with the most upside.  Investing in this company now in my opinion is a bit like buying beachfront property during a hurricane.  For those not familiar with the company, it is a leading provider of sub-prime auto loans.  Can you feel the gales blowing?
Make no mistake - ACF is potentially dead meat, as it historically has relied upon the capital markets to finance its lending (securitization).  I believe, though, that they will survive. 
I had done some work on the name for a client and actually found a lot to my liking earlier this year.  I was encouraged particularly by Leucadia's (NYSE:LUK) massive purchase - they now own 25% after first purchasing shares in January.  Beyond that, I believed that AmeriCredit was in much better shape than other lenders in the primarily used car market, and that it had strong franchise value despite the terrible current environment.  Additionally, their strong relationship with credit provider FSA was reassuring. 
In April, when they announced the Deutsche Bank, that included a $2 billion forward purchase of AAA securities in exchange for warrants, I decided that the company's prospects had improved dramatically and bought stock that day at 11.  I sold out in May just under 15, but I am long again.  This time, I expect to see a high closer to 17 as the company moves above book value and as investors begin to assume higher margins in 2010.  Short-interest is very high (14 days, 17% of the shares outstanding), though it has declined over the past two months.  Below 10, there was some insider buying.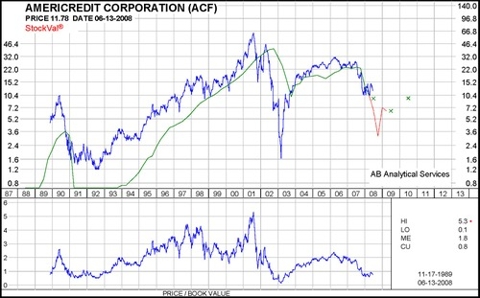 Disclosure:  Long ACF