As summer starts to draw to a close, sports fans turn their attention to the upcoming NFL season. For some fans, this means the start of fantasy football, where would-be team owners start their meticulous research to draft a team for some friendly competition. Currently, this is the situation where I find myself as I review potential players for my team. While doing this, I found it very interesting to see the similarities of drafting my fantasy football team, when compared to putting together a winning income portfolio. In both activities, there is a painstaking amount of research that must be done before final decisions are made. Also, a constant review process must be in place to ensure top performance.
This being the case, let's kill two birds with one stone and put together a winning income portfolio with a loose correlation of fantasy football picks. If nothing else, it should hopefully prove to be an interesting take on choosing income stocks and equities in a different light. So without further delay let's begin.
Quarterback
When playing fantasy football, most individuals will begin by choosing a quarterback. This is the leader of the team, and the one who will usually be the largest point scorer. For my fantasy team, I am looking to pick up Aaron Rogers of the Green Bay Packers. For my income team, I need a company that is willing to take risks to put up those big returns like Rogers. The obvious choice for me is American Capital Agency Corp. (NASDAQ:AGNC).
American Capital Agency Corp. is a real estate investment trust that invests in agency pass-through securities and collateralized mortgage obligations. The principal and interest payments are guaranteed by a U.S. government agency or U.S. government sponsored entities. The company funds its investments primarily through short-term borrowing structured as repurchase agreements. The current yield for this company is 14.9%, as it distributes $1.25 per share a quarter. Below is a chart to show how well this equity has performed over the last year.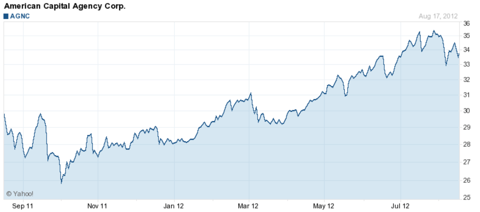 As shown above, AGNC does put up some impressive numbers with its quarterly distribution and overall price performance. Much like Aaron Rogers, AGNC is currently in the sweet spot, as quantitative easing and other Federal Reserve program seem to play right into their hands.
As good as things are, there is always a hidden risk that need to be addressed. This is true for a top NFL quarterback as well as AGNC. For example, consider a new round of interest rate hikes or credit issues that could lead to higher borrowing rates. This could definitely have a negative impact on the spreads or roll over repurchase agreements that AGNC is dependent on. The company also uses some very complex hedging and derivatives to help mitigate some of the risk. Needless to say, these instruments are very intricate financial matters, and sometimes even the company can get them wrong.
Taking all these factors into consideration, I definitely think that AGNC will be a great pick for my fantasy income team. Let's just hope I can get Rogers as well.
Running Back
For a fantasy team, a running back is another very important position. This is the guy who has to muscle through the defense and move the ball steadily up the field. For this position, I have no choice but to go with Arian Foster out of Houston. For my income lineup, I am going to go with an equally dynamic pick, and that is Linn Energy (LINE). LINE is an independent company that engages in the acquisition and development of oil and gas properties. The company's properties are primarily located in the Mid-Continent, the Permian Basin, Michigan, California, and the Williston Basin in the U.S.
The first question is why I would pick LINE in the lineup for the fantasy income team? To answer this, let's take a look at their chart.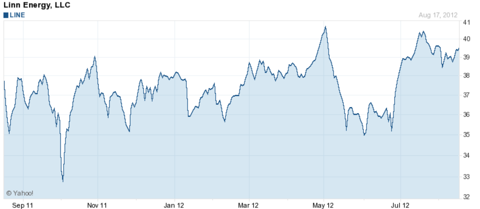 As the market has digested the recent volatility of energy prices, companies with exposure to oil or natural gas have suffered. Some big names have seen their stock price slide by 50%. This has not been the case with LINE. Much like a running back, LINE has kept the ball moving forward during these tough economic times. The question is, how have they done this? How are they plowing forward while so many others are getting sacked for losses?
The answer comes from LINE's management and their operating style. Much like a running back, LINE's management analyzes the current situation at hand and then tries to exploit any weakness. One way that LINE has proven to be so successful is their extensive use of hedging. While other companies are so exposed to the volatility in energy prices, LINE is sitting behind a defensive line of well-placed hedging contracts. For example, LINE is approximately 100% hedged on expected natural gas production for six years through 2017. Expected oil production is 100% hedged for five years through 2016. For 2012, the company is hedged at a weighted average oil price of $97.26 per bbl and a weighted average natural gas price of $5.28 per Mcf. This means that while other companies suffer through market volatility, LINE remains relatively insulated and that shows in their stock price.
Sitting behind a defensive line is a nice place to be for a running back. It is also nice for LINE with its defensive hedges, but you will score no points by remaining there. Much like a running back, LINE has also found weaknesses to exploit for the benefit of the company and investors. As other energy companies are fumbling the ball and trying to shore up their balance sheets, LINE has been on a buying spree. They are acquiring new assets that will power the company up the field for the future.
With depressed prices and a sagging economy, LINE is taking advantage of the situation. For example, consider their two most recent deals where they spent $1.4 billion to secure some prime assets. First they agreed to a $400 million joint-venture agreement with Anadarko in a CO2 enhanced oil recovery development in Wyoming. Then LINE rushed ahead again and acquired liquids-rich natural gas properties from BP America Production Company (NYSE:BP) for a contract price of $1.025 billion.
As LINE awaits the next big move in energy prices, investors are enjoying a quarterly dividend that currently yields close to 7.4%. LINE, like Arian Foster, will make a perfect fit in my fantasy team.
Wide Receivers
The wide receiver also play a very important part of the fantasy team. These players have the ability to score lots of points, but do so with lots of risk. These individuals are trying to catch deep passes, while avoiding being smashed in the process. Here I am picking Calvin Johnson out of Detroit for my team.
Looking for an income security with similar traits would lead me to pick Seadrill (NYSE:SDRL) for my income team. Seadrill is a leading offshore deep-water drilling company. The company operates a versatile fleet of 66 units that comprises drill ships, jack-up rigs, semi-submersible rigs, and tender rigs. It is easy to see why SDRL would be much like our wide receiver. This company earns its money by taking some big risks. They are deploying their expensive assets into deep water areas, which are sometimes in very hostile environments. There are lots of risks here to consider, but also lots of rewards. Let's take a look at a one year chart for SDRL to see how the stock price is doing.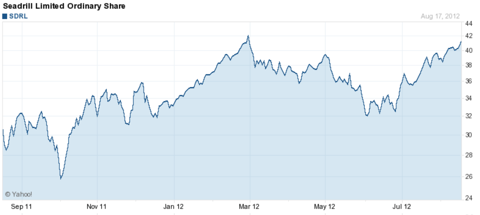 As one can see, the stock price has been volatile, but so far, SDRL seems to be on the right track. This is due to the fact that SDRL's business model is working. The company has stated that demand for their services is outpacing their supply, and very few rigs will be available until 2013. For the deep water assets, the daily rates continue higher and have exceeded US $600,000. Clients also seem willing to commit to available rigs all the way into 2014 and beyond. It seems that SDRL is catching those touchdown passes for now, and scoring lots of points for investors with a dividend yield of 8.1%.
There is always risk and it comes in many forms. For Calvin Johnson, the risk will be taking a hard hit from a safety, or defensive back that he is unaware of. For SDRL, one major risk is taking a hit from the amount of liabilities that the company has on their books. For example, consider that the first quarter total current liabilities increased from US$2,771 million to US$2,819 million. The long-term interest bearing debt increased from US$8,574 million to US$8,675 million over the course of the quarter. The net interest bearing debt increased from $9,463 million to US$9,735 million. That is a lot of debt, and if handled incorrectly it could hurt as much as being pummeled by a rogue defensive back. Luckily, SDRL's business is strong. The consolidated revenues for the first quarter of 2012 were US$1,050 million, as compared to US$1,059 million in the fourth quarter 2011.
SDRL should make a perfect fit on the fantasy income team. They should definitely be a dynamic and fun company to watch as their business plan unfolds.
Tight End
The tight end is one of the unsung heroes of the team. They are usually not big point scorers and often times work behind the scenes to get the job done. For my fantasy team, I would like to pick up Rob Gronkowski out of New England. For my fantasy income team I am going to go with Atlantic Power (NYSE:AT).
AT is very much like a tight end in that they do not get much attention, but behind the scenes in an income portfolio they do well. The company is involved in power generation and infrastructure. They have a well-diversified portfolio of assets in the United States and Canada. Their power generation projects sell electricity to utilities and other large commercial customers under long-term power purchase agreements, which seek to minimize exposure to changes in commodity prices. Their assets include interests in 31 operational power generation projects across 11 states and 2 provinces, one 53 MW biomass project under construction in Georgia, and an 84-mile, 500 kilovolt electric transmission line located in California. Atlantic Power also owns a majority interest in a biomass power plant developer with several projects under development. Here is the latest chart for AT.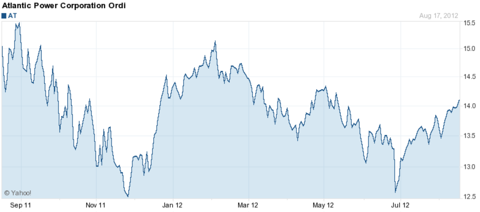 AT has seen some volatility over the last year, but the company is holding its own. Investors are getting an 8.2% yield as this player works behind the scenes in their portfolio. The project adjusted EBITDA, including earnings from equity investments, increased by $29.9 million, or 70%, to $72.8 million for the quarter ended June 30, 2012. This is a positive step in the right directing when compared to $42.9 million for the same period in 2011. The increase was primarily due to contributions from the 18 projects added to Atlantic Power's portfolio when it directly and indirectly acquired Capital Power Income L.P.
For the six months ended June 30, 2012, the cash that is available for distribution increased by $38.2 million compared to the same period in 2011. The payout ratio associated with the dividend currently stands at 89% for the six months ended June 30, 2012. Once again this is a positive step when compared to 111% in the comparable prior year period. It should be known that the payout ratio will fluctuate from quarter to quarter due to a host of issues. Atlantic Power continues to anticipate a 2012 payout ratio of approximately 90% to 97%, subject to the financial performance of its projects.
Looking to the future we see that AT continues to expect to receive distributions from its projects in the range of $250 to $265 million for the full year 2012. The Company expects overall levels of operating cash flows in 2012 to be improved over 2011. These increased operating cash flows in 2012, in addition to a couple of one-time realized gains, are expected to result in a significant increase in cash available for distribution in 2012. I think AT sitting in the tight end position should do just find.
Team Defense
Another pick that is very important is a team defense. In some leagues, players just pick a team as a hole to compete with. For me, I definitely would like to pick up the San Francisco 49ers, as they seem to be at the top in their game. For my fantasy income team pick, I need to get a company that is as equally as tough. I need a company that can play a good defense against a sagging economy and uncertain economic times. This is a tough choice, but in the end, I had to go with Verizon (NYSE:VZ). This company is very well-known across the world and is a major player in the communications arena. To give perspective, the company has stated that as of August 10, 2012, it served 94.2 million retail customers, including 88.8 million retail postpaid customers.
To see why this company was picked, take a look at the one year chart on their performance.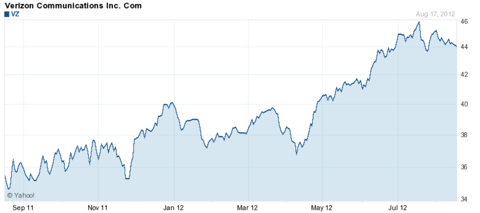 While the rest of the world is suffering through bad economies and massive financial issues, no one bothered to tell VZ. Their stock price last year traded close to $36 per share, and now trades close to $44 per share. On top of that, the company gives a quarterly dividend, which yields about 4.5% on today prices.
This company, like the 49ers, seems to be fielding the perfect defense in tough times. For example, consider some of the facts from their second quarter financial statements. It seems that VZ had $9.3 billion in cash flow from operating activities, which was up 20.1% when compared with the second quarter of 2011. For the wireless division, there was a 7.3% year-over-year increase in service revenues in the second quarter. Also, there was an 8.6% year-over-year increase in retail service revenues, while data revenues were up 18.5% year over year.
When looking towards the future, VZ has stated that they expect to remain on track to meet their financial objectives and produce solid double-digit earnings growth for the year. Obviously, VZ is a great choice to put on the fantasy income team. Let's just hope the 49ers can have similar results.
In conclusion, trying to compare a fantasy football picking methodology against selecting a top notch income portfolio is a stretch. But sometimes it is just what is needed to drive certain points home. Obviously, much more research into these players and companies must be done before a final decision is made. Also, the odds of me picking up all these specific football players on the same fantasy team are next to impossible. This is not so for the income team that I have selected. Luckily for all of us, shares of these great companies are available to pick up for your team at any time.