Co-written by Harry Long
The Lay of the Land
In the insurance world, growth in book value on a per-share basis is the key metric of success or failure. The drivers of that metric are the underwriting results and the performance of the investment portfolio.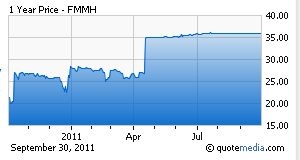 While unglamorous, Fremont Michigan Insuracorp (OTC:FMMH) for the last five years has had solid underwriting results and a balance sheet which would put a Puritan to sleep, to steal a turn of phrase from Roger Lowenstein. The company has also been largely overlooked by the investment community due to its size.
Investors have a curious habit of conferring assumptions about competence to large financial institutions ("They're huge, so they must be bright!"), to terrible effect. Often, high quality bargains in small towns with value systems that are a throwback to a simpler, more decent era, harbor extremely conservative firms with shrewd management. We believe Fremont is such a Midwestern firm.
At a time when huge financial institutions have been imploding due to reckless, idiotic management, Fremont has prospered with a plain vanilla portfolio and good execution on its bread-and-butter business: auto insurance and homeowners' insurance. Lacking the enormous IT infrastructure, scale, and advertising budget of firms such as Progressive or Geico, the company has stuck to a logical strategy: cherry picking preferred risk drivers, homeowners, and commercial accounts while investing in software systems to drive efficiency. With an expense ratio which is higher than the industry average, they need loss ratios which are extremely low to drive down the combined ratio. The strategy has worked to great effect, but has drawbacks and can be improved.
Data from page 30 of the 2007 10-K (see the 10-K for the additional notes 2, 3, and 4):

The combined ratio over the last five years has averaged 91.68. Surprisingly, the company sells for a significant discount to book value. To the uninitiated, insurance companies reporting consistent underwriting profits at discounts to book value are a wonder to behold. Often, they're totally incorrect. Though it is usually largely ignored, the reserving table is the crucial test of the reality of the book value and of the underwriting results. With so much discretion to estimate IBNR losses and establish reserves, even well-intentioned and honest management can make mistakes. Management with bad intentions can destroy your economic life. That's why, in the vast majority of cases, insurance companies selling below book value deserve it—the reserving table is full of deficiencies, meaning companies overestimated profits and underestimated losses in prior years.
In contrast, Fremont has had excellent, conservative reserving. Overall, they actually have reported huge cumulative redundancies, meaning their initial estimates of reserves were too conservative. Net cumulative redundancy (deficiency) data taken from page 37 of the 2007 10-K:

If anything, we would venture that the table reveals a pattern of deep Midwestern conservatism that points to the high probability that the company's true economic profits, and indeed its book value, may be higher than its reports. Lest anyone object to such conservatism, that is precisely what one would expect from a company which actually adheres to the prime rule of accounting—conservatism, which demands that when a company could interpret accounting data in two different ways that it does so in the manner which yields a lower earnings number.
Conservatism has become so rare in the financial world, with insurance firms and other financial institutions famously taking illegal and deceptive actions to artificially boost results, that it is a wonder to behold a firm, which takes pains to make sure its numbers are rock-solid. Consistently, Progressive is another good example of a company with excellent reserving practices. Usually, auto insurance companies with excellent reserving practices will waive off any praise, modestly observing that the short-tail nature of the business makes reserving much easier than for companies with longer-tail business. However, when one examines other insurance firms with huge auto insurance businesses, the reserving is often less than stellar, belying the modesty of such observations.
Fremont's balance sheet is consistent with the rest of the company's approach. It has zero debt on the liability side. On the asset side (in addition to mutual fund investments and a quarter million in loans) from the latest page 24 of the 10-Q for the quarterly period ended March 31, 2008:
Credit Risk. At March 31, 2008, all of our fixed maturity securities were rated by Moody's as investment grade with an average credit quality rating of AA+ and an effective duration of 5.33 years.

Given the Company's propensity for high credit quality, our portfolio does not hold any investments in the sub-prime sector of the mortgage-backed market. Instead, we hold higher-quality pools that are well-diversified, avoiding any regional concentrations. As added protection, the majority of the securities held within the portfolio are agency-backed issues.
Very refreshing and no subprime. We appreciate the shorter duration given the exposure to interest rate risk as inflation leads to higher yields. Traditionally, the longer end of the yield curve is most affected by rising inflation, which destroys the effective economic value of firms proportional to the length of the effective duration of their fixed income portfolio. If we had our druthers, most insurance firms would invest in assets with the ability to guard against inflation, such as equity investments.
While the company may choose to develop an approach akin to Berkshire Hathaway's (NYSE:BRK.A) in the future, they are doing an excellent job if we judge them according to their approach of focusing on insurance, as opposed to investment profits. Of course, a potential acquirer will appreciate the largely "blank slate" of the current portfolio. A long-term investor would wish for more equity investments, if they can be done with an eye to high quality businesses at reasonable prices, despite the recent market turmoil, as a protection against the ravages of inflation.
An added bonus is the company's headquarters building. From page 27 of the 2007 10-K:
ITEM 2. PROPERTIES

We own our main office, located at 933 E. Main Street, Fremont, Michigan, which is a 30,000 square foot brick veneer building constructed in 1981. There is no mortgage indebtedness on the building. Management believes that the building is sufficient for the needs of the Company, both now and in the foreseeable future.
What Needs Improvement Now
The expense ratio is far too high, and we believe the company wants to take steps to bring it down. It needs to get down to 28 if the company is to be judged truly lean and mean while using independent agents. Such an objective is attainable if the company pairs a reduction in overhead expense with continued investment in IT and increasing scale. To our way of thinking, since one can never make the fatal assumption of expecting the insurance market to yield adequate rates amenable to premium growth, the safest course of action is to drive efficiencies with IT investment and the slashing of overhead expense. The company has done a remarkable job at driving efficiency with its Fremont Complete system, which has allowed agents to get quotes, write business, monitor their book, and report claims electronically (the company previously used paper forms). The company has also grown book value per share remarkably.
However, the company needs to be more aggressive at cutting existing expenses. The expense ratio dropped 1.3% last quarter, from 37.5% in the quarter the year before, to 36.2% in the latest quarter. We will be impressed if this trend continues at a roughly 1% point decrease in the expense ratio per quarter. Such a consistent decrease would show the management is serious about achieving a competitive expense ratio.
The company needs to radically change its strategy to one as a national carrier, which writes business directly over the Internet if it is to be a top-notch long-term investment with the ability to grow many times in value. Such a change in strategy would dramatically lower the expense ratio; drive profitable, low-risk growth; and allow the company to get an A- A.M. Best rating.
While a lower expense ratio (of around 28) would make the company competitive against firms which write business through independent agents, it is a totally uncompetitive ratio against carriers with the ability to write business directly over the phone and the Internet, cutting out agents. Firms such as Progressive and Geico, which successfully do so, can enjoy expense ratios of well below 20, making them the Wal-marts of the insurance world against the less efficient mom-and-pops. They understand that their survival and prosperity depend upon the absolute lowest cost structure in a commodity industry, while writing risks at adequate rates for the risk assumed.
John D. Rockefeller's enduring legacy at Standard Oil and today at Exxon Mobil (NYSE:XOM) is that while the company could not control the price of oil, it could control costs. Over the long-term, the lowest cost producer could enjoy profits across the cycle, while many higher-cost competitors could not. In the insurance industry, one in which companies can refuse bad rates, but cannot control industry rates, Progressive and Geico are the intellectual adopters of such a philosophy, driving down costs and destroying competitors with less rational thought processes. Progressive writes business through agents and writes business directly, lowering its average expense ratio, while also winning policies from customers who may want to use an agent. Such an approach lowers the overall expense ratio, while increasing the potential customer pool, and may also be a rational approach when Fremont moves to other states.
The last thing Fremont executives want is to alienate their independent agents. That is why writing insurance directly in other states would accomplish the objective of driving down costs without hurting legacy business. Most importantly, A.M. Best continues to point out that geographic concentration is a factor which keeps the company at a B++ rating, as opposed to an A- rating, or higher. According to the A.M. Best press release (Business Wire, January 30, 2008) on the rating increase from B+ to B++:
The ratings reflect Fremont's well-established market presence as a writer of personal lines insurance in Michigan, strong capitalization, improved overall operating results, tightened underwriting guidelines and expansion into less catastrophe-prone areas of Michigan.

These favorable rating factors are offset by Fremont's somewhat elevated net premium leverage and the risks inherent in the company's geographic concentration in Michigan, which may subject it to weather-related loss exposure, potentially adverse legal and regulatory conditions, as well as competitive market pressures. [emphasis added]
Many agents are loath to write business with a company without an A- rating. Therefore, logically, moving to other states would get the company an A- rating and improve the growth prospects for the company in the Michigan market in addition to the profitable benefits to growth, expenses, and reduction of geographic risk previously outlined. Moreover, in a virtuous cycle, an A- rating could improve the company's rates on reinsurance, further reducing expenses and increasing profits.
Management resistance to the near-term accomplishment of such goals is a variation of a rather simple argument: "Writing business in other states is hard. It takes great investments in time, arduous regulatory approval, and energy. We have so many growth opportunities in Michigan, and we know the market."
What is management paid for in salary and in equity compensation, if not to accomplish the arduous, time-consuming tasks whose successful completion is the hallmark of a growth company? Why is management paid, if not to learn about the weather systems, regulatory environment, and loss patterns in other states? If writing business direct in other states would result in a better A.M Best rating, would reduce geographic risk, and lower the expense ratio (if done direct), the management has an ethical and a fiduciary obligation to shareholders to do so. Any one of these factors alone is an excellent business reason to, at the very least, move to neighboring states. Taken together, they represent such compelling business logic as to bring into question the drive and the commitment of a management team which ignores them.
We believe the executives at Fremont are well intentioned. They have avoided many of the land mines which have terribly wounded huge firms with global resources, such as AIG. The management has successfully navigated a variety of challenges in a state with the highest unemployment rate and perhaps the weakest economy in the nation. They are conservative and honest. If the management ignores the imperative of becoming a national carrier with the ability to write low-cost business directly, they will have left their most important work unfinished, and shareholders will suffer. We predict that if they do not go national, their solidly profitable business will not languish in obscurity. It will be taken over by shrewd investors who will get a fine business for less than the value of a high quality investment portfolio after all liabilities have been subtracted. And they will accomplish the work of becoming a competitive national carrier.
Disclosures:
Harry Long (website and email) owns FMMH shares directly, through partnerships, and through trusts. To the best of his knowledge, certain of his family members own FMMH shares through partnerships and trusts. Such ownership may change at any time.
Northern Pacific Corner does not own FMMH shares.