Shares of Comcast Corporation (NASDAQ:CMCSA) have experienced a stellar medium-term performance by returning 143% over the past 3 years. The upward price trend has lifted the stock valuation close to its 3-year high measured by LTM P/E (see below). Some investors may be skeptical regarding whether the price momentum can continue, but I do believe there remains a solid upside given that the stock valuation is still within an attractive range. CMCSA also deserves a spot in your dividend portfolio as its current dividend yield of 1.9% is very likely to be sustained or even improved in the future.
click to enlarge images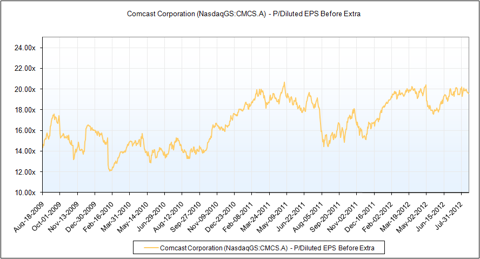 In this article, I will illustrate five reasons that support my bullish view on the stock.
1. CMCSA stock is reasonably priced to the firm's growth prospects. Consensus estimates predict CMCSA's revenues, EBITDA, and EPS to rise by a 2-year CAGR of 6.7%, 5.8%, and 21.1% over the current and next fiscal years. Compared with a set of comparable peers including some major players in the US cable sector, CMCSA's revenue growth potential is above the peer average. However, both the EBITDA and EPS growth prospects are marginally slower than the peer averages. Thus the company's overall estimated growth performance is fairly on par with the peer group's. Accounting for the earnings growth potential, the stock is trading at 1.0x PEG, suggesting it is fairly priced relative to the potential growth. It is also noted that CMCSA's 1.0x PEG is lower than the group average of 1.4x.
2. CMCSA stock is attractively priced to the firm's overall fundamentals. In terms of profitability, although the company has a lower LTM gross margin, its EBITDA, EBIT, and net profit margins are superior to the peer averages. Both ROE and ROIC are lower than the average, but the difference is not substantial. On the liquidity side, CMCSA demonstrates a robust capability in generating FCF as the LTM margin of 27.2% is significantly higher than the average of only 8.6%. Furthermore, the firm is the least leveraged, and thus is able to maintain a fairly strong interest coverage ratio. This would help to compensate the company's below-average current and quick ratios (see table below).

As such, I believe the stock should at least warrant an on-par valuation based on its comparable growth and financial performance to the peers, as well as the firm's solid market position. Assuming that CMCSA is trading on par with the peers' average level (i.e. no valuation premium or discount to the five peer-average trading multiples, see table above), the estimated stock value would be $40.50, indicating a 19% upside from the current stock price.
3. CMCSA issued the first dividend in 2008. Since then annual dividend per share has been raised from $0.50 in 2008 to $0.90 in 2011 by a 3-year CAGR of 22%, reflecting management's commitment to continuously increase capital return to shareholders (see below).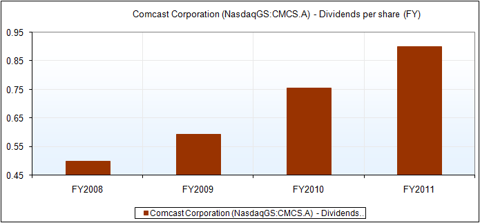 4. The table below shows that since 2008, annual dividend payment represents only a very small portion of the FCF generated. Even after counting in the cash spent on buying back shares, the total capital returned to shareholders is still significantly less than the firm's capability limit (i.e. annual FCF). Even with a small deterioration in FCF, the current dividend level is very likely to be maintained.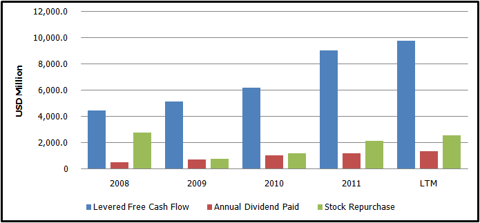 5. CMCSA's estimated revenue, EBITDA and EPS have demonstrated a solid upward trend over the past 12-18 months, reflecting market's firm confidence in the company's future (see below).


Bottom line, even after a substantial rise, CMCSA's valuation still offers a fair margin of safety as the current stock price appears to be cheap relative to the firm's healthy fundamentals. In addition, by investing in CMCSA, investors also enjoy a decent dividend yield and stock buybacks, which are safely supported by the company's ample cash flows. As such, I put a buy rating on the stock.
Comparable analysis and financial performance charts are created by author, financial estimates and P/E charts are sourced from Capital IQ, and all financial data is sourced from Capital IQ and Morningstar.
Disclosure: I have no positions in any stocks mentioned, but may initiate a long position in CMCSA over the next 72 hours.