Citigroup Global Markets analyst Shannon Cowherd has downgraded her rating on Bank of Nova Scotia (NYSE:BNS) from "buy" to "hold."
In a note to clients, Ms. Cowherd said:
At nearly 3x book and 11.2x forward earnings estimates, BNS is trading at a significant premium to its peer group of Canadian banks.

Historically, the share price has traded at a premium ranging from 2.5% to 9% based on book and 2% to 5% based on earnings. Currently, the bank is trading at a 20% premium to book and 11% to earnings.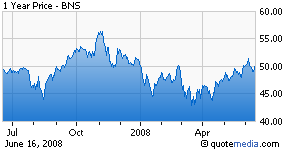 Ms. Cowherd noted that the premium valuation likely reflects Bank of Nova Scotia's geographic diversity, in particular its exposure to emerging markets where growth is expected to outpace that of the Canadian market.  
Despite the downgrade, Ms. Cowherd raised her target price on the stock from C$50 to C$52 to reflect a slight reduction in capital costs.
She wrote:
Similar to all financials, the bank's funding costs increased as a result of the credit/liquidity crisis in the market, but as the market turbulence begins to subside funding costs are beginning to normalize.