In my previous post here, I recommended buying gold. On that occasion I explained that one main reason for expecting a long term rise in the price of gold is the behavior of the Central Banks. Ever since 2010 the Central Banks have become net buyers of gold after many years of only net selling. On August 16, 2012, the World Gold Council published its report, Gold Demand Trends Q2 2012, where it was clearly expressed that this trend is even expanding. According to the report:
The second quarter was another period of significant purchasing by official sector institutions, with demand accounting to 157.5 tonnes. This was a record quarter for central bank buying since the sector began recording net purchases in Q2 2009 and was more than double the 66.2 tonnes of purchases made in the same period of 2011. Purchases in the first half of the year totaled 254.2 tonnes, 25% up on 203.2 tonnes from the same period last year. The official sector accounted for 16% of overall Q2 gold demand.
The central banks of the following countries are showing increasing gold purchase this year: South Korea, The Philippines, Kazakhstan. Russia, Mexico, Turkey, Argentina, Ukraine, along with several others. The central banks are buying gold to reduce their reliance on the US dollar as a reserve asset. The purchases made by the central banks of developing countries have been increasing in recent years, as those nations diversify holdings, partly because of rising foreign-exchange reserves through export-led growth, but also, more recently, as a reaction to the sovereign-debt crises affecting traditional reserve currencies, like the U.S. dollar. The fact that so many central banks are increasing their gold holdings shows that they believe that considering its actual price, gold is a good investment, which will preserve its value. Central banks are aware of the fact that demand for gold will remain strong. They also realize that because unmined known gold reserves are only 51,000 metric tonnes, when the global annual gold demand is about 4,500 tonnes, discovering and developing new reserves will turn out more costly.
Click to enlarge images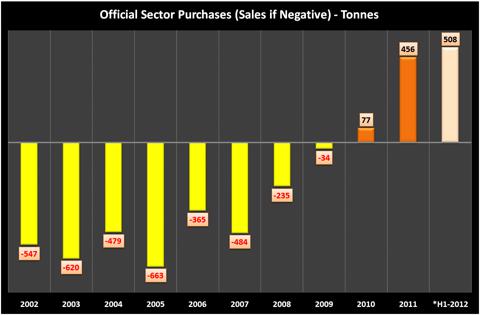 *Q2-2012 annualized source: World Gold Council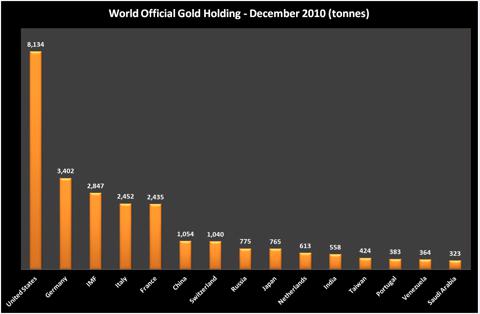 Source: International Monetary Fund
The total demand for gold in the second quarter of 2012 was 990 tonnes, 10% less than in the previous quarter and 7% less than in the same quarter of 2011. The demand for gold for jewellery declined to 418.3 tonnes from 488.1 in the first quarter, and the demand for investments, bar, coin, medal and ETF, declined to 302 tonnes from 407.4 tonnes in the first quarter.
Gold Demand Q2-2012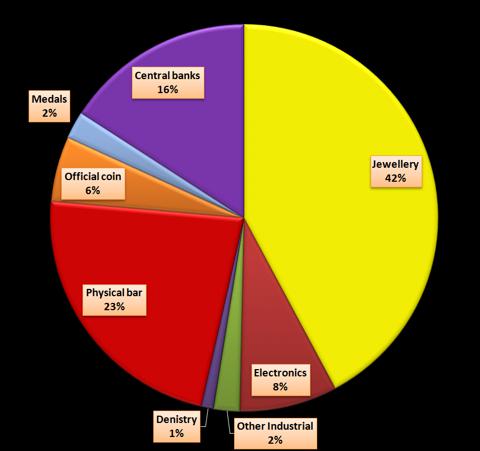 Source: World Gold Council
Summary
There was a significant total decline in the demand for gold in the second quarter of 2012, which was due to the fall in the demand for jewellery and investment. In my opinion, this decline is a short term one derived from the weak global economic conditions, but the central banks increasing purchasing trend is a long term trend and will drive gold prices higher. Since central banks are responsible for 16% of the total global gold demand and are increasing their gold purchases, there is a high probability that gold price will rise during the next quarters, and that will give investors an opportunity to join the trend and make nice profits.
ETFS for gold traded on NYSEArca
SPDR Gold Shares (NYSEARCA:GLD)
Sprott Physical Gold Trust ETV (NYSEARCA:PHYS)
ETFS Physical Swiss Gold Shares (NYSEARCA:SGOL)
ETFS Physical Asian Gold Shares (NYSEARCA:AGOL)
iShares Gold Trust (NYSEARCA:IAU)
PowerShares DB Gold (NYSEARCA:DGL)
Disclosure: I have no positions in any stocks mentioned, and no plans to initiate any positions within the next 72 hours.