On Saturday, August 18, Bloomberg reported that Prudential Financial (PRU) has surfaced as the top bidder for the individual life insurance business of its peer, The Hartford Financial Services Group (HIG). Prudential is the second largest life insurer in the United States. Based on Hartford's Q2 reporting, its individual life unit had net income of $36 million for the quarter, and current rumors and speculation estimate that a deal for it would be worth approximately $1 billion.
Several investors have been pressuring Hartford to reorganize itself, sell assets or seek a buyer for the insurer. This pressure has primarily come from billionaire hedge fund manager John Paulson, whose hedge funds hold about seven percent of HIG. Paulson reduced his stake in HIG during the second quarter from about 8.5 percent to seven percent. Hartford currently has a market capitalization of about $7.7 billion. Due to the abovementioned pressure, Hartford CEO Liam McGee has been divesting HIG of its life insurance and other non-core units and increasing HIG's focus on property insurance.
Other companies may be interested in Hartford's life insurance unit, and Bloomberg noted that Protective Life Corporation (PL), a life insurer with a market capitalization of about $2.3 billion was also interested. Nonetheless, given PL's size and finances, it would probably not be able to provide as compelling of an offer for the unit as could Prudential, which has a market capitalization about ten times as large as PL's, and has approximately $4 billion in cash and cash equivalents. See a recent performance chart for PRU: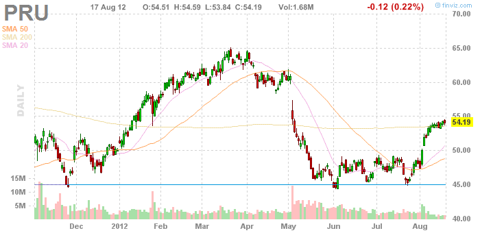 Hartford shares have performed well over the last couple of weeks, but are still down about 20 percent from their 2012 high and about 40 percent from their 2011 high. Nonetheless, Hartford shares have appreciated by about nine percent since the start of 2012 and have appreciated by about 11 percent over the last three weeks. See a recent performance chart for HIG: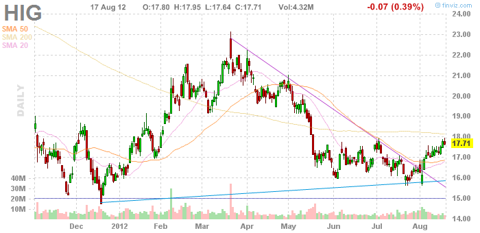 Much of Hartford's recent positive performance is due to a plethora of recent news. On July 25, Hartford declared its Q3 dividend ($0.10 per share). This was followed by a July 31 announcement that Hartford sold Woodbury Financial Services, a broker-dealer unit, to American International Group (AIG). Then on August 2, HIG announced that it expects core earnings to be in the range of $0.75 to $0.80 per diluted share for the third quarter of 2012.
McGee previously commented that he expects to reach a deal for the life insurance unit before the end of 2012, so the timing of this rumor is appropriate. Hartford shares are likely to appreciate on news of reaching any agreement, and especially if the unit sells above the anticipated $1 billion sale price.
Disclosure: I have no positions in any stocks mentioned, and no plans to initiate any positions within the next 72 hours.