In one of my recent articles, I did an analysis of Coca-Cola (NYSE:KO) and came to the following conclusions: (1) that Coca-Cola was fairly priced, and (2) that as a long-term "seeking alpha" investor I would not recommend buying Coco-Cola stock. I am not surprised that I received some criticism for my analysis, as Coca-Cola is a fairly popular stock. Some people wondered how I ended up not recommending buying Coca-Cola despite my expectations of decent future growth prospects and high profitability. The reason behind my decision is simple: since future growth prospects are already included in the price of the stock, it can be considered fairly priced. Consequently, as a "seeking alpha investor," I don't think positive alpha can be generated by buying a stock that is fairly priced.
We need to think about earnings in the following way: When you buy Coca-Cola you are paying a relatively high premium for each dollar of income that Coca-Cola generates. The twelve month trailing net income of Coca-Cola is $3.6 per share. On the same metric, General Motors (NYSE:GM) obtains $2 per share. Intuitively, you might think that this makes Coca-Cola a better company, which is true. It is a better company, but the problem is that we as investors do not pay the same price for both companies. For example, the price of 1 share of Coca-Cola is approximately 4 times as expensive as 1 share of General Motors, yet the earnings are only 80% higher.
A smart reader might argue that those numbers aren't comparable since the companies operate in different industries, which means that risks and future growth are likely very different. So instead I have decided to compare Coca-Cola with some of its peers in the beverage industry. I have chosen other large multi-billion dollar beverage companies such as Dr. Pepper (NYSE:DPS), Pepsi (NYSE:PEP), Molson Coors (NYSE:TAP) and Anheuser Busch (OTCPK:AHBIF). For those of you who are not familiar with some of these companies, I have provided a short description of them below. Feel free to ignore them if you only care about my valuation.
Pepsi
Pepsi is different from the other companies in the sense that it not only sells carbonated and noncarbonated beverages, but also food (snacks, sweets, etc.), which accounts for roughly 50% of its revenue. Revenue has risen by 70% since 2007, which is primarily due to Pepsi's expansion toward healthy food and non carbonated beverages. Unfortunately, the profitability of Pepsi has not kept up, as the operating margin has decreased from 18.2% in 2007 to 13.9% (trailing).
Molson Coors Brewing Company
Molson Coors is one of the largest brewers in the world with brands such as Coors Light, Molson Canadian and Carling. Thanks to its joint-venture with SABMiller, it currently has a market share of 29% in the U.S. beer market. It's the market leader in Canada with a share of 40%, and one of the market leaders in the U.K. with a market share of 19%. At a market value of around $8 billion, Molson is the smallest of the five companies.
Dr Pepper Snapple Group
Dr. Pepper Snapple Group owns and distributes carbonated and noncarbonated brands like Dr.Pepper, Snapple, Schweppes and Mott's. Its market share in the soft drink market is 16.7%, compared with 29.3% for Pepsi and 42% for Coca-Cola. Over the years the financial results of the company have been somewhat stagnant. There has been little to no increase in revenue, and with an operating margin of 17.1% in 2011 (down from 17.5% in 2007), the company today reports levels of income similar to 2007.
Anheuser-Busch Inbev
After the merger between the American-based Anheuser Busch and Belgium-based Inbev, ABInBev became the largest brewer in the world. ABInBev is the company behind some of the most popular brands in the U.S., such as Bud Light, Budweiser, Busch and Busch Light. Through its scale and cost-cutting programs, it has obtained an impressive operating margin of above 30% (most other large beer breweries have an operating margin of 18-20%).
Forward P/E-comparison
To compare these companies, I will calculate the 5-year forward P/E based on earnings estimates from Wall-Street. The standard P/E metric only looks at historical data and tells you how much you have to pay for 1 dollar of income generated over the last twelve months. By comparing the forward P/E ratios of the companies, one can get an idea of how well the investment will perform in the long run. Below you can see the numbers I used to estimate the Forward P/E.

Click to enlarge
In the below graph you can see that Pepsi is the most expensive stock throughout all five years. Though Anheuser starts out as the second most expensive, due to its high growth rate it is eventually surpassed by Dr. Pepper. The vertical line in the middle is the "line of fair value." This line takes into account the fact that the value of future income is less than the value of income today. If we can assume that growth after 5 years is equal for all of the companies, then "the line of fair value" determines what company is the cheapest. According to "the line," Coca-Cola is the second cheapest company, surpassed only by Molson.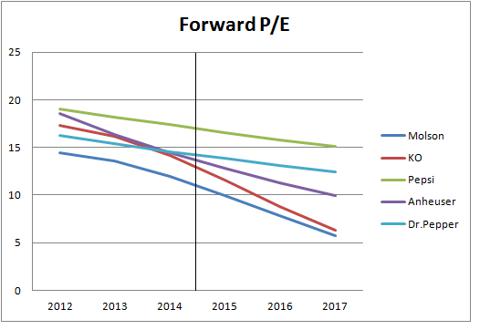 Click to enlarge
Adjusted P/E-comparison
One potential problem with using the above Forward P/E is that it does not take into account the debt and cash of the companies. A company with a lot of debt will have to use some of its future income to pay off creditors, rather than shareholders. This reduces the fair value of the stock. To adjust for that I added the net debt per share to the share price, which gives the "net-debt adjusted share price."

As seen in the below graph, Molson and Coca-Cola are tied for being the cheapest company (according to the "line of fair value"). However, I wouldn't buy any of these companies as I deem all of them to be too expensive. Pepsi, and to some extent Dr.Pepper, are especially overpriced. Molson and Coca-Cola seem fairly priced, and Anheuser might be as well if it can continue growing by double digits after 2017. But I will admit that Coca-Cola is not a terrible investment by any means, as it gives investors a decent return with relatively low risk.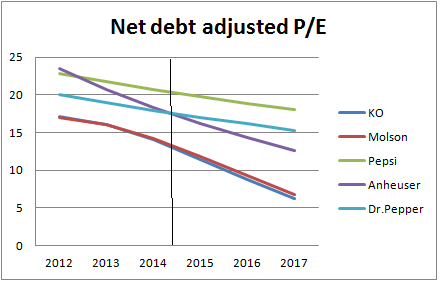 Disclosure: I have no positions in any stocks mentioned, and no plans to initiate any positions within the next 72 hours.