Warren Buffett made lots of headlines when it was disclosed that he had made substantial liquidations of several long-term stock holdings. He exited approximately two-thirds of his Johnson & Johnson (NYSE:JNJ) position as well as substantial positions in Proctor & Gamble Company (NYSE:PG) and Kraft Foods Inc. (KFT). His sale of JNJ was foreshadowed by comments made earlier this year.
JNJ is a popular dividend stock that I've written about in several previous articles. With a recent closing price of $67.80 per share it has an estimated forward dividend yield of 3.7% based on a forward dividend of $2.48.
JNJ has a successful track record of growing its dividend over the years. However, its recent dividend growth has slowed. While Warren Buffett might enjoy good dividend yields, he often compares price-to-book value and whether or not the company is growing its underlying equity value. Also, a low earnings payout ratio also helps grow book equity. The following chart shows the price-to-book value of JNJ over the past 10 years: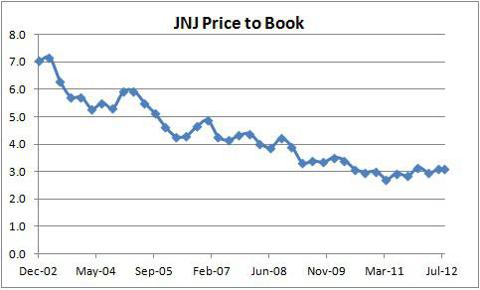 Click to enlarge
Source: Author Calculations, SEC filings
At first glance this looks pretty good. The current price to book is lower than historical values. However, there is a consistent downward trend. It is also important to recognize that the price-to-book ratio for the S&P 500 has also been declining and is currently in the range of 2.0x to 2.5x showing JNJ still trades at a premium. While valuation multiples are based off a recent historical or somewhat forward projection they reflect future anticipated growth as well as the underlying risk. So these declining multiples might not suggest good valuation if growth prospects have significantly diminished or risk has substantially increased. The following chart shows the annual growth rate in book equity.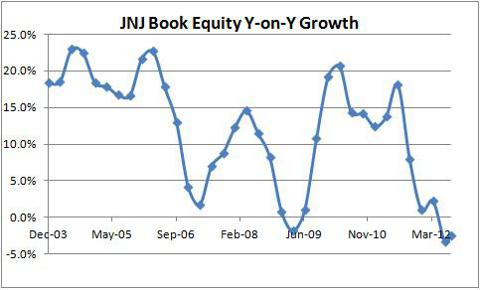 Click to enlarge
Source: Author Calculations, SEC filings
The book equity growth has declined significantly from early levels of high teens to over 20 percent. The growth is now in the single digits and has even been negative for the past two quarters. What this means is that the book equity value of JNJ has actually declined from its levels a year prior. These challenges have resulted in a relatively flat stock price where the total return has been largely supported by dividends.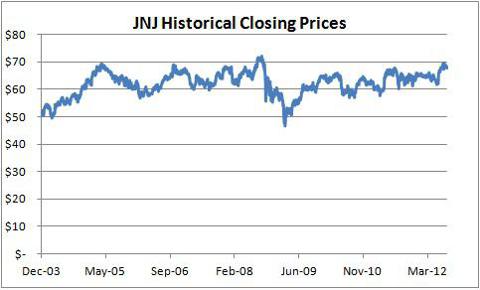 Click to enlarge
Source: Yahoo!Finance for stock prices.
Since the end of 2006, the stock price has appreciated a measly 2.7%, luckily dividends have kicked in another 19.7% for a total return of 22.4%. Apparently, even Warren Buffett has limits to his buy and hold philosophy. While his favorite holding period might be forever, that does not mean he will never sell, simply that he prefers to not sell.
So while JNJ, without question, has an impressive track record of dividends and growth, Warren Buffett's recent sales in combination with an inability to meaningfully grow the book equity raises questions.
Disclosure: I have no positions in any stocks mentioned, and no plans to initiate any positions within the next 72 hours.
Additional disclosure: This article is for informational and educational purposes only and shall not be construed to constitute investment advice. Nothing contained herein shall constitute a solicitation, recommendation or endorsement to buy or sell any security.