One of my best calls so far in 2012 has been in a February piece around Smart Balance (SMBL), a "healthy" food company. I penned the article when the stock was trading around $5 a share. Since then the stock has gained approximately 140% (and I wish I did not sell at $10) to trade at over $12. I bring this up as I have recently found another "healthy" food company stock trading at around $5. It is SunOpta (NASDAQ:STKL) out of Canada. The company is ideally positioned to take advantage of the secular trend of people in the developed world trying to move to a healthier diet. This trend has been the power behind the success of Whole Foods (NASDAQ:WFM) and The Fresh Market (NASDAQ:TFM) both of which SunOpta supplies. The stock seems like a cheap play to play the migration to natural and organic foods and has had some recent catalysts as well.
Recent positives from SunOpta
The company recently announced record second quarter and first half earnings results. The company made 12 cents a share, an 85% Y/Y increase.
It also improved its operating margin to 5.1% from 4.1% Y/Y.
It is also looking to divest its non-food assets to concentrate fully on growing one of the largest natural and organic platforms in the world. Not only will this bring in cash, but should allow for a high multiple as the company will be now pure play stock.
SunOpta recently expanded and amended its credit facility allowing for lower interest costs as well as greater financial flexibility.
"SunOpta engages in the sourcing, processing, and packaging of natural and organic food products. Further, the company also processes, sells, and distributes silica-free loose abrasives and other specialty industrial minerals to the foundry, steel, construction, and marine cleaning industries; sources specialty sands and garnets for the water filtration industry; and recycles inorganic materials." (Business description from Yahoo Finance).
Four additional reasons STKL is a good growth pick up for $5 a share:
The nine analysts that cover the stock have a median price target of $7.50 a share on STLK. The lowest price target is $6.50.
The stock is trading near the bottom of its five year valuation range based on P/E, P/S, P/B and P/CF.
The market is undervaluing the company and its growth prospects. Not only does STKL trade for a minuscule five year projected PEG (.38) but also is selling at just 8% over book value and 11 times forward earnings.
The stocks seems to have decent medium term technical support here and just crossed over is 20 day moving average (See Chart).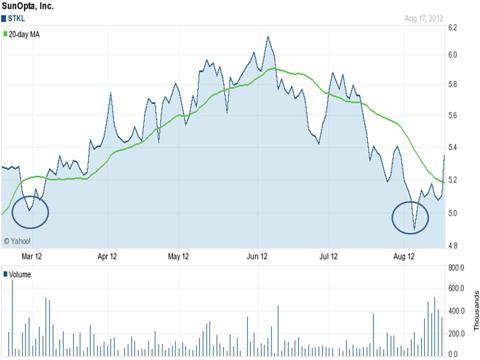 Disclosure: I have no positions in any stocks mentioned, but may initiate a long position in STKL over the next 72 hours.