The effort underway nationwide to move healthcare to a modern digitized future should reward numerous players in the space. One stock in the sector that looks cheap based on its valuation, solid dividend yield, growth prospects and the fact that insiders recently bought at higher levels is Computer Programs and Systems (NASDAQ:CPSI).
"Computer Programs and Systems is a healthcare information technology company that designs, develops, markets, installs, and supports computerized information technology systems to small and midsize hospitals in the United States." (Business description from Yahoo Finance)
7 reasons CPSI is undervalued at $47 a share:
 
The company has a robust balance sheet with a net cash position and it yields a solid 3.7%.
The stock is selling in the bottom third of its five year valuation range based on P/E, P/S, P/B and P/CF.
Three insiders made several purchases totaling some $350K in May at prices around $55 a share.
The 8 analysts that cover the stock have a median price target of $65 a share on CPSI. Price targets range from $56 to $71.50 a share.
The company easily beat earnings estimates the last quarter and consensus estimates for FY2012 have gone up some 5% over the last month.
The company is ideally positioned to help rural hospitals make the migration over to electronic health records and analysts expect double digit growth in revenues for both FY2012 and FY2013. The company has grown sales and earnings at a 9% and 15% annual clip over the past five years.
The stock is approaching long term technical support levels (See Chart)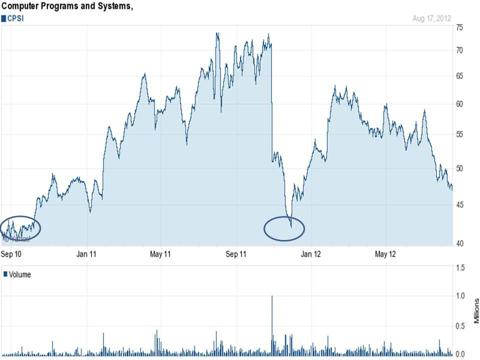 Disclosure: I have no positions in any stocks mentioned, but may initiate a long position in CPSI over the next 72 hours.