Linn Energy, LLC (LINE) presented a compelling income story on August 16th. The company does not appear to have any chinks in its armor. Quarterly distributions are predictable due to current hedges. The oil and natural gas production assets are low risk and long life. Linn Energy is a limited liability corporation due to the absence of a General Partner (GP) and the Incentive Distribution Rights (IDR). Linn Energy is, however, taxed as a master limited partnership (MLP). Linn Energy is a compelling income stock versus its peer group.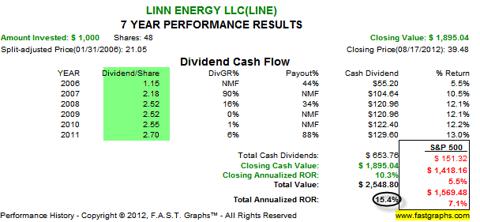 Linn Energy's Present Value with Distributions Reinvested
Linn Energy has provided an annualized total return of 19.19% with reinvested distributions. $1,000 is now worth $3,178. Individual investors have benefits by an increased net worth and enjoying an increasing income stream each quarter.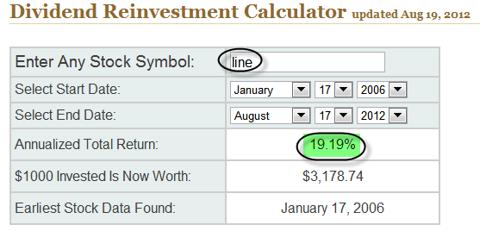 Linn Energy, since the initial public offering in 2006, has increased the quarterly distribution amount by 81%. Quantum Energy Group and Linn Energy's management initially established the company back in 2006.
Current Distribution Yield
The current quarterly distribution is 72.5 cents. This equates to an annual distribution of $2.90. Based upon the partnership's current price of $39.48, the annual yield is 7.3%. I do not own Linn Energy because of the low payout yield versus its peer group.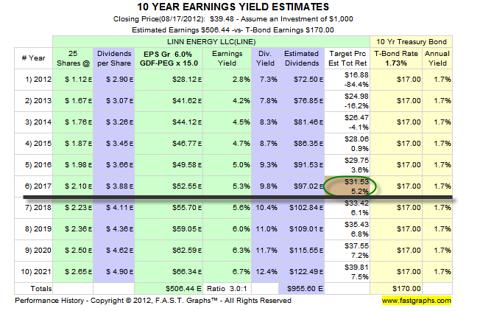 A 5 Year analyst projection calculates a Linn Energy unit price of $31.53. This assumes a 6% earnings per share growth rate.
Linn Energy July 31st Acquisition
Linn Energy made an accretive acquisition on July 31st. The deal was from British Petroleum (NYSE:BP). The acquisition was for $1.025 billion in Wyoming's Jonah Field. Linn Energy management hedged 100% of oil and natural gas production. The deal is accretive to future Linn Energy earnings per unit.
Wyoming Acquisition Hydro Carbon Breakdown
The $1.025 purchase is comprised of 73% natural gas, 23% NGL and 4% oil. As mentioned, the entire oil and natural gas is hedged through 2016. Natural gas, specifically, is 100% hedged through 2017.
Linn Energy Net Hedge Exposure
Linn Energy management has 100% of natural gas production hedged through 2017. 100% of oil production is hedged through 2016.
QR Energy (NYSE:QRE)
QR Energy, LP is an upstream MLP. Management has effectively established hedges to ensure reliable quarterly distributions. QR Energy has origins similar to Linn Energy. QR Energy's sponsor is Quantum Resources Funds and has relationships with the affiliate Quantum Energy Partners.
QR Energy Insider Purchases
QR Energy experienced significant insider purchases in recent months. This is usually a good sign.
QR Energy Yield
QR Energy's annual distribution yield is 11.2%. This is 390 basis points higher than Linn Energy's 7.3% annual distribution yield.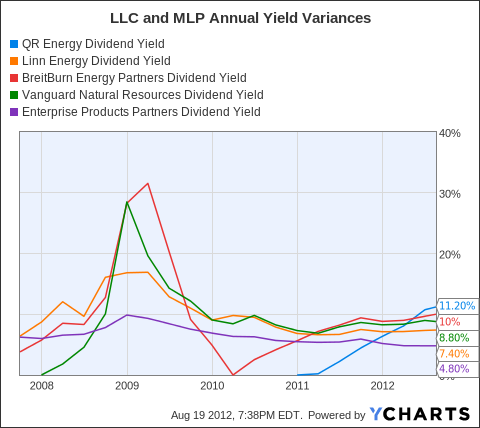 QRE Dividend Yield data by YCharts
Breitburn Energy Partners L.P. (BBEP)
Breitburn Energy Partners is an upstream MLP. The core assets are natural gas, oil, and midstream assets in the Antrim Shale in Michigan, and the New Albany Shale in Indiana and Kentucky. In addition, the partnership owns assets in Wyoming, Los Angeles, and Florida.
Vanguard Natural Resources, LLC (NYSE:VNR)
Vanguard Natural Resources is an upstream limited liability corporation. The distribution is 8.8% per year. Core oil and natural gas reserves are in six operating areas: 1) Permian Basin; 2) the Big Horn Basin; 3) south Texas; 4) the Williston Basin; 5) Mississippi; and 6) the Arkoma Basin.
Enterprise Products Partners L.P. (NYSE:EPD)
Enterprise Products Partners is a midstream partnership. The entity owns core pipelines, hydro carbon storage and transportation, and toll booth operations. The yield is sub 5% due to the predictability of midstream operations of a premiere midstream entity.
Action
Linn Energy is an attractive upstream partnership due to the relatively high distribution yield of 7.3%. Linn Energy's success and public awareness have placed Linn Energy with one of the lowest annual distribution yields.
Management is making accretive acquisitions to ensure further distributions can occur. I believe the opportunistic investor can find higher yields in the upstream partnership sector. The midstream sector deserves a lower payout due to lower reliance upon commodity prices.

Disclosure: I am long VNR, BBEP, QRE, EPD. LongRunData.com allowed access to their free dividend reinvestment calculator.