In my previous post here, I introduced a screening method for stocks from the Mid-Cap universe. This method has been elaborated after scrupulous back-testing, which has proven to perform much better than the main indexes of the U.S. stock markets. On August 17, 2012, six weeks after the last examination, I checked the performance of the 5 stocks that resulted from the screening formula I called M-1. The results are shown in the table below.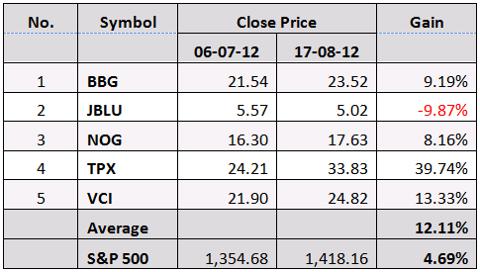 In this time frame, the 5 companies resulted from the formula have had an average gain of 12.11%, 7.42% better than the gain of the S&P 500 index, which rose only 4.69% in that period.
My last recommendation was to run this screen from time to time and replace the stocks that no longer comply with the screening requirement with other stocks that have a better chance to comply with the requirement, and here are the results of running the screen again.
The screen M-1 requires all stocks to comply with all following demands:
The stock is included in the S&P 400 index.
Earnings

growth for past 5 years

(per annum) is greater than 10 %.
Earnings growth

estimates for next 5 years

(per annum) is greater than

10%.

The company has shown a profit in every year in the last 5 years.
Current P/E Ratio (last 12 months) is less than its average 5 years P/E Ratio multiplies by 0.6.
5 stocks with the lowest Market Value among all the stocks that passed the first 5 demands.
After running this screen on August 18, 2012, the following five stocks were obtained as results:

Data: finviz.com
ITT Educational Services Inc. (NYSE:ESI)
ITT Educational Services, Inc. provides postsecondary degree programs in the United States. It offers master, bachelor, associate, and career-oriented education programs in various fields, such as information technology, electronics technology, drafting and design, business, criminal justice, and nursing and health sciences. The company's information technology programs include communications, network administration, technical support, network technology, and systems technology. The company was founded in 1946 and is headquartered in Carmel, Indiana.
Chart: finviz.com
JetBlue Airways Corporation (NASDAQ:JBLU)
JetBlue Airways Corporation provides passenger air transportation services in the United States. As of December 31, 2011, it operated approximately 700 daily flights to 70 destinations in 22 states, Puerto Rico, and Mexico; and 12 countries in the Caribbean and Latin America through a fleet of 120 Airbus A320 aircraft and 49 EMBRAER 190 aircraft. The company, through its subsidiary, LiveTV, LLC, provides in-flight entertainment, voice communication, and data connectivity systems and services for commercial and general aviation aircraft, including live in-seat satellite television, digital satellite radio, wireless aircraft data link service, and cabin surveillance systems. JetBlue Airways Corporation was founded in 1998 and is based in Long Island City, New York.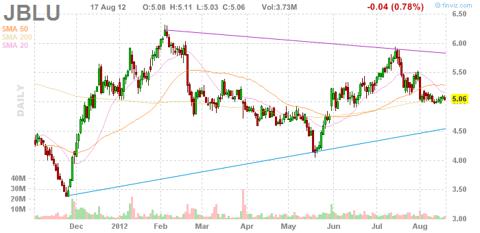 Chart: finviz.com
Mentor Graphics Corp. (NASDAQ:MENT)
Mentor Graphics Corporation provides electronic design automation software and hardware solutions to automate the design, analysis, and testing of complex electro-mechanical systems, electronic hardware, and embedded systems software. It offers ModelSim, a hardware description language mixed-language digital simulator; Questa tool for the verification of systems and ICs; analog/mixed signal simulators, including Eldo, ADVance MS, and ADiT tools; and Veloce, a hardware emulation system. Mentor Graphics Corporation was founded in 1981 and is headquartered in Wilsonville, Oregon.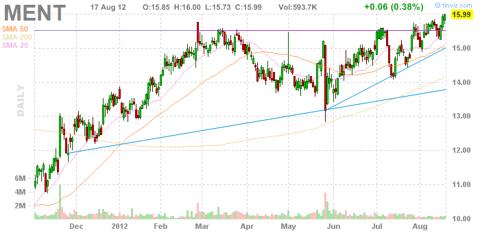 Chart: finviz.com
Northern Oil and Gas, Inc. (NYSEMKT:NOG)
Northern Oil and Gas, Inc., an independent energy company, engages in the acquisition, exploration, development, and production of crude oil and natural gas properties primarily in the Bakken and Three Forks formations within the Williston Basin in North Dakota and Montana. As of December 31, 2011, the company owned working interests in 664 discoveries, consisting of 659 targeting the Bakken and Three Forks formations, and 5 exploratory wells targeting other formations; and developed approximately 52,219 net acres and had approximately 17,290 net acres in the process of drilling and completing. Northern Oil and Gas, Inc. is based in Wayzata, Minnesota.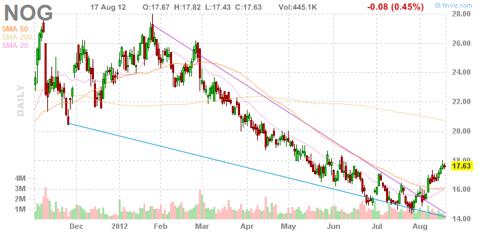 Chart: finviz.com
Polycom, Inc. (NASDAQ:PLCM)
Polycom, Inc. provides communications equipment that enables businesses, telecommunications service providers, governmental and educational institutions, and healthcare customers to conduct video, voice, data, and Web communications. The company offers network infrastructure, including conferencing infrastructure, distributed media applications, management applications, recording and streaming security, and remote access for universal video collaboration. Polycom, Inc. was founded in 1990 and is headquartered in Pleasanton, California.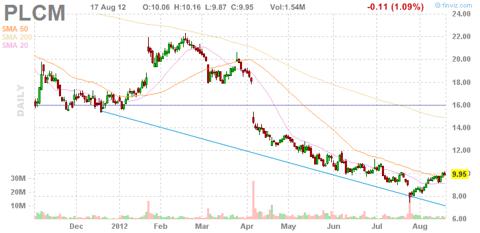 The outstanding results of the stocks emerging from formula M-1 during the last period are by no means a guarantee for future ones. However, on the long run, this formula should bring a nice profit to investors, as was proven by back-testing this screening formula over several years.
Disclosure: I have no positions in any stocks mentioned, and no plans to initiate any positions within the next 72 hours.