The market has slowly crept up to highs not seen since 2008. To some investors, the market rise has been a relief of sorts. But the methodical rise the market has exhibited despite the situation in Europe and tepid US economic data breeds caution for the possibility of a market pullback. As investors, it is very difficult to time such a pullback so getting completely out of the market could result in opportunities lost if the market does continue its uptrend. An alternative would be to invest in certain stocks that may still provide some upside if the market continues to rise, but which also have some downside protection if there is a correction.
We looked for companies with a low beta to the S&P 500 and to add additional cushion to any possible price decline, we screened for stocks whose dividend yields were in excess of 3%.
Beta - Beta is the sensitivity of a stock's price relative to that of a benchmark. For example, a stock with a beta of 1.5 will generally rise by 1.5% for every 1% rise in the benchmark. The same will generally hold true for declines.
Dividend Yield - The dividend yield is the amount of the annualized dividend payment divided by the current share price. Dividends are typically paid quarterly. A high dividend provides an investor with income from the investment in that stock, and also provides somewhat of a cushion against price drops. For example, a dividend yield of 5% allows for the price of a stock to fall by 5% per year and the investor will still be breaking even. The key for the dividend is its sustainability. The higher the cash on hand and the higher the cash flow generated, the more likely the dividend will continue or increase. And we should also be mindful of the payout ratio, which is the percentage of earnings paid out in dividends. A payout ratio that is unsustainable can threaten the viability of the dividend and the company.
We screened for stocks with a beta to the S&P 500 of less than 0.75 and a dividend yield of greater than 3%. Then, we screened for market caps in excess of $100 billion to provide additional defense against any adverse economic events and the assumption that most mega caps' revenues are globally diversified.
The following four stocks met our criteria
1. China Mobile (NYSE:CHL)
China Mobile Limited provides a range of mobile telecommunications services in 31 provinces, autonomous regions and directly-administered municipalities in the People's Republic of China, as well as in the Hong Kong Special Administrative Region of the People's Republic of China. As of March 31, 2011, its total number of customers was approximately 600.8 million. As of March 31, 2011, China Mobile Communications Corporation (CMCC) owned 74.2% equity interest in the Company. It offers mobile telecommunications services using the Global System for Mobile Communications (GSM). Its businesses consist of voice business and value-added business. In March 2011, the Company, through its wholly owned subsidiary, China Mobile Communication Co., Ltd. (CMC), acquired from CMCC, ZTE, Eastern Communications Co., Ltd., Beijing Digital China Limited, Ningbo Bird Co., Ltd. and Shenzhen Huawei Investment & Holding Co., Ltd. China mobile has a dividend yield of 3.99% and a beta to the S&P 500 of just 0.55.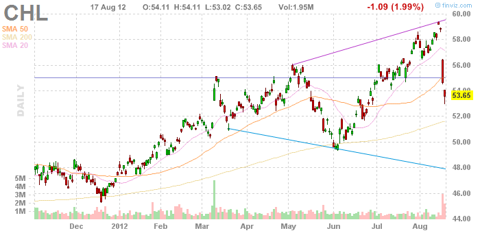 2. Johnson & Johnson (NYSE:JNJ)
Johnson & Johnson is a holding company. The Company, along with its subsidiaries, is engaged in the research and development, manufacture and sale of a range of products in the healthcare field. The Company operates in three segments: Consumer, Pharmaceutical, and Medical Devices and Diagnostics. During the fiscal year ended January 1, 2012 (fiscal 2012), the Company's subsidiaries operated 139 manufacturing facilities occupying approximately 21.8 million square feet of floor space. Within the United States, eight facilities are used by the Consumer segment, 10 by the Pharmaceutical segment and 34 by the Medical Devices and Diagnostics segment. In June 2012, the Company acquired Synthes, Inc. JNJ has a dividend yield of 3.6% and a beta of 0.54.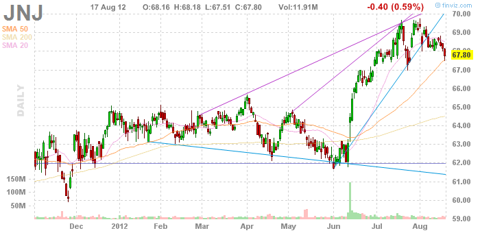 3. Verizon Communications Inc. (NYSE:VZ)
Verizon Communications Inc. (Verizon) is a holding company. The Company is a provider of communications, information and entertainment products and services to consumers, businesses and governmental agencies. It operates in two primary segments: Verizon Wireless and Wireline. Verizon Wireless' communications products and services include wireless voice and data services and equipment sales, which are provided to consumer, business and government customers across the United States. Wireline's communications products and services include voice, Internet access, broadband video and data, Internet protocol network services, network access, long distance and other services. In April 2011, Verizon acquired Terremark Worldwide, Inc. (Terremark). In August 2011, it acquired CloudSwitch. In March 2012, Verizon Wireless purchased the operating assets of Cellular One of Northeast Pennsylvania from United States Cellular Corporation. In July 2012, it acquired HUGHES Telematics, Inc. Verizon has a dividend yield of 4.54% and a beta of 0.52.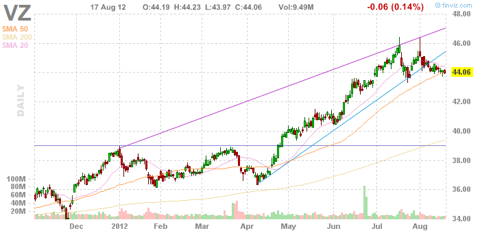 4. British American Tobacco (NYSEMKT:BTI)
British American Tobacco p.l.c. is a holding company. The Company's four principal brands include Dunhill, Kent, Lucky Strike and Pall Mall. Its other international brands include Vogue, Viceroy, Rothmans, Kool, Peter Stuyvesant, Benson & Hedges, State Express 555 and John Player Gold Leaf. As of December 31, 2011, the Company brands were sold in around 180 markets worldwide. The Company's products include Cigarettes, Smokeless snus and Cigars. During the year ended December 31, 2011, the Company sold over nine billion capsule cigarettes, mainly through Kent Convertibles, Kool Boost, Lucky Strike Click & Roll and Dunhill Switch. On October 11, 2011, the Company acquired Productora Tabacalera de Colombia, S.A.S. (Protabaco), a cigarette company in Colombia. During 2011, the Company stopped manufacturing at Cirebon in Indonesia. During 2011, the Company sold its 14% interest in PT Bentoel Internasional Investama Tbk to Bapepam LK (Indonesia). BTI has a dividend yield of 3.99% and a beta of 0.61.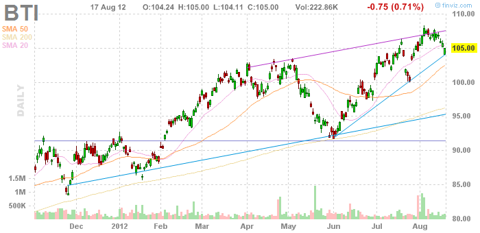 Take a closer look at each of these stocks and determine for yourself if they are a good addition to your portfolio.

*Company descriptions and financial data obtained from Google Finance.
Disclosure: I have no positions in any stocks mentioned, and no plans to initiate any positions within the next 72 hours.