It seems this question is on many people's minds over the past weekend. Sirius XM (NASDAQ:SIRI) investors have likely digested the news by now that Liberty Media (LMCA) has taken back its petition for 'de facto' control of Sirius XM and has replaced it with a petition for 'de jure' control. What this means in a nutshell is that Liberty Media will be taking its current 48% stake in Sirius XM to over 50% pending FCC approval of the application. This has been covered in excellent detail by fellow Seeking Alpha contributor Little Apple in an article here. This is a great read which should bring readers up to speed on what I am talking about if you have not read it already.
For the coming week I'd like to focus on a portion of Little Apple's article :
This explains why Liberty went on the sudden buying spree and upped its stake to 48%. But, because Liberty will still need the additional 3% or more of Sirius shares, this should solidify the current stock price, which has been hovering between $2.55 and $2.60 today. And this may now be the new base price; as the shares can finally take off.
Liberty needs more shares. Period. Liberty has told the world with its FCC filing that they need more shares and will acquire more shares. Unless you believe the FCC will deny their application, this is pre announced buying pressure. Because of this I will be very surprised if there are many sellers or even individuals taking up new short positions. People will likely cling to their shares a bit longer and hold out for a better price and the risk in being short is significant. It's all about supply and demand, and with Liberty increasing the demand, and a finite supply, the law says that the price should go up.
I think Little Apple is correct in that this news should solidify the price. After hours trading on Friday after the news was released pulled the share price right up to previous highs of $2.60, and I would not be surprised to see this price broken as early as Monday with $2.75 coming in short order, perhaps before the end of the week.
Take a look at the most recent chart :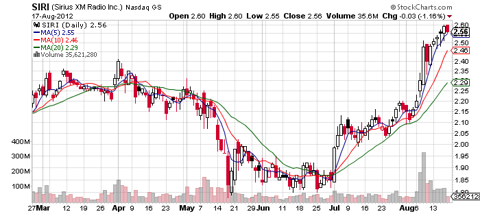 While yes, this has been a huge bullish run, there is absolutely nothing indicating that the share price is due to fall back any time soon. For those of you who sold and are seeking lower entry points, you may not have that chance. At worst the share price may have consolidated a bit, but with Liberty buying going forward, along with what may likely be additional short covering, I see the share price appreciating further and in short order. Watch the blue line, which is the 5 day moving average, for support in this trend. If investors waver or react poorly to Friday's news come Monday's trading, this will be a key point of support at $2.55.
Keep in mind as I stated in this article from July 5th, that Liberty's ultimate plans may catapult Sirius XM's share price. Had you bought then, you'd be 25% richer, and share buybacks after Liberty gets its fill should provide an additional boost to the share price at that time.
Given recent developments such as Liberty's stake increase, Sirius XM's own guidance increases, debt refinancing, credit upgrade, and my expectations of a share buyback, I am moving my current value estimation from $2.75 to $3 for 2012. I feel this is a conservative estimate and I would be a buyer and holder at any prices under $3.
Disclosure: I am long SIRI, LMCA.