Dangdang (NYSE:DANG) reported its Q2 results last week.
Key highlights:
Net revenue: $190 million, +53% y/y and beat the consensus of $185 million
Media revenue: $121.5 million, +32% y/y
General merchandise revenue: $63.4 million, +110% y/y
Other revenue: $5.3 million, +122% y/y
EPS: $0.23 loss per share, vs. consensus' $0.21 loss per share
What I liked: Solid sales
Media and general merchandise revenue grew 32% and 110% y/y, respectively, driven by continue expansion of product categories such as household items, baby products, personal care, and cosmetics.
Online market place revenue was especially robust, growing 122% y/y, while the gross merchandise value grew 200% y/y.
What concerned me: Deceleration in customer growth and total orders; No material impact from E-books; CFO candidate
Despite increasing the monitoring level of the procurement products in the key cities, closely managing the courier companies to provide the best delivery services, and expanding next-day delivery services to 150 cities, customer growth decelerated considerably and declined 6% sequentially in Q2.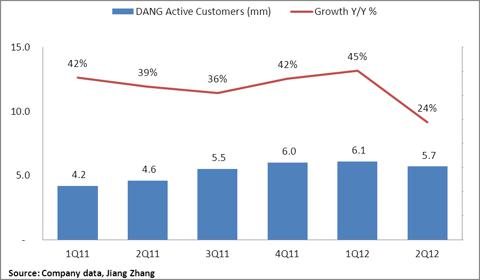 Deceleration in the active customers could be due to increasing competition from 360Buy and Taobao. In Q2, pricing competition was quite fierce as some merchant price items below procurement cost in order to gain market share.
Another decline in the quarter is the number of total orders, which numbered 11.1 million, compared with 11.8 million in the prior quarter.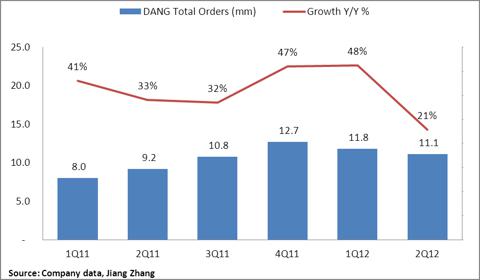 The second sequential decline in order volume is a major concern and raises the question whether Dangdang can maintain its position in the already competitive e-commerce market place.
On the E-book initiative, Dangdang had a trial launch of its E-Reader named "Dangdang Doucon" in July. While the initial response from customers are positive, Dangdang's E-book strategy is still in its early days and will unlikely to have material impact on the company's financials for 2012.
Finally, management gave no update on its search for the next CFO. Note that the prior CFO Connor Yang's last day was in July. For now, investors should continue to keep their fingers crossed that Dangdang will find someone who can count the revenue for the company, and for the investors.
Disclosure: I have no positions in any stocks mentioned, and no plans to initiate any positions within the next 72 hours.