The Photonic Integrated Circuit [PIC] pioneer Infinera Corp (NASDAQ:INFN) cut its revenue growth forecast for 2008 after the close Monday, quoting a lower revenue forecast for Q3 2008, and sending its shares tumbling.
The company stood by its outlook of a profit of 1 cent to 2 cents a share on revenue of $88 million to $90 million for the second quarter.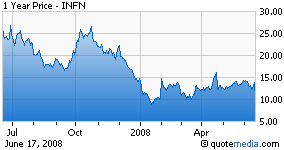 Investors should look at the numbers in perspective and study Infinera's business model and its product price structure in order to understand its business strategy. The company's PICs are "essentially a WDM system-on-a-chip." All the lasers, modulators, amplifiers, multiplexers/demultiplexers, and other components typically found in WDM systems are integrated onto one single chip, enabling "radical footprint savings.
Based on the module's cost-effective optical-electrical-optical [OEO] conversion capabilities and the small size/weight, Infinera employs the well-known Razor-Blade business model and price structure by selling its basic system box with backplanes at deep discount or at cost, and later – only when its customers make a sale – overnight-delivering in a small box the modules with software license to be plugged in, at which point the revenue is actually made. This model is also similar to selling ink jet printers practically free, and ink sales bringing in the real money later on. This model makes sense to Infinera's customers since it requires very little initial capital and the ensuing investment becomes truly success-based.
This success-based business model has obviously gained Infinera market share even in the recent down quarters. Infinera has attracted more than twenty customers within its first three years, allowing some cash-tight carriers such as XO Communication (OTC:XOHO) to offer the industry's famous "10 G in 10 Days" program.
Considering that:
Infinera's PIC technology may have a 4-5 year lead time over its competitors;
Infinera is introducing the new ILS2 next-generation optical line system that packs up to 160 DWDM wavelength with the advanced Raman amplification, reaching 2,500 kilometers in distance;
It bagged a contract with Tier-1 carrier Deutsche Telekom (DT) for its pan-European network;
China's government has issued a Network Access License to Infinera for the deployment of the Infinera DTN by China's telecommunications carriers;
No one should exclude the possibility of positive surprises by Infinera down the road.
Disclosure: Long