Everybody loves dividends. Getting that paycheck every quarter is nice! There are tens of thousands of articles about dividends. There's even a category here at Seeking Alpha called "Dividends & Income."
Yet, there are very few articles about buybacks even though companies by and large plow far more money into share repurchases than into dividends.
Since 2004, publicly-traded companies put more money into executed buybacks than dividends (with the notable exception of 2009). In 2011, twice as much cash went towards share repurchase than to dividends. With so much money going into share repurchases, it's important to distinguish the good from the bad buyback.
Complaints, Complaints!
While investors adore dividends, just about everybody hates buybacks. The complaints: Companies buy stock when the share price is inflated; buybacks only benefit sellers; share repurchases favor insider options over ordinary shareholders.
Lovin' Buybacks: What You Need To Know
Buybacks can be beautiful. You only need to separate out the ugly ones. In any case, buybacks are a fact of life.
Done correctly, share repurchases add tremendous value to the company's balance sheet: Cash flow is spread over a shrinking share count. More money can be generated per share.
Now I am not lauding improperly executed buybacks. Too many companies buy their shares at inflated prices. Ideally, a company should repurchase shares when the stock is trading under fair value. That's nearly impossible to do on a consistent basis. No one is that good. Even great stock pickers like Warren Buffett miss. That's why the companies that succeed in their buybacks buy year in and year out, in good times and bad.
I've created a new category of buyback stars dubbed "The Unsung Heroes". The group includes Exxon Mobil (NYSE:XOM), Kimberly Clark (NYSE:KMB), Microsoft (NASDAQ:MSFT), Walmart (NYSE:WMT), Intel (NASDAQ:INTC) and IBM (NYSE:IBM). To gain entry, the company must have purchased 20% of its shares spread out over a 10-year-period and bought shares during the "Great Recession". (I set it up. I make the rules.)
The Best Buyback Company
Today, I'm inaugurating the "King of The Unsung Heroes": AutoZone (NYSE:AZO), a company that has shrunk its share count by a whopping 62% over the last decade, helping to drive up earnings per share. The massive buyback was done in a consistent manner: Each year stock was repurchased including 2008 to 2010. To put that in perspective, Exxon, Kimberly, Microsoft, Walmart, Intel, and IBM decreased their share count 22% to 32% over the decade. AutoZone put its money where its mouth is. Of note, AutoZone doesn't pay a dividend.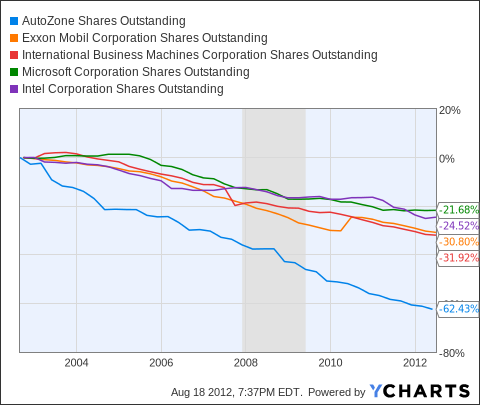 AutoZone's Wild Ride On Its BuyBack Program
While AutoZone's net income has climbed 112% over the last decade, EPS has skyrocketed 455%. The difference is all due to the dedicated share repurchase program. Notice that share price appreciation has followed the rise in earnings per share, not net income, a testament to AutoZone's effective buybacks.
Buybacks done right can create shareholder value. Keep your eye on Ann Inc. (NYSE:ANN): The women's retailer that has already reduced share count by 22% in just 5 years. Ann could be the next AutoZone.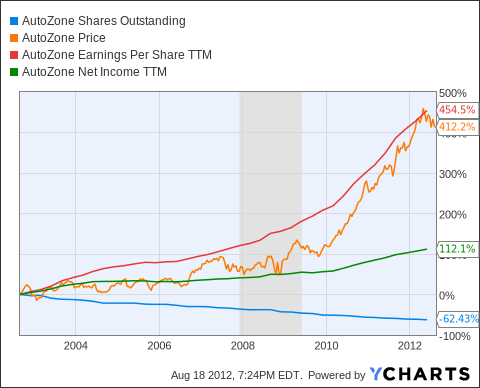 Disclosure: I am long KMB, INTC.
Additional disclosure: Disclaimer: The opinions in this document are for informational and educational purposes only and should not be construed as a recommendation to buy or sell the stocks mentioned. Past performance of the companies discussed may not continue and the companies may not achieve the earnings growth as predicted. The information in this document is believed to be accurate, but under no circumstances should a person act upon the information contained within. We do not recommend that anyone act upon any investment information without first consulting an investment advisor as to the suitability of such investments for his specific situation.