After Marvell Technology Group, Ltd. (NASDAQ:MRVL) announced FQ2 2013 results that came in short of expectations and further added salt to the wound with weak guidance, the share price saw a decline from $12.28 to $10.54, a significant 14% decline in one session. While I still believe that the company's strong technology and pristine balance sheet make it a compelling value play, it is imperative that the company begin to return cash to investors via larger dividends rather than by simply buying back shares.
Stock Buybacks: Attempting To Mask Problems
Companies often spend precious cash buying back shares in order to bring the overall share count down; inflating earnings-per-share even if net profits fail to improve, and, in theory, making each remaining outstanding share worth more.
The following chart illustrates the phenomenon that I am describing: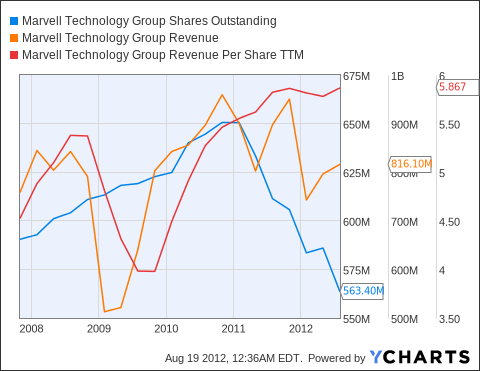 MRVL Shares Outstanding data by YCharts
The share-count has gone down dramatically over the last four years, so even as revenues declined from late-2010 to mid-2011, and again from late-2011 into mid-2012, revenue per share managed to increase at a fairly steady rate. The company is still quite profitable and has a substantial cash position, so the buybacks are safe and I expect them to continue for a while.
Growth Story On Hold
The buyback program masks the fundamental dilemma that year-over-year sales have been shrinking for Marvell. Macro-economic headwinds are certainly a plausible cause for the soft storage performance; the company gained share and added to an already dominant position against competitor LSI Corporation (NYSE:LSI). Networking performed in-line with expectations, so there don't seem to be problems there to try to explain away.
The real issue showed up in the wireless & mobile segment, which accounts for 27% of revenues. TD-SCDMA phones didn't sell as well as the company expected, and there was significant competition in the space that ate away at Marvell's market share. It didn't help that Marvell's major North American customer Research In Motion (RIMM) is still on a death spiral.
Due to PC demand softness, the relative maturity of the networking segment, and the weaknesses in the wireless and mobile segment (the big, headline growth segment), Marvell's "growth" story is temporarily on hold. This means that the company needs to find other ways to bring in new investors and give current shareholders a reason to wait: a substantial dividend.
Give Cash Back To Shareholders, Please
Credit Suisse gives a good FY2013 EPS estimate of $0.94, so assuming that the company comes in near the ballpark of this, the current yearly payout ratio is a mere 26%. At current prices, the current $0.24 annualized represents a yield of 2.28%. While it's a nice token gesture, until the company resumes growth in its core segments, this yield will not be enough.
In the tech space, the dividend hunters will likely find more value in Intel (NASDAQ:INTC), Seagate (NASDAQ:STX), or Cisco Systems (NASDAQ:CSCO), all of which yield over 3% at current levels. People looking for growth will likely be attracted to names such as Mellanox Technologies (NASDAQ:MLNX), OCZ Technology Group (NASDAQ:OCZ), and Fusion-IO (NYSE:FIO).
If the company increased its payout to $0.46, this would represent a yield of 4.36% and a payout ratio of 50%. This would still leave plenty of profits to be used to invest in the business. Further, the company could still pursue share buybacks, organic growth, and strategic acquisitions with its $2.1B cash position. Such a dividend at these prices would attract quite a bit of interest from yield hunters and the share price would very likely see meaningful upward trajectory. Many investors also like to reinvest dividends into the stocks they own, further giving current investors and future ones a reason to buy.
Conclusion
In short, the company's in a bit of a lull when it comes to growth and it needs to convince investors to stick around and maybe even new investors to hop aboard. Buying back shares won't do this, as it further elicits fears from shareholders that the company will do anything to inflate the numbers in order to meet targets. It's good that the company initiated a dividend, but I think the company can do better; there's no better carrot than cold, hard cash.