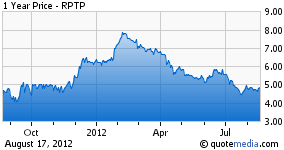 I recently asked Dr. Kimberly Lee, D.O., a senior research analyst and member of the biotechnology equity research team at ThinkEquity LLC, a few questions regarding Raptor Pharmaceuticals (NASDAQ:RPTP). Dr. Lee was most recently a managing director and senior biotech analyst at Global Hunter Securities where she launched their healthcare practice. Prior to that, Dr. Lee had been at Wedbush Securities, which she joined as part of the acquisition of Pacific Growth Equities, and at Jefferies and Stephens Inc.
Raptor Pharmaceuticals is a biotechnology company which is developing drug therapies for the treatment of genetic diseases, such as nephropathic cystinosis, non-alcoholic steatohepatitis ("NASH"), Huntington's Disease ("HD"), aldehyde dehydrogenase deficiency ("ALDH2"), and thrombotic disorder.
Raptor's lead drug is RP103, a delayed release cysteamine for the treatment of nephropathic cystinosis and an improved version of Mylan's (NASDAQ:MYL) Drug, Cystagon.
RP103 is currently under FDA review (PDUFA) which Raptor anticipates an approval decision on January 30, 2013. Raptor's EU marketing application of RP103 is under review by the EMA and Raptor expects a decision in the first half of calendar 2013.
Ben Yoffe: Dr. Lee, what is your rating and price target for RPTP?
Lee: We rate RPTP shares a "buy" and have a $10 price target which is based on a discounted cash flow (DCF) analysis that examines free cash flow through 2020.
Yoffe: Can you share with us your opinion regarding the upcoming PDUFA date of January 30 for RP103?
Lee: We place an 80% probability on an RP103 approval on the PDUFA date based on strong clinical data sets and an unmet medical need. The company held Special Protocol Assessment (SPA) discussions with the FDA but ultimately decided not to pursue an SPA given that the company already received the Agency's guidance on a Phase III study design via these conversations and that continuing discussions were causing delays in the initiation of the study. We support the company's decision not to pursue the SPA as this agreement does not guarantee an eventual approval of the drug. Importantly, as a result of several SPA discussions with the Agency, the company gained clarity into the FDA's requirements for the Phase III protocol and the development plan. The Phase III cystinosis study incorporates the FDA's suggestions from the SPA discussions. Ultimately, we view RP103 as a preferred alternative therapy to Cystagon, the current standard of care, for the treatment of nephropathic cystinosis based on its ease-of-use formulation, convenient dosing schedule, lower pill burden and superior side effect profile and given the significant drawbacks with the current treatment. As such, we continue to expect a positive FDA decision on or before January 30, 2013.
Yoffe: Do you see the upcoming FDA approval decision as a big catalyst for the company?
Lee: Yes, we believe the upcoming FDA decision would represent an inflection point for the company as we believe the near-term success of RPTP will be correlated with potential Q1 approval and launch of RP103 in nephropathic cystinosis.
Yoffe: What would be the price of RP103 and how many sales from RP103, if approved, you expect in the U.S. and Europe?
Lee: We continue to expect Q1:13/Q2:13 launches in U.S. and EU, respectively, with an estimated global market opportunity in cystinosis of approximately $100 million, based on an addressable patient population of 1,300 patients, drug pricing of $200,000 in U.S. and $100,000 in EU and a peak penetration rate of 80%. Raptor plans on retaining worldwide (WW) rights and will likely commercialize the drug in the U.S. with approximately three sales representatives and two medical science liaisons (MSLs) and with similar numbers in EU.
Yoffe: Can you tell us about some other significant products in Raptor's clinical-stage pipeline?
Lee: Raptor is developing RP103 in two other indications, Huntington's disease and NASH. With potential opportunities, we believe this de-risks the development program slightly. The most advanced indication following cystinosis is Huntington's disease, a hereditary neurodegenerative disorder that negatively affects cognition and muscle coordination. The company initiated a randomized, placebo-controlled, multi-center, 18-month, 96-patient Phase II study in collaboration with CHU d'Angers in France in October 2010. This will be followed by an open-label study with all placebo patients rolling onto RP103 and all other patients continuing on drug for up to an additional 18 months. The primary endpoint is the Unified Huntington's Disease Rating Scale. We anticipate interim data release in Q2:14 (company guidance is H1:14). Given the graveyard of drug candidates that have been developed to treat Huntington's, we believe there is a low regulatory bar.
Development of RP103 in NASH, a progressive liver disease caused by inflammation and accumulation of fat and fibrous tissue in the liver, helps further diversify the development risk of the RP103 program, in our opinion. The company initiated a Phase IIb study in juvenile patients in Q2 with completion of the trial by YE:13 followed by data in Q2:14. In an open-label, uncontrolled 11-patient Phase IIa study, 7 of 11 patients demonstrated a greater than 50% reduction in ALT levels (p=0.004) while 6 of 11 reduced levels to within normal limits. The reduction in transaminase levels was largely sustained during a 6-month post-treatment monitoring phase. The company holds WW rights in this indication but intends to partner this program given the large developmental undertaking.
The company is also developing Convivia for the treatment of acetaldehyde toxicity resulting from ALDH2 deficiency and is seeking potential partners in other Asian countries. RPTP also has a tezampanel program that targets thrombosis and intends to initiate a Phase I study in healthy volunteers by the end of calendar 2012. Finally, the company may develop new preclinical and clinical opportunities through in-house discovery, in-licensing and through acquisitions.
Yoffe: For closing, what can you tell us about the financial picture for the company, is there a danger of a share dilution?
Lee: RPTP ended FQ3 with approximately $43.3 million in cash and equivalents, which should sustain operations until CQ1:13, per our estimates. However, even with the ATM in place, we believe the company will likely need additional cash inflows in H2:12 to support an RP103 launch and advancement of the R&D pipeline.
Disclosure: I have no positions in any stocks mentioned, and no plans to initiate any positions within the next 72 hours.