Zebra Technologies (NASDAQ:ZBRA) is a major player in the bar-coding industry but is little known by the general public. The company is a debt-free mid-cap that's highly profitable. I've followed this stock for many years and find it to be an excellent trading vehicle. ZBRA shares move around much than would be justified by any change in their fundamentals.
Zebra Tech posted an all-time record year in 2011 and the stock had rallied from a 'gift' low of $28.20 last September to close at $40.89 on March 14, 2012.
Click to enlarge all images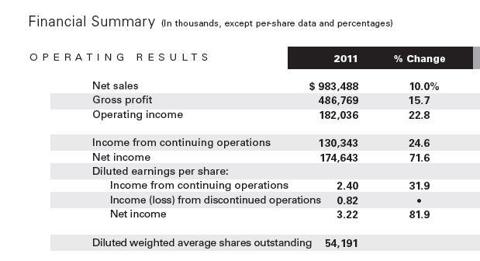 Click to enlarge
J.P. Morgan Chase analysts waited to see that 45%, 6-month move before coming out with a BUY recommendation pre-market the next day (see chart). They indicated a target price of $44.50; just 8.8% above the price at the time of their upgrade. Nine weeks later the shares had sunk to $35.02. J.P. Morgan analysts then downgraded ZBRA to NEUTRAL, adjusting their new price goal to $41; 17.1% above the quote at the time of their downgrade.
You can't make this stuff up.
Unfettered by conflicts of interest, I put out a 'Buy' on ZBRA pre-market on June 5, 2012 after the stock had closed at $33.20. It was then down almost 21% from its March 27, 2012 peak of $41.88.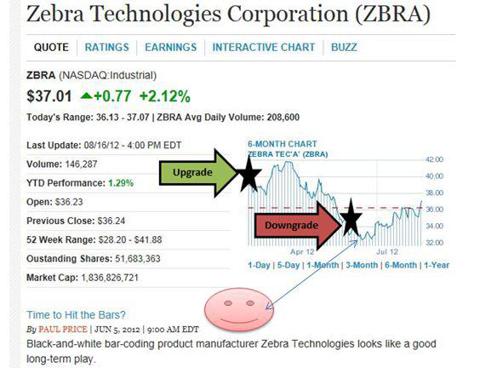 Click to enlarge
My 12-18 month target price is 16 times Zebra's consensus 2013 estimate of $2.71 per share. That's $43.36; a bit more than 17% above its closing price on Friday Aug. 17, 2012 and 32.4% higher than it was at the time of my original write-up.
Another clear example of how destructive brokerage house research can be came regarding the shares of hardwood flooring company Lumber Liquidators (NYSE:LL). Right at LL's February low analysts felt compelled to downgrade. Right after the stock dipped to $22.15.
The same team upgraded Lumber Liquidators from SELL to NEUTRAL pre-market on July 26th only after an 86.5% surge since the time of their downgrade.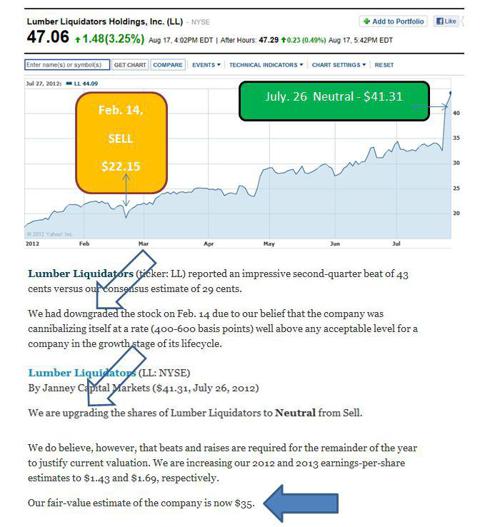 Click to enlarge
More astonishing than simply going from SELL @ $22.15 to Neutral @ $41.31 were the analysts' accompanying comments. They said that "beats and raises are required for the remainder of the year to justify current valuation."
Their fair value was re-set as $35; 15.4% below LL's price at the time of their upgrade.
If you're going to own stocks be sure there is enough predictable upside to make them a worthwhile use of capital. Tune out the bias and lock into valuation for better total returns.
Disclosure: I am long ZBRA.