Do you remember shopping at the grocery store with your parents or grandparents and hearing their cries of shock, "When I was your age, this can of Coke cost 25 cents; now it costs 75 cents! Incredible!" Or perhaps you asked them for some money to buy a movie ticket and were met with, "Ten dollars for a movie ticket?! That's preposterous! When I was your age, a movie ticket cost $3.50. And that's INCLUDING the popcorn and soda!"
The sad truth is that due to inflation, the purchasing power of a dollar decreases each year. The can of soda that costs 75 cents today will likely cost one dollar in ten or fifteen years. As someone who plans on supporting their family via dividend income during retirement, one of the questions I had prior to starting our dividend-growth portfolio was whether or not the rate of dividend increases would be able to exceed the rate of inflation?
To answer that question, I decided to compare the rate of inflation against the dividend growth rate of the ten largest companies by market capitalization that have continuously paid and increased dividends for at least 25 years. Plain and simple, I chose this criterion because these companies are proven winners (large market capitalization) that consistently reward their shareholders (long history of continuously increasing dividends). Using the CCC list provided by Mr. David Fish made this very easy.
The ten companies that contain the aforementioned characteristics are:
Ten Dividend Champions with the Largest Market Capitalization

Company

Market

Capitalization

($ in Billions)

Years of

Consecutive

Dividend Increases

Abbott Laboratories (NYSE:ABT)
$103.5B
40
AT&T (NYSE:T)
$214.4B
28
Chevron (NYSE:CVX)
$221.1B
25
Coca-Cola (NYSE:KO)
$178.0B
50
Exxon Mobil (NYSE:XOM)
$408.0B
30
Johnson & Johnson (NYSE:JNJ)
$185.5B
50
McDonald's (NYSE:MCD)
$88.10B
35
PepsiCo (NYSE:PEP)
$114.2B
40
Procter & Gamble (NYSE:PG)
$184.5B
56
Walmart (NYSE:WMT)
$243.6B
38
A couple things that you will notice about these companies is that they are well-known internationally, cover various sectors, and produce products or provide services that people use every day regardless of whether the economy is good or bad. This would make a good starting point to building a diversified, defensive dividend-growth portfolio.
Below, I grouped the companies together into common themes in order to make the charts and comparisons easier to visualize:
Inflation vs. Dividend Growth Rate - Energy Companies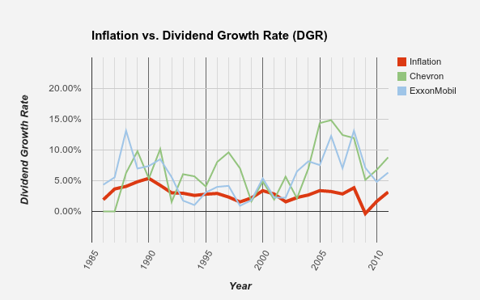 In the majority of years, the dividend growth rate of the two energy giants, CVX and XOM, has either matched or exceeded the rate of inflation. Both companies have low payout ratios and have recently started to aggressively increase their dividend, which should keep dividend-growth investors happy for the long term.
Inflation vs. Dividend Growth Rate - Personal and Health Care Companies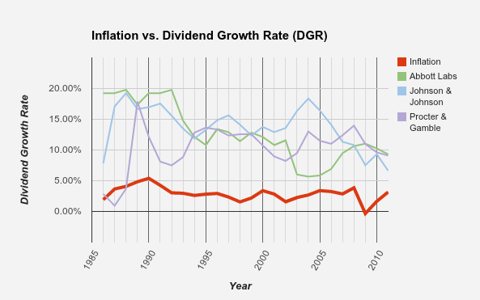 In all but two years (PG in 1987 and 1988), ABT, JNJ, and PG have increased their dividend more than the rate of inflation. In fact, the dividend growth rate has consistently been at least two times the rate of inflation. One thing that concerns me is the upcoming split of ABT into two companies and how it will affect the dividend. For that reason, I feel stronger about JNJ and PG right now.
Inflation vs. Dividend Growth Rate - Food and Beverage Companies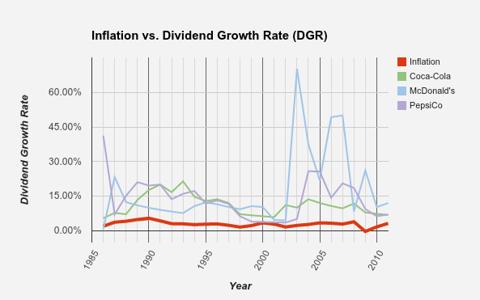 Except for MCD in 1986, KO, PEP, and MCD have increased their dividend at a rate higher than the rate of inflation in every year for the past 25 years. There is no guarantee, but I imagine people will still be drinking Coca-Cola and Pepsi products and eating at McDonald's twenty years from now. With low payout ratios and continued high earnings, I see all three of these companies continuing to reward their shareholders for a long time.
Inflation vs. Dividend Growth Rate - Service and Retail Companies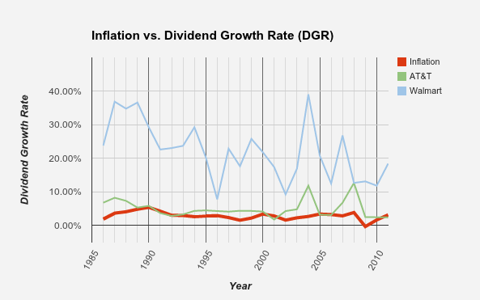 As you can see, WMT has a stellar dividend growth rate exceeding the rate of inflation several times over in nearly every year over the past 25 years. On the other hand, T has pretty much kept its dividend growth rate in line with the rate of inflation. However, T also has the highest dividend yield out of the ten companies mentioned in this article. Depending on how you construct your portfolio, it could be beneficial to own a high-yield, low dividend-growth company in order to increase your dividend income.
Conclusion
Without much effort, I ran a very simple filter to isolate ten quality companies around which to build my portfolio; your criteria may be different. However, I hope that by illustrating how the dividend growth rate of high-quality dividend-growth companies handily beats the rate of inflation, you feel more confident that this strategy will be able to support you during retirement. I know I do.
Disclosure: I am long CVX, JNJ, KO, MCD, PG, T.
Additional disclosure: I am waiting for the right entry point on PEP, WMT, and XOM. At this time, I am not considering ABT due to the pending split.