US GDP has increased from USD14 trillion in 2007 to USD15 trillion in 2011. The CAGR for these four years has been 1.8%. Considering the serious nature of the financial crisis, the GDP growth and recovery can be termed as robust.
This article investigates and discusses the major drivers of GDP growth after the crisis. Analyzing this aspect is critical for two reasons. The analysis will help in determining the sustainability of growth and it will also help in understanding the sectors, which would be attractive investments in the foreseeable future.
To get a broad perspective of GDP growth drivers, the chart (figures in USD billion) gives the increase in GDP in the last four years (2007-11) and the sectors contributing to GDP growth.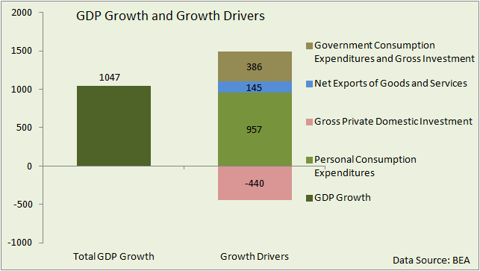 Click to enlarge
As evident from the chart, the total increase in GDP was USD1.5 trillion with 64% contribution coming from personal consumption expenditure and 26% from government consumption expenditure. The positive factors were partially offset by a USD440 billion decline in gross private domestic investments leading to a net GDP increase of USD1 trillion.
I would therefore focus on government and personal consumption to figure out the sectors, which stand to benefit from the current growth trend.
Before that, I would like to mention that a decline in gross private domestic investment is negative for long-term and is indicative of the fact that government policies have not been favourable for domestic investment.
Coming to the analysis on the impact of personal consumption expenditure [PCE] on GDP, I would divide the PCE into goods and services.
Of the total increase of USD957 in GDP (2007-11) due to consumption expenditure, USD261 billion or 27% came from goods and USD696 billion or 73% came from services.
The table (figures in USD billion) below gives the various components that contributed to an increase or decline in PCE related to goods (durable and nondurable).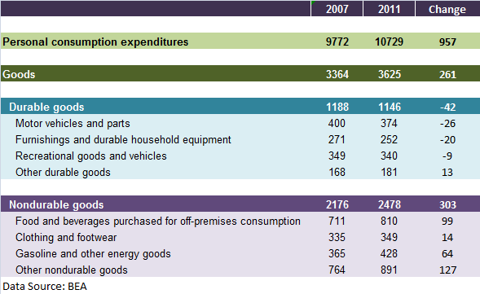 Click to enlarge
Very clearly, nondurable goods have resulted in a positive impact on GDP growth while durable goods consumption has shrunk marginally.
A deeper analysis into the components forming a part of nondurable goods is interesting. The table (figures in USD billion) below gives the components in the "other nondurable goods" category.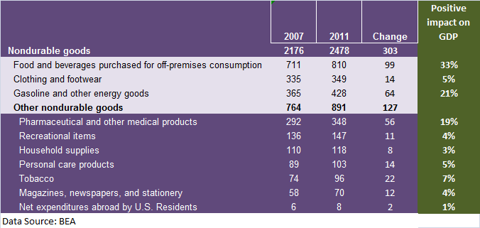 Click to enlarge
Analysis of numbers shows that 19% of the increase in GDP (nondurable goods) comes from pharmaceutical and medical products and 21% from gasoline and energy goods. In other words, 40% of the increase in consumption of nondurable goods comes from necessities.
I emphasize this because the higher energy cost and higher health care cost will have an impact on household consumption pattern going forward.
I will now shift my focus to the bigger contributor to GDP increase, personal consumption expenditure related to services.
As mentioned above, the PCE related to services has contributed to 73% of GDP increase related to consumption during 2007-11.
The table (figures in USD billion) below gives the increase in services consumption expenditure (2007-11) and the sectors contributing to the increase.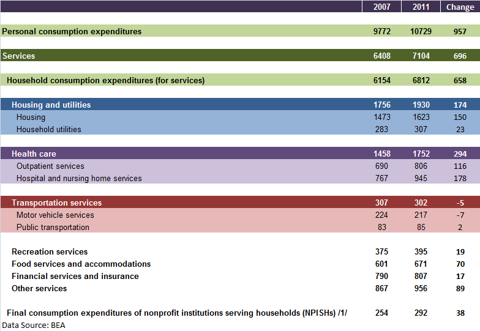 Click to enlarge
Nearly 25% of the increase in GDP related to services comes from an increase in rental or imputed rents for housing. Further, 42% of the increase comes from healthcare services (outpatient and nursing home services).
These increases can't really be clubbed into consumption and are more of a necessity than luxury spending. Also, one of the biggest contributors to "other services" is education service.
The most important point that I want to convey through these bifurcations is that the GDP growth has primarily been driven by an increase in necessity related expenditure such as healthcare, education, energy and housing.
The increase in GDP does not reflect robust consumer spending in terms of purchase of durable or nondurable goods and excessive spending in luxury and recreation. With an aging population and high level of unemployment, healthcare services and social services are driving GDP growth.
Therefore, an increase in government spending on health care and social security programs might continue to prop up GDP growth in the foreseeable future. The real concern will be related to government finances and its impact on the private sector. The crowding out effect cannot be ruled out with a USD440 billion decline in gross private domestic investments (2007-11).
Talking about the government sector, I would like to finally focus on the positive impact on GDP resulting from government consumption expenditure. Government expenditure resulted in a positive impact of USD386 billion on GDP (2007-11). Of this, 41% of the increase came from defense related spending.
I am of the opinion that government consumption expenditure will continue to expand in the long-term. I had discussed about defense related consumption expenditure in one of my earlier articles. Investors can find some interesting investment opportunities related to the defense sector in the same article.
In line with the discussion above, I would consider investment in the healthcare sector for long-term. The Vanguard Health Care ETF (NYSEARCA:VHT) looks interesting and can be considered for one's portfolio.
The ETF seeks to track the performance of a benchmark index that measures the investment return of stocks in the health care sector. The ETF provides exposure to quality equities like Johnson & Johnson (NYSE:JNJ), Pfizer Inc (NYSE:PFE), Merck & Co Inc (NYSE:MRK), Abbott Laboratories (NYSE:ABT) and Amgen Inc (NASDAQ:AMGN).
The Vanguard Industrials ETF (NYSEARCA:VIS) is also a good investment option providing exposure to sectors such as industrial conglomerates, aerospace & defense, industrial machinery, construction & farm machinery & heavy trucks and railroads.
Some quality stock holdings in the ETF include 3M Co (NYSE:MMM), Boeing Co/The (NYSE:BA), Honeywell International Inc (NYSE:HON), Caterpillar Inc (NYSE:CAT) and United Technologies Corp (NYSE:UTX).
Disclosure: I have no positions in any stocks mentioned, and no plans to initiate any positions within the next 72 hours.