Apple (AAPL) has experienced an extremely volatile 2012 and I have recommended option strategies on Apple since 2010 with positive results (past performance is not indicative of future results). For reference, please view the first and other articles in the series to fully understand the strategy and its potential returns. This strategy is to simultaneously generate income and reduce your effective cost basis by selling out-of-the-money options to generate weekly income without sacrificing long-term returns. Even if you have no plans to engage in the options market this is your one-stop primer for the critical Apple developments from the past week.

Click to enlarge
(Source: Yahoo Finance)
A brief recap of this week in Apple, which was up $24.72 (4.0%):
Apple shareholders' can finally smile. Since reporting earnings in late July Apple has risen 75 points, or nearly 13%, to surge past its previous all-time high and achieve a $600B market capitalization. This strong performance was further enhanced by Apple's first dividend in more than a decade that was paid to investors on Thursday. As I said last week, the 52 week high is an important indicator that can compel investors to either take profits or spur further investment. Apple has continually set and reset its all-time high over the past few years and it could be poised repeat that this summer. Apple is a great company that has been a fantastic investment but investors would be wise to be cautious as the rebound from earnings was fueled by a collection of stale rumors relating to the New iPhone, iPad Mini and iTV. These rumors have been circulating for months, so why did the stock pop this past month following its disappointing earnings? The difference this time was that the rumors were published in the Wall Street Journal and seemingly without fail the mere publication in the Journal drives the stock significantly higher.
The bull case for Apple is well known and I still maintain my $720 price target on the stock. However, I want to call attention to a story relating to Apple s new SVP of Retail Operations and his plans for the Apple Stores. John Browett has a pedigree at discount retailer Dixons which thrives on keeping costs low to stay profitable. Mr. Browett appears to be bringing the traditional retail mindset to Apple despite the company's reliance on its brand and image rather than having rock-bottom prices. The rumored plans included downsizing and the reduction of hours for all retail employees; any outsider can plainly see that such a plan would not fit with Apple's vision. I do not anticipate this having a material impact on Apple's stock but it is a situation that demands monitoring. This is an important lesson because it indicates how just a small crack in Apple's armor can cause such a massive company to falter. Fortunately for Apple it quickly realized what a massive mistake this was and took corrective actions. "Making these changes was a mistake and the changes are being reversed," said Kristin Huguet, an Apple spokeswoman. "Our employees are our most important asset and the ones who provide the world-class service our customers deserve." So to answer the question posed in the title of the article, no it is not time to sell Apple but do not get too comfortable with any of your holdings.
Lastly I would like to touch upon the Apple-Samsung legal suit that is close to finishing. As a layperson it does appear that Apple has the lead with evidence of Samsung's apparent blatant copying of Apple but juries are notoriously unpredictable. Apple investors should take advantage of the elevated volatility and optimism that the trial is supplying as there are abundant opportunities for both new and existing Apple investors. From a strictly time-value ratio standpoint a conservative approach would be the sell the in-the-money August Weekly $645 calls with a .96% time-value ratio and collect $6.19 in time value if Apple closes above $645 on Friday. On the opposite extreme, if you are worried about getting called away too soon there are still very profitable opportunities. The weekly $660 calls provide nearly $12 of upside with a respectable $3.10 effective "dividend." If Apple crosses $640 this week you will likely have an opportunity to repurchase it the following week as it could be entering overbought territory, barring any unexpected news. With the trial looming and the prospect of a new iPhone release date being announced soon, I suggest that you provide yourself with more of an upside cushion to avoid potential lost profits.
Below I present three possible scenarios and the potential returns for the Apple options. The first scenario represents a negative outlook for Apple while the final two scenarios are more reasonable. These scenarios are forecasts and there is no guarantee that they will come to fruition. Even if you are optimistic it is important to consider both positive and negative circumstances in order to stress your assumptions. As a general rule, selling calls with higher strike prices has greater potential return but additional risk of loss due to the lower (or lack of) downside protection.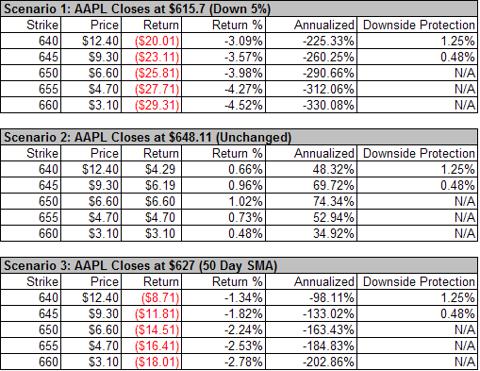 Click to enlarge
Additionally, if you would like even more information, I have prepared a sensitivity analysis for absolute return and percent returns, respectively. After studying the information above, these two charts make it easy to pick a strike price based on where you believe Apple will close at the end of the week. Estimate where you believe Apple will close and select the strike price with the highest return.

Click to enlarge
With this information, executing a buy-write on AAPL August 24 (Weekly) 655s is the optimal risk-return strategy. If you are uncomfortable with this strike I would consider a buy-write in the range of 635-660. Even if you are extremely bullish you can still profitably sell covered calls. Apple is volatile enough that you will have opportunities to repurchase on further dips. An alternative approach is to sell out-of-the-money 640 puts and collect the ~$4 premium without having to purchase the stock outright. Note that if the stock declines to the strike price, you are obligated to buy the stock (or closeout the position). You should always consider the risk factors (particularly with naked calls or puts) raised in this article in light of your personal circumstances (including financial and taxation issues) in consultation with your professional financial adviser.