Scotia Bank analyst Gus Papageorgiou believes Nokia (NYSE:NOK) is undervalued, giving it a "buy" rating and a price target of C$40 after its CEO outlined future growth plans for the giant player in the "hyper-paced" Smartphone market.
Mr. Papageorgiou sees a substantial, prolonged upside for Nokia, following the investor reception he attended last week. In a note released Monday, he outlined the reasons for his optimism, including aggressive plans to compete in the high-end Smartphone market, so far largely dominated by the rivalry between Research in Motion's (RIMM) Blackberry and Apple's (NASDAQ:AAPL) iPhone.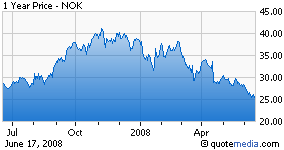 Nokia is launching a wide array of new Smartphones and repositioning its image away from the hardware/"mobile phone" tag, by integrating services with its handsets to deliver web-enabled customer solutions. "Although Nokia's primary objective with this strategy is to differentiate its device portfolio, its secondary strategy is to derive a new revenue stream," wrote Mr. Papageorgiou. Beyond web repositioning, the company also re-aligned recruitment recently, hiring many business and technology staff with specific Internet and e-commerce skillsets.

The Scotia Bank analyst also pointed to strong fundamentals such as low production price-points, and very high volumes that play in favor of the Finnish manufacturer, especially on the middle-market segment. Nokia's N-series multimedia devices shipped close to 10 million units in the first quarter of 2008 alone, he wrote.

He concluded:
Nokia shares have sold off in the last few months and we see the company as very good value at these levels.
On Monday, Nokia shares hit a 52-week low at C$25.43, down 38.8% from their 52-week high of C$42.21, (Nov.7, 2007).