This week's Barron's had a cover story on energy MLPs. It was a solid overview of the industry and its growth prospects. Numerous MLPs were mentioned in a positive light. One that stood out to me was an 8% yielder with increasing capabilities in the Eagle Ford shale region of Texas: Copano Energy (NASDAQ:CPNO).
According to the business description from Yahoo Finance, "Copano Energy, L.L.C. provides midstream services to natural gas producers in the United States. The company's services include natural gas gathering, compression, dehydration, treating, marketing, transportation, processing, and fractionation."
Here are seven reasons why Copano is a solid value play for income investors at $30 a share:
The stock yields a robust 8.3% and, given revenue and earnings projections, the company should be able to start accelerating distributions in the near future.
The company has a $1 billion capital budget primarily targeted at building infrastructure for the Eagle Ford region, and will be a significant beneficiary of the exponential production increases in that area, which continues to surpass estimates.
Insiders believe in the company's value. Less than 1% of insiders' shares have been sold in the last six months, and there was a $100,000 purchase in late May.
Consensus earnings estimates for both FY 2012 and FY 2013 have moved up nicely over the past month. The company continues to move more of its revenues to fixed-rate long-term contracts and has hedged most of its commodity exposure.
Revenues are expected to jump more than 25% in FY 2013 as new assets come on line. In the second quarter, it signed contracts with Statoil (NYSE:STO) and Talisman Energy (NYSE:TLM) to deliver new product as the result of constructing a 140-mile condensate gathering system.
The mean price target of the nine analysts who cover the stock is just north of $34 a share.
The stock has recently bounced long-term technical support after a steep sell-off in the second quarter, and just crossed its 50-day moving average (see chart below).
Click to enlarge image.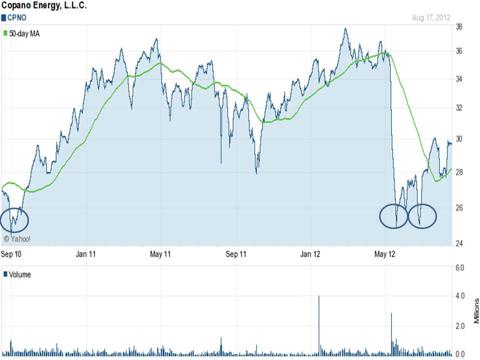 Click to enlarge
Disclosure: I have no positions in any stocks mentioned, but may initiate a long position in CPNO over the next 72 hours.