Too many investors are currently attracted to yields that can't last. Pipelines are facing a decontracting crisis. Low basis prices have disincentivised long term (firm) contracting on pipelines.
There are 2 types of transport capacity a user can take on a pipe: firm and interruptible. Firm transport rates are regulated by the FERC. Interruptible (IT) rates are set by the market. Because new gas plays are being developed near traditional demand centers there is little demand for long haul pipes. Physical market participants are no longer "reserving seats" on those pipelines by recontracting for firm capacity. By choosing the cheaper interruptible transport they are showing great confidence in their ability to move gas to where it is need without fear of "getting cut."
Decontracting of firm capacity creates slower projected revenue growth for MLPs as their premium clients no longer renew their contracts. This will place significant pressure on future dividend payouts.
Notice the boldface words in Sempra Energy's (NYSE:SRE) earnings call below. If there wasn't an asset sale there would have been no markdown for REX. The physical pipeline market is very similar to the real estate market in 2007 and 2008. Banks were were too slow to writedown illiquid assets on their balance sheets. However, once those illiquid assets started changing hands the true mark to market (MTM) value of the balance sheets became apparent. Companies could no longer hide from the truth- their stated book values were meaningless. So too here, MLPs and Utilities haven't been honest with themselves or with the market regarding their asset values.
Sempra isn't unique, many will follow. It is a vicious cycle. As people revalue their assets, it will only reaffirm where the true market value is. News of more pipelines sales and revaluations will force other companies to have to mark down their balance sheets as well. The game of dominoes has begun.
And it is at this juncture that the ratings companies will enter. (Again, always behind the curve, just as in 2007 and 2008.) As balance sheets get marked down, liabilities to asset ratio increases. Ratings companies will observe these ratio changes and will lower a company's credit rating thereby increasing borrowing costs.
Increased borrowing costs exacerbate a firm's current (revalued) fiscal position and sends another wave of selling into the market. As the Utilities and MLPs image of being perfectly safe investments crumble the rush of selling to get out will be unstoppable.
Tremendous bargains will be found once the dust settles and the weak hands fold. Firms whose portfolios are predominantly made up of natural gas related assets will be forced to raise cash during this credit downgrade cycle in order to improve their asset/liability ratios. Drillers with strong balance sheets and diversified drilling portfolios, who can withstand the credit crunch, will be the winners. Specifically, drillers that have oil assets and little exposure to the economics of North American Gas Markets. These drillers will be able to take advantage of their competitors cash crunch, credit downfall and asset sales.
We are still in the very beginnings of this portion of the cycle. Therefore, please be very wary of the attractive yields of these MLPs and utilities. The good times will not last. They cannot last under these current market conditions. I might be wrong, but this is my paradigm. From SRE's conference call:
Earlier this morning, we recorded second quarter earnings of $62 million or $0.25 per share, excluding a $179 million non-cash charge related to our investment in the Rockies Express Pipeline, or REX. Adjusted earnings for the second quarter of 2012 were $241 million or $0.98 per share. In the second quarter of 2011, we recorded adjusted earnings of $226 million or $0.94 per share, which excluded the $277 million remeasurement gain we booked when we completed our acquisition of South American Utilities.

As many of you are aware, Kinder Morgan, a 50% owner of REX, is in the process of selling its interest in the pipeline as a result of its merger with El Paso. The REX pipeline is contracted through late 2019. The current market conditions for the pipeline are weak due to low gas prices and low basis differential. The sale by Kinder Morgan, coupled with the weak market conditions, led us to determine it was appropriate to record an impairment at this time. Joe will provide more details on this a little later in the call.
Technical traders should sell this break in the uptrend.
There was an upside-down hammer at the top of an uptrend, signaling reversal, followed the next day by bearish cloud cover. SRE looks very vulnerable.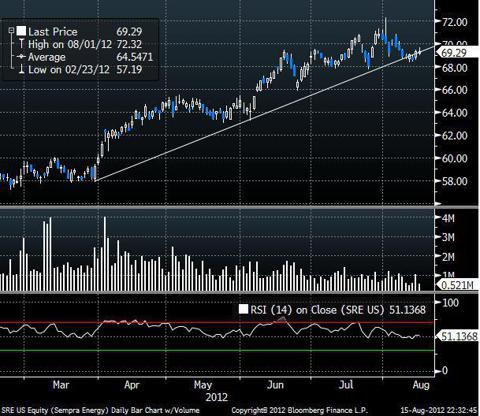 Disclosure: I have no positions in any stocks mentioned, but may initiate a long position in MLPS over the next 72 hours.