In the wake of a changing consumer and ultimately changing global needs as to what a car must do to satisfy buyers, Ford (NYSE:F) and other manufacturers, both domestic and foreign, are reengineering how vehicles will look in one, five or ten years.
General Motors (NYSE:GM) put forth the Chevy Volt last year and has received acclaim at the success of the model and what it means for the automaker going forward. F has outlined plans to bring efficient vehicles utilizing myriad technologies to market within the next year. F has invested significantly into its EV and R&D facility in Dearborn, Mich., to brings products and models to market that will utilize the lightest materials in the industry, the most efficient motors, and the most technologically advanced models.
For investors, this means growing market share in the eyes of young consumers who are more focused than ever on efficiency along with building a model lineup that can stand the test of time and evolve with the times. In addition, F is both valued well from a financial perspective and is operating in a world where the demand for vehicles is rising dramatically. F has the potential, due to its clear investment in its future, to deliver results for shareholders and make its current two-year low price a buying point for investors.
A Solid Financial Footing:
Though F had a weak 2Q earnings release due to European weakness, the company is in a strong financial position. The case for owning F first comes down to the company's valuation. The stock is currently trading at 14.23% below its moving average and insider ownership has increased by roughly 30% over the past six months. The company's key metrics are as follows:
Forward Price/Earnings: 6.42
PEG Ratio: .72
EV/EBIDA: 9.98
Profit Margin: 13.23%
Return on Investment: 157.85%
Cash-debt: -$76.11B
Operating Cash Flow: $9.54B
Dividend: 2.10%
These values represent value to investors as they show that the company currently holds a low value and is healthy by metrics of profit and operating cash flow. In today's market when Toyota (NYSE:TM) and Honda (NYSE:HMC) are both trading at over 15 times forward earnings along with having profit margins well below 5%, F appears to be a strong value and investment opportunity. The only caveat to be made is the company's cash-debt. Although this metric shows very high debt on the company's balance sheet, the operating cash flow brings it into perspective and illustrates that this is not a deal breaker. From a valuation perspective, F is priced well and is poised for long-term growth if the company can continue to innovate and reorganize under OneFord.
A Clear Business Model:
Several years ago, F realized the need to change and become more focused and launched the campaign "OneFord." In doing so, the company set forth a mission: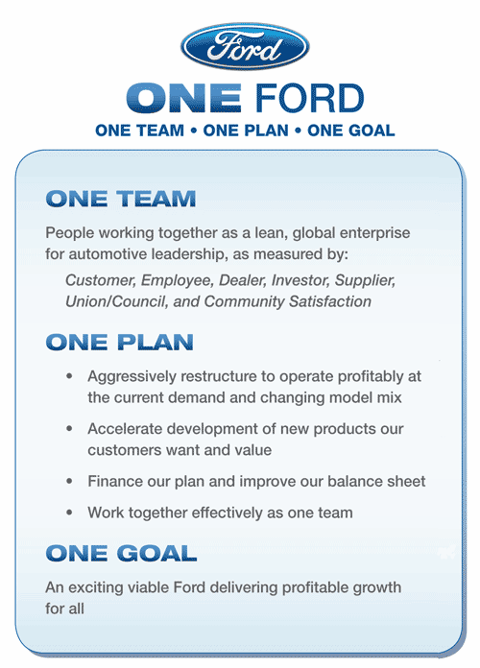 Click to enlarge
This mission has resulted in a restructuring of the company and an elimination of a substantial amount of waste in the face of a difficult economic environment. In the wake of European sales declining, F has begun to ask the hard questions of whether it should close plants in Europe or not. In a statement, the company said:
While Ford is affected significantly because of its strong presence in the region, the company understands what is needed to achieve profitability and to generate an appropriate return on investments.
Though Europe and the company's Q2 earnings have to be taken seriously, F has incredible opportunity ahead in other markets due to its clear investment in its future. The company has hired many engineers and has increased funding dramatically for its electric car unit. F is expected to release 5 new electric models this year alone and is expecting to make further breakthroughs in coming years. By 2020, it is expected that electric cars (or alternative energy sources) will make up 25% of new car purchases.
This bodes well for F, as the company is unified to create cars of the future through its Ford Advanced Electrified Center. Tesla (NASDAQ:TSLA), the electric car manufacturer, is trading at 60 times earnings, has a market cap of nearly $3 billion, and has never turned a profit. This illustrates the value within F stock as the company is clearly investing in its future while currently trading at a reasonable multiple of earnings.
Rising Demand:
In the wake of population growth in China and emerging markets, along with the average American car being 11 years old (the oldest on record), car demand will increase over the coming years. Jeremy Bowman of Motley Fool states:
Carmakers are ramping up for 2015 by leasing new cars at low prices in order to keep them in stock a few years from now when demand is up again. Several foreign competitors, including Volkswagen, Honda, Kia, and Hyundai, have doubled down on future U.S. demand, building or expanding plants in the states. The number of new models produced has nearly doubled in just a few years, and all that investment could also help speed the recovery.
This sentiment illustrates that F is in a business that will continue to grow from the mere increase in demand that will occur within the coming years. Do not allow current European woes to sway you into believing that the car market will continue to be soft into 2020. Rather, demand will increase for fuel efficient vehicles and F, through its recent investments, will likely introduce many models that will appeal to the new car consumer.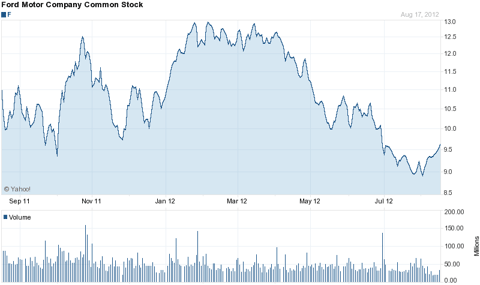 Click to enlarge
Source: Yahoo Finance
Conclusion:
Due to F's current price, investment in its future, and prospects of the 2020 car market, F is a strong long-term buy. The company's focus through OneFord and its commitment to staying ahead of the curve will reward investors over the long term, and today's buying price of roughly $9.50 is a strong number, considering the valuation of its foreign counterparts.
All financial metrics referenced above are obtained from Yahoo Finance, CNBC Analytics, S&P Capital IQ and Thomas Reuters.
Disclosure: I have no positions in any stocks mentioned, and no plans to initiate any positions within the next 72 hours.