In a recent filing, it was reported that Bob A. McDonald, CEO of Procter & Gamble Co (NYSE:PG), sold 131,521 shares on August 14, 2012 at an average price of $66.61. The total value of the transaction was $8,760,614. Following the move, McDonald still holds more than 219,000 shares of PG.
Normally, such a large transaction by any insider, especially the CEO, would warrant reconsideration of the stock. In fact, I have written a few recent articles in which I have discussed insider buying as a major bullish indicator.
Insider Buying vs. Selling
Insiders often sell stocks for a variety of reasons. Sometimes, insiders sell because they think shares are overvalued. However, this is not always the case. Insiders also often sell shares for personal reasons, some examples include paying taxes, a major family event, a new investment opportunity, a divorce, or simply to make a large purchase such as a home. Contrastingly, there is only one primary reason why insiders buy stock: because they think shares are undervalued. Given this, I typically put more weight on an insiders decision to buy as opposed to sell. This case is no different, had McDonald's move been to buy shares, I would consider this bullish for the stock.
Large Company
With a market cap of more than $180 billion, PG is one of the largest companies in the world. PG is a consumer product conglomerate, because of this, it is very unlikely for any specific business trends in a specific sector to have much impact on the stock. Contrastingly, when looking at smaller companies, there are very specific drivers for the stock. Insiders have a better ability to clearly discern what will be positive or negative for their stock. For a company that is as large as PG, it is much more difficult, even for insiders, to know what will drive the share price.
Pershing Square Capital Management Stake
In a recent move, Pershing Square Capital Management, run by noted hedge fund investor William Ackman, has taken a more than $1.8 billion position in PG. Typically, as an activist investor, Ackman moves to oust current management in favor of new management. While there is no other evidence, McDonald's sale could be an early indication that he will eventually leave as CEO.
Fundamentals Remain Strong
As shown by the chart below, PG is not overvalued based on historic PE ratios.
PG PE Ratio data by YCharts
It should also be noted that PG is trading at a historically high yield. This is due to both the company's history of raising dividend and the stock's recent lackluster performance.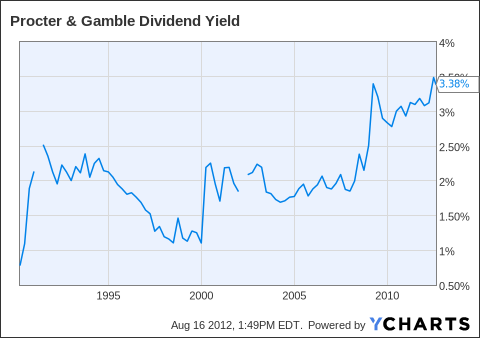 PG Dividend Yield data by YCharts
Conclusion
Despite the large value of McDonald's sale, more than $8 million, I do not believe PG shareholders need to worry. The stock sale may have come for a variety of personal reasons for McDonald unrelated to the company itself. Based on the current PE ratio and dividend, PG is not overvalued. If the stock sale had come at a time when PG's yield was a record low or PG's PE ratio was at a record highs, I would be more concerned about McDonald's decision to sell.
Disclosure: I have no positions in any stocks mentioned, and no plans to initiate any positions within the next 72 hours.