Recently, a Seeking Alpha reader asked me how much to invest in a newly constructed REIT portfolio. Given that I do not currently own any REIT stocks, I thought this was a valid request, so I decided to reply by writing this article.
Before I begin, I want to refer to an article that I wrote last week, Spice Up Your Salsa By Adding Some Intelligent REITs To Your Portfolio. As referenced in that article, Brigham Young Professor Craig Israelsen describes his "salsa" recipe for diversification and his multi-dimensional portfolio allocation strategy:
Great salsa is all about diversification. Only by adding diverse ingredients together can we achieve the desired outcome. However, there are some ingredients in salsa that most of us would never want to eat individually, like hot peppers or Tabasco sauce. But, without the "hot" ingredients the salsa would be flat.

Similarly, investment portfolios should include a wide variety of diverse ingredients or "assets". Mutual funds that invest in US stocks are a core ingredient for a portfolio, analogous to tomatoes in salsa. But, US stocks are only one asset class. More asset classes are needed. We need non-US stock. But, even after adding non-US stock, our portfolio still only has "stock" ingredients. We need diversifying ingredients such as bonds, real estate and commodities.

Each investment asset adds an important dimension to the portfolio because each asset behaves differently. This diversity is vitally important in salsa … and in portfolios.
Diversification: The Simplest and Cheapest Way to Widen Your Margin-of-Safety
As Ben Graham explains,
Diversification is the simplest and cheapest way to widen your margin-of-safety.
As Graham taught, a fundamental principle of investing is that, over time, diversification is the key to stability of performance and preservation of capital. You might have outstanding results if you put a huge portion of your assets in one stock, but nobody can foretell the future. Occasionally even Warren Buffett has zigged when he should have zagged, and real estate has, in the past, been a somewhat cyclical investment.
Accordingly, I have structured this "salsa portfolio" with the principles of diversification and this "make believe" portfolio is balanced by an appropriate sub-allocation of different property sectors, investment characteristics, and geographic locations.
Let the Fun Begin
To make this fun, let's just assume that I just won the lottery and I've just received an after tax check of $500,000. Then, let's assume that I will allocate 20 percent, or $100,000, of my new found wealth to REITs. Given that I have an extensive knowledge in real estate and real estate securities, I consider 20 percent to be an acceptable level of exposure to the asset class (since that is my "core of competence").
To begin, I have decided to include nine different sub-sectors, and I have also decided to over-weight certain sectors that I feel could produce the best overall results. For example, I feel as though the shopping center REITs and the triple-net REITs will provide better growth, so I decided to overweight these sectors by 25 percent and 20 percent, respectively.
In fact, given my attraction to the triple-net sector, I have included three REITs with an over-weighted allocation of 6.67 percent for each REIT. No other REITs in the appropriately named "salsa" model have a concentration of more than 5 percent (per REIT). The triple net REITs that I picked are Realty Income (NYSE:O), National Retail Properties (NYSE:NNN), and American Realty Capital Trust (NASDAQ:ARCT).
(click images to enlarge)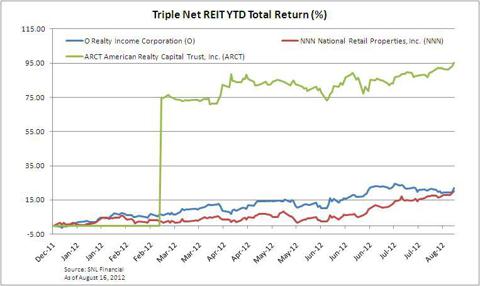 I also included several specialty REITs, and even a mortgage REIT. Keep in mind that I am not a big fan of mortgage REITs. However, I felt compelled to include a small position (5 percent) in American Capital Agency (NASDAQ:AGNC). I believe that the mREIT sector should be recognized for what it is: an environment of narrowing spread margins or lower net interest spreads. As a result, AGNC has levered its portfolio close to the top end of its stated range. As well, AGNC has done an admirable job of managing prepayments and controlling the portfolio gap. While its hedging is narrowly focused on the current environment, it should control NIM volatility within an expected range of rates. That said, the rate exposure, as currently positioned, will cause a meaningful reduction in margins when rates rise. As such, an investment in AGNC should be considered a shorter term position.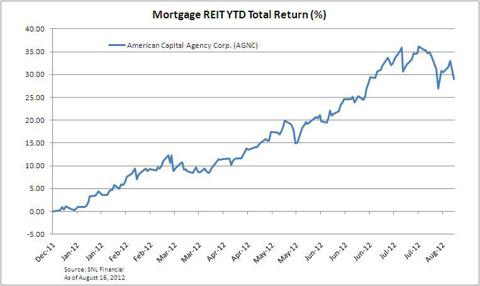 The shopping center REITs have been performing very well, and many of them have been recycling assets and reducing overall leverage. The shopping center REITs that have I included in the "salsa" model are Kimco Realty (NYSE:KIM), Regency Centers (NYSE:REG), Weingarten Realty Investors (NYSE:WRI), Retail Opportunity Investment Trust (NASDAQ:ROIC), Federal Realty (NYSE:FRT), and Excel Trust (NYSE:EXL).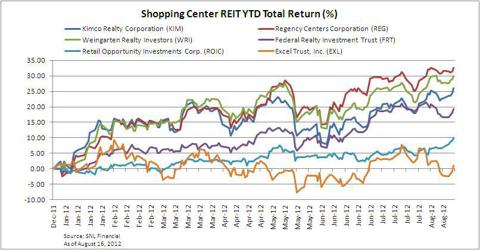 The mall sector has also been performing better than any other sub-sector, and Simon and Taubman have been expanding internationally. The three mall REITs that I included in the model are Simon Property Group (NYSE:SPG), Taubman Centers (NYSE:TCO), and CBL Properties (NYSE:CBL).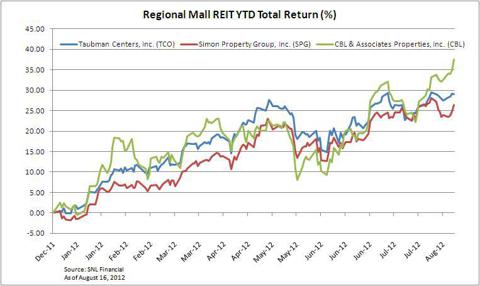 The self-storage sector has also been performing well, and I especially like the number two and three largest chains; consequently, I included Extra Space (NYSE:EXR) and CubeSmart (NYSE:CUBE) in the "salsa" model.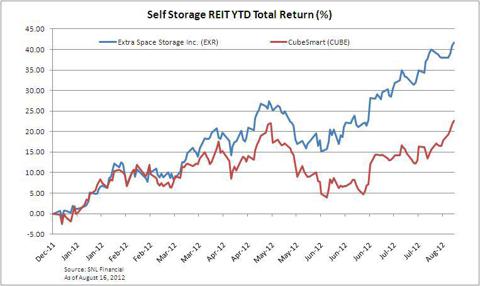 The industrial REITs are reporting strong growth, and I believe that this sector could be the "next" multifamily high-growth sub-sector. The three industrial sector REITs that I included are STAG Industrial (NYSE:STAG), Monmouth (NYSE:MNR), and EastGroup (NYSE:EGP).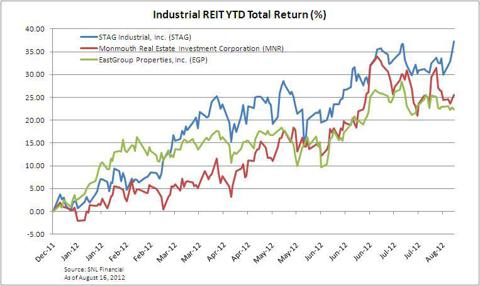 The residential sector appears to be fully valued; however, there are a few specialty REITs that I decided to include to gain exposure. I like American Campus Communities (NYSE:ACC) in the campus housing sector, and UMH Properties (NYSEMKT:UMH) in the manufactured housing sector.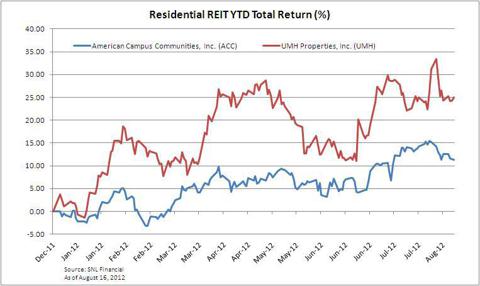 The healthcare sector is continuing to provide reliable and consistent results. I like Ventas (NYSE:VTR) and Omega Healthcare (NYSE:OHI). Also, I decided to include Healthcare Trust of America (NYSE:HTA) -- a new publicly-listed REIT that promises strong growth and an above average dividend (of 6.2 percent).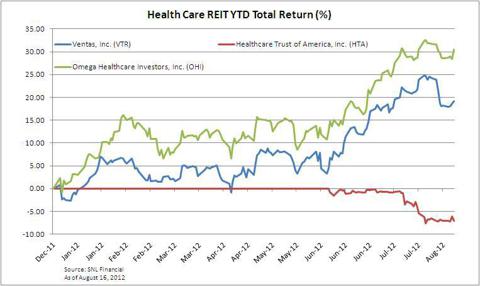 The remaining three REITs are more specialized. They include Digital Realty (NYSE:DLR), American Realty Capital Properties (ARCP), and W.P. Carey (NYSE:WPC). Note, W.P. Carey is not currently a REIT, but the company has announced that it would qualify as REIT later this year. Therefore, I included the company in the portfolio (but not in the graph below).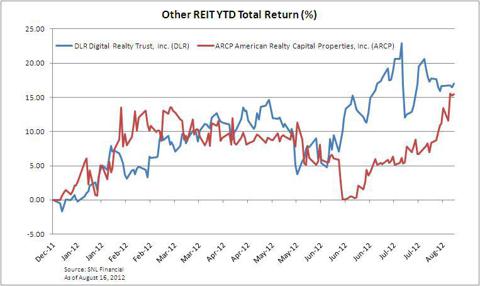 Let's Get Started
In a recent REIT.com interview, Professor Israelsen describes his trademark 7Twelve™ portfolio strategy and, unlike traditional two-asset 60/40 balanced funds, the 7Twelve™ balanced strategy utilizes multiple asset classes to enhance performance and reduce risk. He explains:
The whole idea of "alternative" is kind of a curiosity to me. What's considered an alternative presupposes that there is an agreed upon baseline asset class. One could argue just to be provocative that real estate is that core asset class and that based on returns everything else is alternative -- REITs have generated the highest returns over the last 40 years.

Presumably, the assumption is that U.S. large cap equities are the bedrock asset class. That's not a ridiculous assumption, but it is an assumption. Somehow, other types of asset classes are presently labeled alternative. Traditionally, REITs have been put in that group.

REITs have been around long enough and generated solid enough returns that I don't view REITs as an alternative class. I view them as a core asset class.
REITs paid out approximately $22 billion in dividends in 2011, and this is indicative of the tremendous value that investors place on dividend performance. Accordingly, dividends represent over half of total returns over time, and this represents a very substantial income component of return -- making REITs a very desirable sector for investors.
My "salsa" portfolio delivers a weighted average dividend yield of 5.1 percent, and the overall portfolio is extremely well-balanced across sectors, revenue, and geography.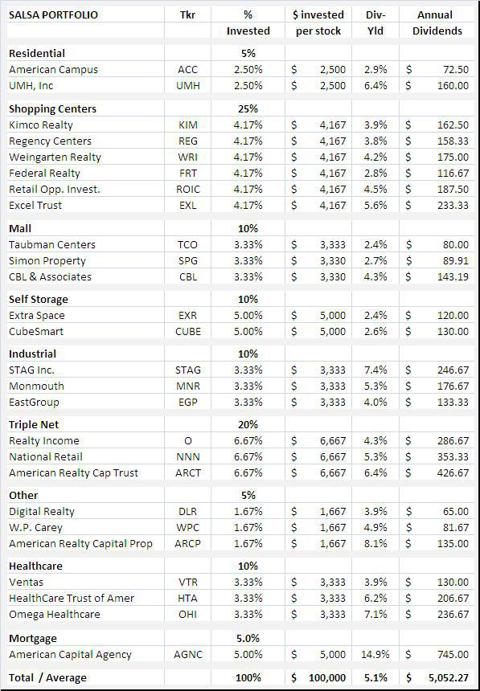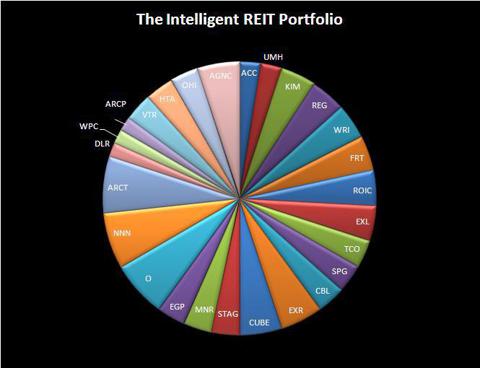 REIT investors can choose from three basic and very different approaches toward building a REIT portfolio -- you can do the research yourself; you can rely on a professional such as a stockbroker, financial planner, or investment adviser; or you can buy REIT mutual funds or ETFs (I will explore that topic later in the month). Regardless of your decision, make sure to follow the words of wisdom explained by Howard Marks (in his book, The Most Important Thing):
When you boil it all down, it's the investor's job to intelligently bear risk for profit. Doing it well is what separates the best from the rest.
If you are interested in reading Why I Don't Currently Own Shares in REITs, click here.
Source for Charts: SNL Financial
Disclosure: I have no positions in any stocks mentioned, and no plans to initiate any positions within the next 72 hours.