On Aug. 9, 2012, a federal appeals court affirmed that a bank could take a commodity futures firm's customer segregated assets (pledged in a "secured" transaction) where the firm subsequently went bankrupt, via a bankruptcy trustee. The implications of this are just beginning to roll through the markets. One implication is that investors who desire a long platinum market exposure have a significant risk of confiscation of their money when used to support a long futures position.
One alternative available to investors is ETFS Physical Platinum Shares ETF (NYSEARCA:PPLT). As of Aug. 11, it reports holding approximately 450,000 troy ounces of platinum on behalf of shareholders. Since each share represents slightly less than 0.1 oz, this indicates that about 4,500,000 shares are outstanding. The process of creating shares is described in the prospectus, as follows:
The Trust creates and redeems Shares from time to time, but only in one or more Baskets (a Basket equals a block of 50,000 Shares). The creation and redemption of Baskets is only made in exchange for the delivery to the Trust or the distribution by the Trust of the amount of platinum and any cash represented by the Baskets being created or redeemed, the amount of which is based on the combined NAV of the number of Shares included in the Baskets being created or redeemed determined on the day the order to create or redeem Baskets is properly received.
When an investor buys a futures contract, no immediate impact on the physical market is necessarily made. Rather, a short usually is created by a market maker, or virtual supply. When an investor buys shares in PPLT, the market maker (authorized participant) must immediately acquire additional shares by depositing physical platinum with the custodian of the trust. Thus, if there is any wholesale movement of investors' positions from long platinum futures to long PPLT, there could be a very large impact on the supply/demand balance in the physical platinum market as compared to the virtual market. There is evidence that such a shift is occurring.
During the Aug. 16 to Aug. 17 trading sessions, when the platinum price advanced 77$/oz, or 5.5%, the open interest in platinum futures only increased by 847 contracts, or 1.6%, while volume increased by 150% compared to Aug. 14-15. By comparison, the volume in PPLT increased by 2,700% for Aug. 16-17 vs. Aug. 14-15. On-balance volume ended Aug. 17 at 463,000, indicating the volume was on the buy side. This volume for PPLT greatly exceeded any day this year, as you can see in the chart below.
ETF Securities reports a daily list of platinum inventory, but I have noticed a two-day lag between significant volume movements and corresponding changes in inventory. So confirmation of a significant increase in PPLT's allocated platinum should be available shortly.
Click to enlarge image.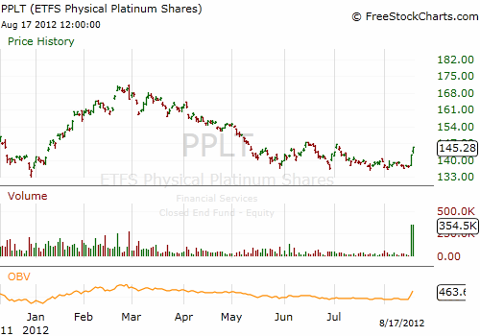 Click to enlarge
Disclosure: I am long PPLT.