Many investors are wondering if Southern Copper (NYSE:SCCO) is the best value play in the mining sector. It is a bargain when compared with BHP Billiton (NYSE:BHP) and Newmont Mining (NYSE:NEM). At the close of business on August 16, 2012, BHP Billiton was trading at $69.21, and Newmont shares were selling for $47.51. Southern Copper closed at $32.81, which begins to place it in the bargain category.
The interesting thing is that Southern Copper's share price was not that far below its closest rival, Freeport McMoRan (NYSE:FCX). Freeport closed at $35.31, so it was a little under three dollars higher than Southern Copper. Is Southern Copper undervalued, or is it priced right?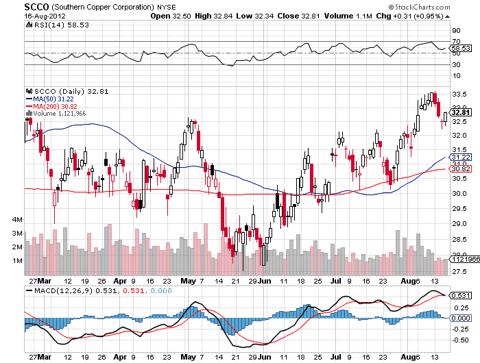 Some observers think Southern Copper is poised to grow because Chinese copper demand seems to be rising in the near future. Southern Copper's Financial Planning Manager, Raul Jacob, told Bloomberg that he thinks Chinese copper demand will grow by 6% to 7% in the second half of 2012. Jacob said he thinks the increased Chinese demand will drive copper prices up.
Southern Copper is in a good position to take advantage of because its copper sales volume increased by 7% in the first half of 2012 Jacob said in the company's second quarter conference call. Jacob believes that this increase in sales volume will make up for falling copper prices. In the same call he noted that copper production has fallen by about 14% in the last year. These figures seem to indicate that any effect the increase in sales volume had on revenues was cancelled out by the fall in prices.
Yet Southern Copper may become more profitable because Mr. Jacob reported that its operating costs and expenses decreased in the second quarter. In the first quarter, Southern Copper's expenses were $833 million, but they fell to $784 million in the second quarter. That is a reduction of costs by $49 million, or 6%, which indicates that Southern Copper has figured out how to increase production while reducing costs. In particular, Southern Copper has managed to cut its cash cost for mining a pound of copper from $1.82 in the first quarter to $1.71 in the second quarter.
In the same call, Jacob noted that Southern Copper increased its molybdenum sales volume by 2% and raised its silver production by 25%. If any company is poised to cash in on an increase in copper or molybdenum prices driven by more Chinese buying, it seems to be Southern Copper. This gave the company a net income of $563.5 million for the second quarter, which translated into earnings per share of 66¢.
When asked to explain the cost reductions, Jacob said the reductions were driven by lower energy costs and higher ore grades. He noted that the company has been able to reduce its energy costs by around $6 million in the second quarter. He didn't explain why the energy costs are lower.
Southern Copper's leadership team estimates that the company will produce about 654,000 tons of copper this year; 712,000 tons of copper in 2014; 996,000 tons of copper in 2015; and 1.6 million tons of copper in 2016. Jacob said the reason production will increase so much is that the Angangueo project may be capable of more production than was previously estimated. Angangueo has not gone into production yet.
Interestingly enough, gold was not included in Jacob's initial estimates, but he stated that the Tantahuatay project is expected to produce 118,000 ounces of gold this year. The Tantahuatay is a joint venture in Peru with Buenaventura (NYSE:BVN); Southern Copper owns around 44% of that mine.
Jacob does not expect the political situation in Peru to affect his company's operations. Peru has been in political turmoil in recent months because of protests against new mining operations and anger at the country's President, Ollanta Humala. Humala has drawn criticism because of his support for mining companies. Humala was elected on a populist leftist platform similar to that which is promoted by Hugo Chavez in Venezuela. He has since changed his mind and sided with miners.
Jacob thinks that Southern Copper can do business with Humala and his government. This belief might be based on the fact that Humala needs the royalty money that mines bring in to pay for his social welfare programs. If he wants that money, Humala will have to keep miners like Southern Copper and Newmont Mining Corp. happy. If they leave, there will be no money for social programs and no votes for Mr. Humala.
The political situation in Peru seems to be the biggest potential drawback to Southern Copper right now. Otherwise this company has been able to reduce costs while increasing production even with falling copper prices.
The falling production costs make Southern Copper a true value buy. It is a low-priced company that has been able to buck industry trends and keep up growth and expansion. Even with the volatile political situation in Peru, Southern Copper is on track to keep growing and generating cash.
Disclosure: I have no positions in any stocks mentioned, and no plans to initiate any positions within the next 72 hours.