Many women know the Obagi Medical Products (OMPI) name and product line, and more women are catching on to what Obagi has to offer to help them look their best. With a simple search on Google (NASDAQ:GOOG) and YouTube, the ever growing popularity of the Obagi brand becomes self-evident.
Some examples of the company's products are: Obagi Nu-Derm Systems, Obagi Condition & Enhance Systems, and Obagi-C Rx Systems, just to name a few. Google these products and visit the Obagi website to cross reference the rest of the company's products as a beginning due diligence point.
Apple (AAPL) is the success it is these days due in large part for its iOS range of products that began with the iPhone, iPod Touch and now iPad. All of these products caught fire at first due to "word of mouth." These products were and are "revolutionary," and in part, have changed the way we communicate with each other.
Apple is now the largest technology firm in the world, with annual revenues of more than $100 billion. In its last earnings call, Apple reported a rare miss, but was still able to hold the $570 level, as shares never fell below that key support level. With a P/E ratio of 15.23, even considering its recent rally to an all-time high of $648, the stock may actually be undervalued when considering the company's current and future earnings.
It's slim to none that Obagi will ever see the type of cash flow Apple brings in with its products or anywhere even close. However, the comparison between both companies is valid when it comes to trending market acceptance. Women who use Obagi products get results - other women see and hear about these results, and in turn, want to try Obagi products for themselves - word of mouth.
I liken Obagi's gaining market acceptance as to when Apple first started to really gain traction with its products - by word of mouth. No matter what industry a company is in, when it has hot products people want - in this case women, revenues and earnings will increase - as it has over time with Apple.
Current Fundamentals:
Earnings for the company's Q2 beat street expectations as net sales for the second quarter of 2012 were up approximately 6% to $30.5 million from $28.9 million for the second quarter of 2011.
Net income for the second quarter of 2012 rose to $3.4 million, or $0.18 per diluted share, compared with $2.9 million, or $0.16 per diluted share in the second quarter of 2011. The results for the three months ended June 30, 2012, included approximately $1.2 million (or an impact of $0.04 per diluted share) of pre-tax charges for the development of the company's e-Commerce initiative and other growth initiatives as previously announced.
Operating expenses for the second quarter of 2012 were $18.7 million, compared with $17.5 million for the same period last year, which included $0.7 million in costs associated with the Zein Obagi litigation and settlement.
For the Six Months Ended June 30, 2012 Compared to a Year Ago:
Net sales were $61.3 million, compared with $55.4 million for the six months ended June 30, 2011.
Gross margin was 79.7% versus 78.3% a year ago.
Net income totaled $6.4 million, or $0.34 per diluted share, compared with $0.5 million, or $0.03 per diluted share, a year ago.
Incurred $2.8 million (or an impact of $0.09 per diluted share) of pre-tax charges for the development of the company's e-commerce initiative and other growth initiatives as previously announced.
Highlights from the quarter included:
Generating positive cash flow from operations of $1.7 million, bringing cash and cash equivalents at June 30, 2012 to $40.2 million.
Adding 306 new accounts, resulting in active accounts totaling 6,602 at quarter's end, up 1% from a year ago.
30 percent of the new account additions derived from physicians in Texas.
Al Hummel, the Company's President and CEO, stated,
I am pleased with this quarter's financial performance as we saw strong international sales and license fees and made progress in re-building our account base in Texas where we re-introduced our hydroquinone products in early May.

Our initiatives to broaden the market for Obagi products via the Internet and e-commerce are advancing well. Our intent is to expand, simplify and expedite the means by which our products can be purchased and distributed, both for the benefit of our physicians and our end-users. We believe this significant undertaking will transform our operations by greatly expanding our marketing outreach and multiplying our potential for wholesale and retail delivery on a real-time basis.

We are nearing the completion of construction for a new 32,000 square-foot facility in Salt Lake City to support Obagi's e-commerce business plan. Our excellent progress there has enabled us to proceed on an orderly basis towards the procurement of pharmacy licenses nationwide, beginning with the state of Utah, which inspected our new operation in July and gave us a passing grade. This was an important milestone for us, because it means we will likely be operational in Utah during the fourth quarter, and also because the Utah license will form the basis for our application to other states.
I find this progress rather impressive for a company with a market cap of less than $200M which is looking at explosive growth and market acceptance of its skin care products.
I believe with Obagi focusing on an online pharmacy to take advantage of its very hot product line, sales should eventually quadruple along with much higher margins. Granted, this is going to take time to turn Obagi into a company with a market cap over $700M, but the investment opportunity Obagi currently provides in its stock price should be carefully looked into by long term growth investors.
Of course, words only mean so much - investors want to see action from the companies they invest in to back up the talk. Recently, Obagi announced it has added Mark Taylor to its management team. Taylor has a high level of experience in nearly all areas of pharmaceutical business and investment banking. Taylor comes to Obagi with more than 20 years of experience working with specialty pharmaceutical companies in high-level capacities. Most recently, Taylor was at Roth Capital Partners, LLC where over a-six-year tenure he served health care clients in institutional sales, investment banking, and equity research. From May of 2003 to October of 2007, Taylor was Roth's specialty pharmaceutical analyst where he published on as many as 25 companies, including Obagi.
While in this role, Taylor was twice recognized by Forbes.com/Starmine and the Wall Street Journal as a top pharmaceutical analyst amongst his peers. In addition to his time on Wall Street, he held executive operating positions at ICN Pharmaceuticals, Watson Pharmaceuticals (WPI) and MP Biomedicals. At ICN, he was Executive Vice President North America and led a major expansion of the company's dermatology business. At Watson, he was Vice President Business Development and played a significant role in the acquisition and growth of the company's Oclassen dermatology division.
With all the positive news for Obagi, and regardless of the opinion that I believe the company will be acquired soon, there is one stock writer, that for some reason unknown to me, has written two verbatim articles on Obagi recently -- one in June, the other in August.
The author in question makes a general observation about Obagi's finished goods inventory on the rise, yet seems to ignore the fact that last quarter, Obagi beat street estimates on both EPS and revenues. But the main factor that makes his observation on finished goods on Obagi's inventory questionable is that the company recently resolved regulatory issues related to Hydroquinone with the state of Texas and resumed selling Rx drugs within the state in late May of this year. Coincidentally, the state of Texas suspended Obagi products in May of last year - 13 months prior to when the author in question wrote his first article on Obagi questioning why finished goods were up for the same 12 month period.
Imagine the earnings and revenue Obagi could have realized if Texas, which represents 9% of Obagi's business, was online for the company for those 12 months.
This is obviously why finished goods were up in inventory. Obagi has just started to resume sales of its products containing hydroquinone, which include the Nu-Derm, Obagi-C Rx and ELASTIderm brands. Therefore, an increase in finished goods was to be expected as these products were finished and waiting to be shipped to Texas.
The company had to have finished goods inventory on hand to ship to Texas because at any given time, the Texas inquiry could have come to an end, and after Texas found no problem with Obagi, products would be shipped out in mass to deal with the new demand.
I feel the state of Texas acted in a hasty and foolish manner regarding this issue. It should have first done an inquiry into any possible wrong doing, and if an issue was found, then ban Obagi's products from entering the state - not suspend products first and ask questions later.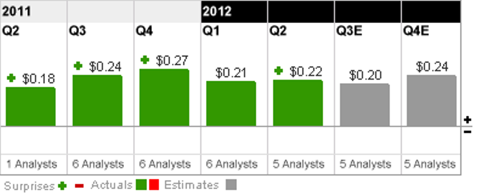 As we can see above, even without revenues from Texas, which made up roughly 9% of Obagi's sales prior to the company's products being suspended from the state, Obagi was still able beat street estimates regarding EPS in 4 out of the last 5 quarters.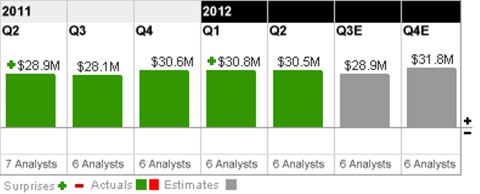 Revenues during the time frame Texas suspended Obagi's products from entering into its state were flat to slightly up. Now that Texas is fully back online for Obagi, I think it's a safe bet we will see another earnings beat on estimates.
Obagi is currently making the transition from a smaller profit and revenue generating small cap to a larger one. With its skin care products demand rising sharply, I believe Obagi will be a huge revenue and profit producing company in the future.
Many smaller companies I have written about here on Seeking Alpha are currently making the transition to larger ones.
In 2009, Spectrum Pharma (SPPI) was selling for under $2 a share, and recently saw an all-time high of $17.48 on July 10th of this year - very explosive pps growth in just 3 years.
Spectrum has seen this type of growth primarily because it has been succeeding with its business model, which many short sellers since the $2 range have been betting against - unsuccessfully.
The Spectrum business model was brought to the company by the current CEO Rajesh Shrotriya, and can be attributed back to his years at Bristol-Myers Squibb (NYSE:BMY). Most of BMY's cancer drugs were acquired with the same business philosophy that Shrotriya is currently implementing at Spectrum.
Zevalin (ibritumomab tiuxetan) was targeted and acquired by Spectrum while following Dr. Shrotriya's business philosophy. Zevalin is a treatment for certain types of non-Hodgkin's lymphoma, and was originally developed by IDEC Pharmaceuticals, which is now part of Biogen Idec (NASDAQ:BIIB).
In December 2007, Cell Therapeutics Inc (CTIC) acquired the U.S. rights to sell, market, and distribute from Biogen for approximately $30 million, or the equivalent of about two years' net sales revenue in the U.S. for the drug. Outside of the U.S., Bayer Schering Pharma continues to have the rights to the drug.
In March 2009, Spectrum Pharmaceuticals acquired 100% control of RIT Oncology, LLC, to commercialize Zevalin in the U.S. Sales have declined recently for Zevalin as reported in the company's last 10Q summary, but are still doing well and have decent margins. The sales drop is to be expected after the first two years of sales of Zevalin were heavily driven by an aggressive marketing campaign.
By going the route to actually acquire smaller pharmas, Spectrum has not spent millions upon millions in R&D, which also requires large staffing and various other cash burning expenses.
Jazz pharma (JAZZ) is another company that has had explosive growth in the past three3 years going from a price of $0.52 on April 22nd, 2009, to a current stock price of $48.46 a share. Worth noting is that during this period of incredible growth for the company, there has remained a large short interest in the stock.
Jazz's marketed products include Xyrem, a sodium oxybate oral solution for the treatment of cataplexy and excessive daytime sleepiness in patients with narcolepsy; FazaClo (clozapine, USP) LD and FazaClo HD products, which are orally disintegrating clozapine tablets for the treatment of resistant schizophrenia; Luvox CR extended-release capsules for the treatment of obsessive compulsive disorder; and Prialt, a non-opioid intrathecal analgesic for refractory severe chronic pain. The company also offers healthcare products for women.
Coming as no big surprise to me, Jazz recently beat estimates in its Q2, 2012 earnings report - some highlights below include:
The company reported earnings of $1.09 per share, $0.04 better than the consensus estimates of $1.05.
Revenues rose 100.5% Y/Y to $129.5mm versus the $125.57mm consensus.
Jazz issued upside guidance for FY12, sees EPS of $4.70-4.85 vs. $4.66 consensus estimate and sees FY12 revs of $605-615m vs. $599.60mm consensus.
In two years, can Obagi go from a similar stock price as Jazz was in 2010 to where Jazz is now? In terms of market cap, Jazz is now almost a $2.25 billion market cap company. At $50 a share with Obagi's current shares outstanding, its market cap would be less than $1 billion, coming in at around $937 million. With an untapped worldwide market and growing domestic demand on Obagi's products, this larger market cap should be within the company's reach, in my opinion.
Disclosure: I have no positions in any stocks mentioned, and no plans to initiate any positions within the next 72 hours.
Additional disclosure: Family member is long OMPI. Disclaimer: This article is intended for informational and entertainment use only, and should not be construed as professional investment advice. They are my opinions only. Trading stocks is risky - always be sure to know and understand your risk tolerance. You can incur substantial financial losses in any trade or investment. Always do your own due diligence before buying and selling any stock, and/or consult with a licensed financial adviser.