Improving economic reports in the U.S. that make it less likely the Federal Reserve will launch a new round of money printing in the near-term sent precious metal prices lower early last week, but reports of increased gold buying by big hedge funds and word that German Chancellor Angela Merkel supports more monetary easing by the ECB (European Central Bank) spurred a market rebound that was bolstered by a new report from the World Gold Council indicating stepped up gold buying by emerging market central banks.
For the week, the gold price fell 0.3 percent, from $1,620.50 an ounce to $1,615.80, and silver dipped four cents, from $28.13 an ounce to $28.09. Spot gold is now up 3.2 percent for the year, down 16.0 percent from its 2011 high, and silver is up 0.9 percent in 2012, down 43.2 percent from its peak last year.
As has been the case for three months now as gold and silver have traded in an ever-narrowing range, precious metals markets await a catalyst that most think will come in the form of another round of "quantitative easing". A recent string of better-than-expected economic reports, however, have reduced the chances of the Fed acting later this month or in September, so, perhaps it will be central bank action in Europe that will drive metal prices one way or the other, signs from Europe last week indicating that the ECB has support from Germany to act.
As Western central banks contemplate more money printing, emerging market central banks have been turning in record amounts of dollars and euros held as currency reserves to buy gold as "official sector" purchases have surged, a bright spot in the World Gold Council's latest Gold Demand Trends report.
As shown below, overall gold demand fell in the April-to-June period to 990 tonnes, down 7 percent from 1,065 tonnes a year ago, driven largely by a drop of 38 percent to 181 tonnes in demand from India.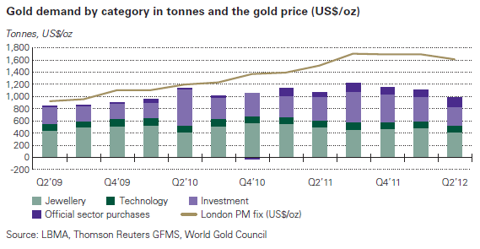 Click to enlarge
This was a result of several factors, the most important being the Indian government's efforts to reduce gold demand through higher duties and taxes as part of a broader effort to slash gold imports so as to narrow a widening trade gap and bolster its currency.
A plunging rupee also weighed on gold demand in India as the world's most price sensitive buyers were faced with record high prices in rupee terms earlier this year and the months ahead may not be much better as a dry monsoon season may leave farmers with less income.
Investment and jewelry demand in China fell 7 percent from a year ago to 145 tonnes, however, central banks sharply increased their the buying as Russia, Saudi Arabia, Mexico, Turkey, Kazakhstan, Thailand, Ukraine, and the Philippines all added to their gold reserves in Q2, collectively adding 158 tonnes.
This marks the highest quarterly total since the official sector became a net buyer of the metal in 2009 after having been net sellers of gold for decades. Central bank purchases were more than double the level of a year ago, accounting for 16 percent of overall demand, and, at the current rate, this would result in almost 500 tonnes in overall demand this year, besting last year's 458 tonne total and marking the biggest purchases since 1964.
Marcus Grubb, Managing Director, Investment at the World Gold Council noted, "Gold's performance reflects the continuing challenging economic climate. A softness in India and China, who between them represent over 45% of the total second quarter jewelry and investment demand accounts for much of the slowing of global gold demand. However, through all the uncertainty, it is clear that gold's fundamental properties as a vehicle for capital preservation and a source of liquidity continue to endure. This is evident from the activity of central banks, the ultimate long term investors, which continue to increase their gold holdings to diversify reserves and protect against reliance on one or more foreign currencies".
Big hedge funds were also big gold buyers in recent months as indicated by Securities and Exchange filings, billionaire John Paulson purchasing 4.5 million more shares of the SPDR Gold Trust (NYSEARCA:GLD) valued at nearly $700 million, bringing his GLD holdings to a stunning 21.8 million shares. Also, the hedge fund of George Soros more than doubled its investment in GLD to 884,400 shares as of June 30.
Precious metals markets remain very much in a wait-and-see mode, the notable exception being emerging market central banks who appear to be more and more impatient with what Western central banks are doing with the euro and the dollar.
Disclosure: I am long GLD.
Additional disclosure: I also own gold and silver coins and bars