A return to a recession might boost revenues of major real estate investment trusts (mREITS) such as Annaly Capital Management (NYSE:NLY). The reason a recession is good for mREITS is its effect on interest rates.
Interest rates, which are already at record lows, could fall even further if the economy enters a recession, Freddie Mac Vice President Frank Nothaft told the Sacramento Bee newspaper. Nothaft thinks a recession would drive down interest rates because it will increase the demand for U.S. treasury bonds. The demand for treasuries might increase because they are regarded as one of the world's safest investments.
Increased demand will drive down the treasury interest rate, which is the benchmark for other interest rates, including mortgage interest. The interest rate on a 10-year Treasury bond was 1.5% on Friday, July 13, Nothaft noted. The mortgage rate is usually about 1.5% higher than the Treasury bond rate. If Nothaft is right, we could see mortgage interest fall to 3.5% or less.
Low Interest Rates Could Fuel mREIT Dividend Growth
The lower interest rate has given Hatteras Financial (NYSE:HTS) a cost of financing of 0.55% and a leverage rate of 7.5 times. In plain English, that means Hatteras can borrow more money and spend less on that borrowing. These figures were what enabled Hatteras to offer a dividend of 12.28%.
Click to enlarge images.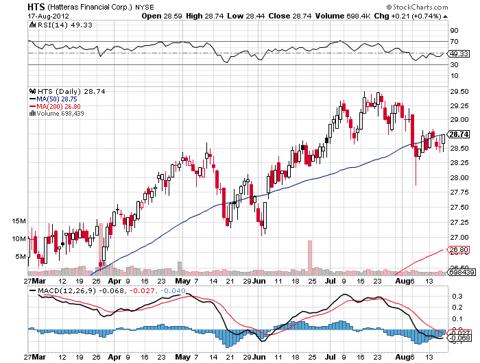 Click to enlarge
Dynex Capital (NYSE:DX) has increased in value in the last month even as the flood of bad economic news has grown worse. Its shares increased in value by around 10.8% in the period between June 1 and July 13. The figures for April 25 through July 20 were even better as Dynex shares grew in value by about 8.91%, despite lousy unemployment figures and the Greek debt crisis in Europe. Dynex's performance seems to verify Nothaft's theory about the effect of the recession on the mortgage industry.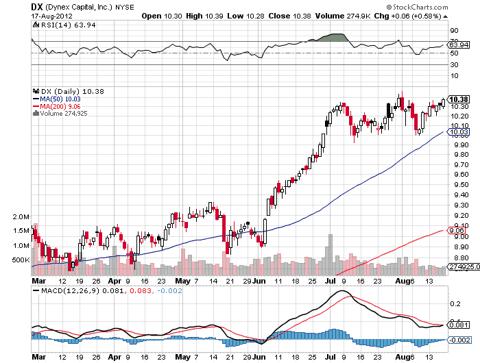 Click to enlarge
Recession Is Here
So how likely is another recession? Very likely, according to economists and others interviewed by Bloomberg. Bill Gross, the manager of Pimco's Total Return Fund, told Bloomberg that he thinks the United States is approaching a recession. Gross formed his opinion after analyzing data on retail sales, investment, employment, and corporate profits. The level of all of these expenditures appears to be falling, which indicates a cooling economy. Goldman Sachs analysts were even gloomier and projected a growth rate of 1.1% for GDP in the second quarter of 2012. Joseph LaVorgna, the chief U.S. economist at Deutsche Bank, predicted a growth rate of 1%.
The biggest beneficiaries will be the big players, such as American Capital Agency (NASDAQ:AGNC) and Annaly. These REITs have the resources to take advantage of the new business and the ability to create large numbers of new mortgage backed securities. American Capital's stock increased in value by around $3.92, or 12.95%, between April 18 and July 18 as the economy started to slide into recession. Annaly saw its shares go up by $1.06, or 6.62%, during the April 23 to July 20 time period. These figures indicate that bigger mREITs as well as small ones seem to thrive during a recession.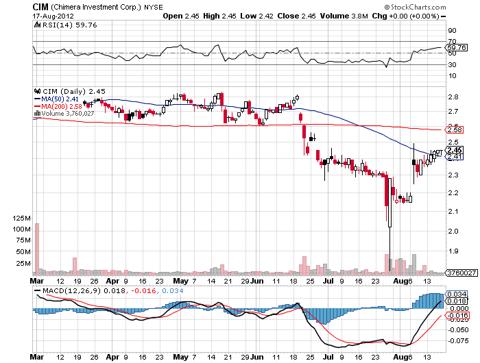 Click to enlarge
mREITs that invest in riskier paper, such as Chimera (NYSE:CIM), seem to be more vulnerable to the recession. Chimera's stock only increased in value by around $0.01, or 0.43%, during the three-month period between April 23 and July 20. That indicates a lower market for riskier paper during times of economic turmoil.
So how long can the good times brought on by low interest rates and recession continue? That's hard to say because the situation is that unprecedented mortgage interest rates have fallen to the lowest levels ever seen. Some 15-year mortgages are now below 2.86%.
A better outcome would be a slow but steady growth in the mortgage market. mREIT stockholders might not see some of the juicy dividends they have been enjoying in recent years. Yet they wouldn't see any major losses either. In such a scenario, mREITs would still be a good investment, they just wouldn't be a great investment.
Such steady earnings growth would only occur if mortgage rates remained stable. Since mortgage rates are likely to remain both stable and low, that is the more likely scenario. It could mean the end of the mREIT boom and a drop in share value as people start selling off shares.
Are mREITs Recession-Proof?
mREIT investors are in a position to survive the recession and make a nice profit in the deal. The recession appears to be driving interest rates lower, which fuels mREITs' business and increases their ability to leverage. mREITs may not be a recession proof business, but they could be the closest thing to it out there today. Even as most stocks take a hit from the recession, mREITs could be poised to grow because of it.
Disclosure: I have no positions in any stocks mentioned, and no plans to initiate any positions within the next 72 hours.