Pitney Bowes Inc. (NYSE:PBI) has taken a beating after it topped out in 2007. Since then it has traded to new 10 year lows and finally appears to be trying to put in a bottom. Despite its woes, it has not failed to raise its dividends consecutively for 30 years. Insiders also seems to think that change might be in the air as evidenced by the recent transactions listed below. Insiders have been busy opening up positions in the 13.54-14.52 ranges. If the strategy described below is followed, then individuals will have the chance to get into the stock at a price that is significantly lower than what most insiders recently paid.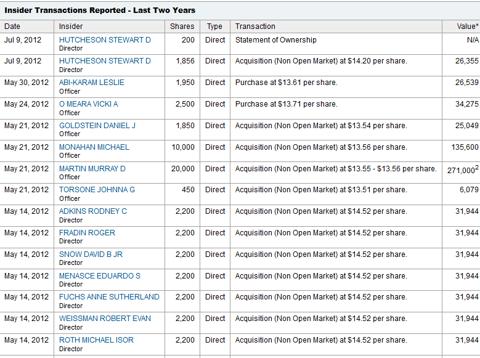 Other positives
Net income has increased for the past 3 years in a row
Cash flow per share has increased from 3.92 in 2009 to $4.31 in 2011
It has a great free cash flow yield of 25%
A low payout ratio of 43%
A very good yield of 10.8%
While it faces competition from Stamps.com (NASDAQ:STMP), DYMO Endicia (NYSE:NWL) and the United States Postal Service, Pitney Bowes, pbSmartpostage is the market leader in electronic stamps and labeling.
One of the best ways to get into a stock at a lower price when a stock is oversold is to sell puts. If you really want to get into the stock, then the best option to employ is to sell in the money or close to the money puts. This usually improves the odds of the shares being put to your account. Let us quickly examine some of the benefits associated with selling puts.
In essence, you get paid for entering a "limit order" for a stock or stocks you would not mind owning.
It allows one to generate income in a neutral or rising market.
Acquiring stocks via short puts is a widely used strategy by many retail traders and is considered to be one of the most conservative option strategies. This strategy is very similar to the covered call strategy.
The safest option is to make sure the put is "cash secured." This simply means that you have enough cash in the account to purchase that specific stock if it trades below the strike price. Your final price would be a tad bit lower when you add the premium you were paid up front into the equation. For example, if you sold a put at a strike of 20 with two months of time left on it for $2.50; $250 per contract would be deposited in your account.
Time is on your side. Every day you profit via time decay as long as the stock price does not drop significantly. In the event it does drop below the strike you sold the put at, you get to buy a stock you like at the price you wanted. Time decay is the greatest in the front month.
Suggested strategy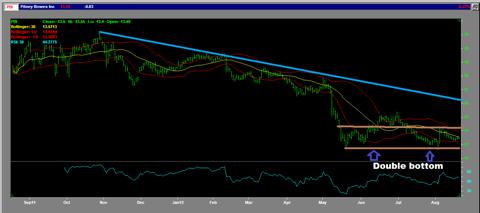 It has put in a nice double bottom formation and in the process, it has generated several positive divergence signals. As long as it does not trade below 12.64 on a weekly basis the outlook will remain positive. A daily close above 14.50 will be a move in the right direction. A weekly close above 15.50 will be a bullish development and suggest that it is ready to trade to the 17.50-18.00 ranges.
We are going to go after puts that are in the money, so as to have a better chance of having the shares assigned to one's account.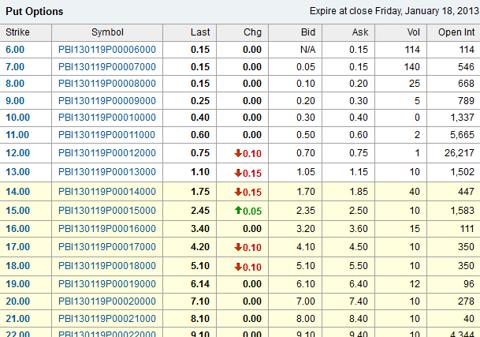 If you feel the stock could trade lower, then choose to sell puts at strikes you would not mind owning the stock at.
The Jan 2013, 14 puts are trading in the 1.75-1.80 ranges. For this example, we will assume that the puts can be sold at 1.75 or better. For each contract sold $175 will be deposited to your account.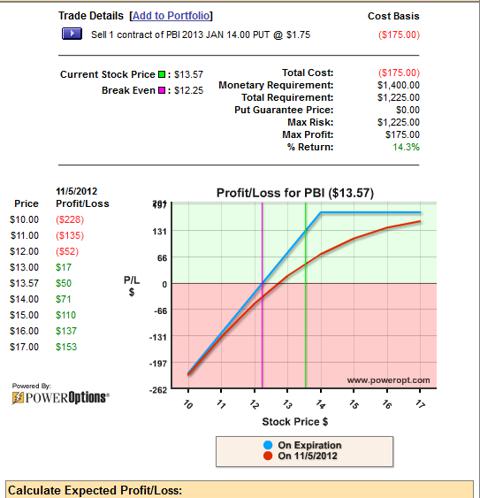 Benefits of this strategy
If the stock remains below $14, then there is a decent chance that the shares could be put into your account. In this case, your final price will be $12.25, which will enable you to get in at a price that is significantly lower than what most insiders recently paid for this stock. If the shares are not assigned to your account, you will walk away with a lovely gain of 14.3% in six months.
Your potential risk
As long as you are bullish the risk is limited. Essentially you are taking on the same level of risk as you would if you bought the shares outright, but with the added benefit of getting in at a lower price (via the premium you received). When you put in a limit order, it is either filled or not. If it's not filled you do not get paid for trying.
If you have a change of heart after selling the puts because you now feel that the stock could trade significantly below the strike price, then you can roll the puts. Buy back the old puts and sell new slightly out of the money puts with more time on them. Your breakeven point in this trade is $12.25.
Company: Pitney Bowes Inc
Basic overview
Sales vs quarter 1 year ago = - 5.2%
Net income vs quarter 1 year ago = - 1.9%
Net income 5 year average = -1.9%
Sales 5 year average = -1.63%
Quarterly revenue growth rate = - 5.2%
Quarterly earnings growth rate = -1.3%
Sales vs 1 year ago = -2.7%
Beta = 1.34
52 week change = - 27%
Growth
Net Income ($mil) 12/2011 = 617
Net Income ($mil) 12/2010 = 292
Net Income ($mil) 12/2009 = 423
EBITDA ($mil) 12/2011 = 817
EBITDA ($mil) 12/2010 = 838
Cash Flow ($/share) 12/2011 = 4.31
Cash Flow ($/share) 12/2010 = 3.76
Cash Flow ($/share) 12/2009 = 3.92
Sales ($mil) 12/2011 = 5278
Sales ($mil) 12/2010 = 5425
Sales ($mil) 12/2009 = 5569
Annual EPS before NRI 12/2007 = 2.71
Annual EPS before NRI 12/2008 = 2.78
Annual EPS before NRI 12/2009 = 2.28
Annual EPS before NRI 12/2010 = 2.23
Annual EPS before NRI 12/2011 = 2.26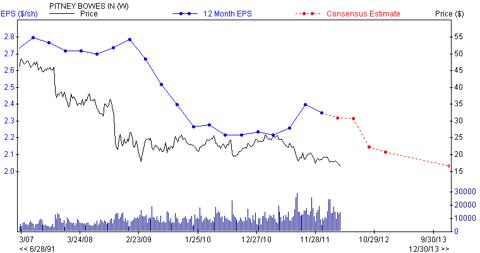 Dividend history
Dividend Yield = 10.8
Dividend Yield 5 Year Average = 5.8
Dividend 5 year Growth = 2.5
Dividend sustainability
Payout Ratio = 0.43
Payout Ratio 5 Year Average = 0.58
Performance
Current Ratio = 1.00
Current Ratio 5 Year Average = 1.09
Quick Ratio = 0.9
Cash Ratio = 0.36
Interest Coverage = 4.7
Conclusion
As a reminder only put this strategy into play if you are bullish on the stock and prepared for the shares to be put to your account. Based on the current technical pattern and insider purchases it appears that the stock is ready to put in a bottom. Individuals willing to take on a small amount of extra risk could be well rewarded in the months to come.
EPS and Price vs industry charts obtained from zacks.com. A major portion of the historical/research data used in this article was obtained from zacks.com. Options tables and insider transaction tables sourced from yahoofinance.com. Option profit and loss graph sourced from poweropt.com
Disclaimer
It is imperative that you do your due diligence and then determine if the above strategy meets with your risk tolerance levels. The Latin maxim caveat emptor applies - let the buyer beware.
Disclosure: I have no positions in any stocks mentioned, and no plans to initiate any positions within the next 72 hours.