The global credit crisis has led not only to the first worldwide recession since the 1930s, but also left an enormous burden of debt that now weighs on the prospects for recovery. Today, government and business leaders are facing the twin questions of how to prevent similar crises in the future and how to guide their economies through the looming and lengthy process of debt reduction, or deleveraging. In my previous article, "Ray Dalio's Primer On Deleveraging", I had written about the deleveraging cycle based on Ray Dalio seminal work, An In-Depth Look at Deleveraging .
Though the U.S.A (NYSEARCA:SPY) is undergoing a beautiful deleveraging, balancing the options available, investors have found it hard to generate positive returns in this volatile market. Moreover, with the great deleveraging exercise expected to prolong for the next 6-8 years, it would exert great stress on the equity market valuations. In this market environment, we zero in on two characteristics that would help pick the winners.
"Earnings growth" - key return driver (Preference for growth over value stocks)

Secular or stronger structural earnings growth potential with high predictability: (Derived from enduring trends like demographic or technological change)
Credit Suisse has come up with the following four major investment themes for investors to profit in the current deleveraging phase.
1. Emerging Markets: Unlike most developed economies, the largest EM economies, such as China, Brazil and India, are not burdened with excessive house-hold or public debt. Moreover, long-run opportunities created by rising domestic consumption, needed infrastructure upgrades and favorable demographics should continue to support stronger earnings growth for both EM and developed market companies exposed to these trends.
Growing public debt burdens (As % of GDP)

Source: IMF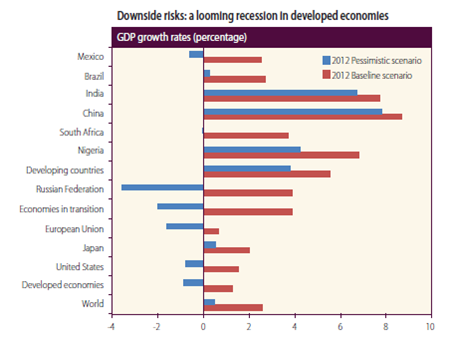 U.S. investors can take exposure to Emerging markets using the following ETF.
iShares MSCI Emerging Markets Index Fund (NYSEARCA:EEM)

Vanguard Emerging Markets ETF (NYSEARCA:VWO)

WisdomTree Emerging Markets High-Yielding Fund (NYSEARCA:DEM)

iShares S&P Latin America 40 Index Fund (NYSEARCA:ILF)

iShares MSCI BRIC Index Fund (NYSEARCA:BKF)

WisdomTree Emerging Markets High-Yielding Equity

India Earnings Fund (NYSEARCA:EPI): 2 platforms

Market Vectors Brazil Small-Cap ETF (NYSEARCA:BRF)

iShares MSCI Turkey Investable Market Index Fund (NYSEARCA:TUR)

Market Vectors Vietnam ETF (NYSEARCA:VNM)

iShares MSCI Thailand Investable Market Index Fund (NYSEARCA:THD)

iShares FTSE China 25 Index ETF (NYSEARCA:FXI)

iShares MSCI All Peru Capped Index ETF (NYSEARCA:EPU)

Global X FTSE Colombia 20 ETF (NYSEARCA:GXG)

PowerShares India Portfolio ETF (NYSEARCA:PIN)

iShares MSCI Malaysia Index ETF (NYSEARCA:EWM)

iShares MSCI South Korea Index ETF (NYSEARCA:EWY)

Global X FTSE Colombia 20 ETF (GXG)
2. Technology companies: Moore's law defines growth opportunity. This sector has historically been growth area because technology companies are driven by both Moore's Law and human creativity. In the context of slower economic growth and more frequent credit market "scares" caused by deleveraging, technology companies have two attractive characteristics:
technology used as a tool to combat sluggish revenue growth by enhancing productivity and cost savings

technology companies strong, fortress-like balance sheets reducing reliance on external capital to fund growth.
Investors can get a broad based exposure to the sector investing in the PowerShares QQQ Trust (NASDAQ:QQQ) ETF and the Technology Select Sector SPDR Fund (NYSEARCA:XLK).
3. Consumer staples: Of the defensive sectors, consumer staples offers the best secular growth prospects due to its
high exposure to emerging market

strong global brands

pricing power

ongoing productivity programs which allow them to free up funds to invest in future growth.
Bank of America Merrill Lynch has recommended the following 29 stocks in the consumer staples space that are trading below their current 12-month forward P/E and with high exposure to the emerging markets. The following companies have market capitalization greater than US$10 billion and garner close to 30% of 2011 sales from emerging markets.
4. Healthcare: An aging population, improving economy and President Barack Obama's health-care overhaul will push spending on medical services to almost 20% of U.S. GDP by 2021. Total healthcare spending is expected to nearly double to $4.6 trillion in 2020 ($2.6 trillion in 2010), half of which will be done by Federal, state and local governments. Considering the high cost of healthcare and the austerity pressures of U.S. and European governments, healthcare companies that develop meaningful healthcare innovations and help lower costs should benefit.
Managed care organizations, particularly those with a concentration in Medicare recipients, generic drug manufacturers and drug distributors appear best positioned. Major listed players that would benefit from this trend include UnitedHealth Group (NYSE:UNH), Wellpoint (WLP), WellCare Health Plans (NYSE:WCG), Aetna (NYSE:AET), Coventry Health Care (CVH), Amerigroup (AGP), Molina Healthcare (NYSE:MOH), Humana (NYSE:HUM) and Cigna (NYSE:CI).
Disclosure: I have no positions in any stocks mentioned, and no plans to initiate any positions within the next 72 hours.