On Aug. 2, Kraft Foods (KFT) reported its latest quarterly results based on its current structure as a worldwide food products company. We were pleased to see that it continues to exceed consensus analyst expectations, as well as made steady progress in its corporate restructuring.
We were also pleased to see the company handle the negative currency headwinds from the stronger U.S. dollar better than its competition, as the company was able to grow its reported EPS by 5.5% in the previous quarter vs. last year's levels, despite having to deal with the burden of $84 million in asset impairment charges during the quarter. Kraft's 5.5% year-over-year increase in reported EPS was better than such august blue-chip consumer goods and services companies like Coca-Cola (NYSE:KO), McDonald's (NYSE:MCD), and even Philip Morris (NYSE:PM), Kraft's former corporate sibling.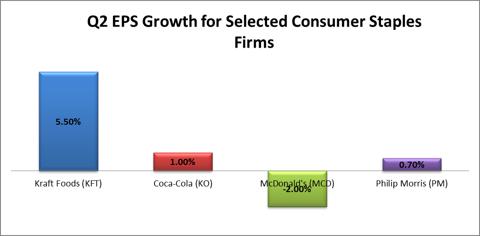 Click to enlarge
Source: Q2 earnings releases for Kraft, Coca-Cola, McDonald's, and Philip Morris.
While Kraft's European and Developing Markets divisions were the key drivers of growth during the period, we were pleased that Kraft North America's reported operating income was stable despite dealing with $164 million in restructuring costs. Kraft North America saw its organic revenue (excluding impacts from currency and the dissolution of its partnership with Starbucks) grow by 2.3% in the period on the strength of favorable pricing impacts.
Kraft's European and Developing Markets divisions enjoyed a 7% increase in adjusted operating income during the quarter, which was offset by negative currency translation effects and $40 million in integration program and restructuring costs. We most certainly disagree with Nestle CEO Peter Brabeck referring to Kraft's split as "creating shareholder value by financial manipulation." As much as we loved the performance of the old Philip Morris Companies/Altria, we believe that its split into four (soon to be five) companies is good for shareholders because it allows investors to choose which business unit they want to be exposed to directly, rather than being locked into to a conglomerate of five different business units:
For investors who want exposure to the beer business, they can buy SABMiller.
For investors who want exposure to fast-growing international tobacco markets, they can buy Philip Morris International.
For income-oriented investors who want exposure to the mature, cartelized US tobacco industry, they can buy Altria Group (NYSE:MO).
For income-oriented investors who eschew tobacco, they can buy Kraft Foods Group (Kraft's soon to be former North American Grocery business).
For growth-oriented investors who want exposure to fast-growing emerging markets, Mondelēz International will satisfy such investors, once they get over the funny name.
We noticed that a number of leading institutional investors have reduced their stakes in the company recently. Such notable investors include Bill Ackman (Pershing Square Capital), Warren Buffett (Berkshire Hathaway), and Nelson Peltz (Trian). Ackman sold Pershing's stake as well as other holdings in order to finance his investment in Proctor and Gamble (NYSE:PG), Berkshire still owns $2.4 billion in Kraft stock through its consolidated subsidiaries, and Peltz still holds $425 million worth of Kraft stock (plus, Kraft is his biggest food holding).
We were happy to see that Kraft was able to improve its working capital management this quarter relative to last year, which enabled its YTD cash flows from operating activities to increase by $1 billion vs. last year's levels and reach $1.2 billion in YTD 2012. The company has also reallocated $10 billion worth of corporate debt directly to Kraft Foods Group, its soon to be spun off North American Grocery business. Despite the fact that Kraft Foods Group represents one-third of the company's revenue stream, it represents 58% of legacy Kraft Foods Inc.'s profit and its pro forma dividend of $0.64 represents 55% of the company's current $1.16 per share dividend. Holders of Kraft Foods Inc. will receive one share of Kraft Foods Group for every three shares of Kraft Foods Inc. (which will be renamed Mondelēz after the spin-off) held on the record date. Based on KFT's closing price on Aug. 15 of $40.72, this results in an imputed value for Kraft Foods Group of $13.57 and an estimated pro forma dividend yield of 4.71%.
In conclusion, we are pleased with Kraft's continued progress since Irene Rosenfeld assumed leadership of the company. We remember that Kraft was historically a world-class consumer foods company, which is why Philip Morris launched its hostile takeover of Kraft in 1988. In response to the anti-tobacco pressure impacting its core tobacco business, Philip Morris announced a takeover proposal for Kraft Foods in order to diversify its revenue stream. Philip Morris had to go hostile in order to acquire it, but at the end of the day, Kraft was unable to refuse Philip Morris' $12.9 billion offer. After a series of acquisitions and divestitures during the ensuing decade, Philip Morris acquired Nabisco, merged it with Kraft and sold off a minority stake in Kraft in 2001. Kraft was a strong performer up until 2003 then saw its revenues and profits stagnate from 2003-06. Since rehiring Irene Rosenfeld as chairman, president, and CEO of Kraft in June 2006, Kraft's shares have generated a total return of 63.5%, which greatly exceeds the 25.7% return of the S&P 500 in that time. While this is a far cry from the 200% total return of its former affiliate Philip Morris USA, we are pleased that Kraft is at least beating the S&P 500. We believe that Kraft's focus on emerging markets will help it narrow the gap to its former corporate sibling in the next six years, even though the company is changing its name to the Mondelēz moniker.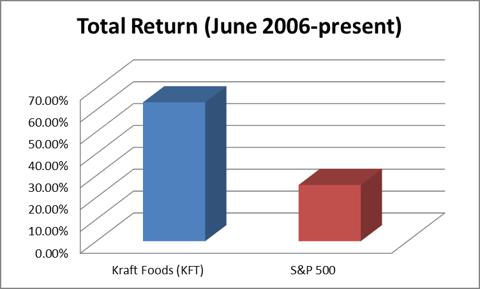 Click to enlarge
Source: Morningstar Direct.
Disclosure: I am long KFT, MO, PM.
Disclaimer: Saibus Research has not received compensation directly or indirectly for expressing the recommendation in this report. Under no circumstances must this report be considered an offer to buy, sell, subscribe for or trade securities or other instruments.